If You See This On Your Door Handle, Run and Call the Police — Woman Poisoned by Napkin In Attempted Kidnapping
A woman claims that she was the victim of a poisoning/kidnapping attempt in a now viral TikTok.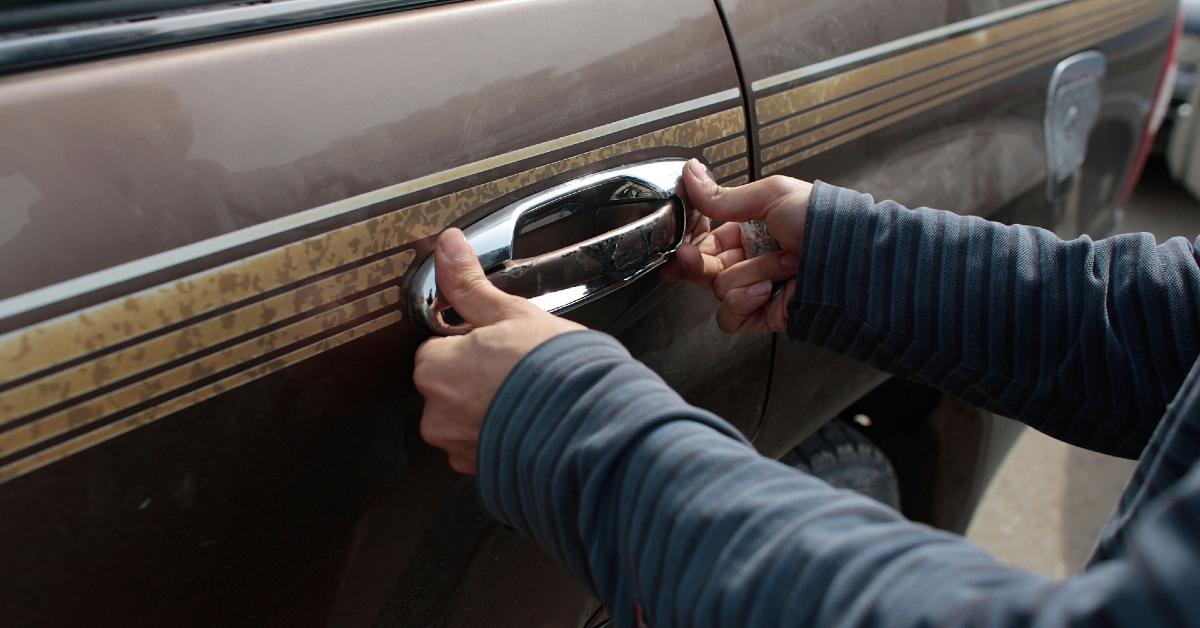 According to the ACLU, there are anywhere from 14,500-17,500 people human trafficked in the United States each and every year. In 2019, California reported the highest number of cases in the country, with 1,507 people trafficked in the state alone.
A staggering 32% of people who are trafficked were purportedly done so by an intimate partner of theirs, however, there have been a growing number of kidnapping stories/attempts circulating on social media that are tied to trafficking.
Article continues below advertisement
The tragic case of Eliza Fletcher has put a spotlight on more stories of potential attempted abductions/kidnappings in the media cycle, of which there are sadly many examples of how potential abductors stalk and implement nefarious strategies to try and lure people into vehicles, or catch them unawares.
In 2018 there was a viral media story of a woman who found a shirt on her car and noticed her vehicle was sandwiched between two vehicles. She later learned that a common ploy of traffickers was to place the item on a car that belongs to a woman, and when she would take the time to extricate the cloth/shirt/item on the hood of the car, they would use that opportunity to abduct them.
And now a viral TikTok is showcasing a similar tactic but with much scarier consequences.
Article continues below advertisement
A TikToker by the name of Erin Dawn, who posts under the username @samanthalewis078 recorded and uploaded a four-minute video online where she delineates a scary experience involving her car door handle and a sheet of paper that was apparently soaked in a chemical that had deleterious effects on the woman's health.
Article continues below advertisement
In a text overlay for the video she writes, "Be careful they desperate for souls," referencing the would-be kidnappers in the clip.
She says, "I just wanna share with y'all the experience that I had yesterday on my birthday. What started off as a great day turned into one of the scariest moments of my life. My husband and I decided to go to Prospect Park on the North Side of Houston for Taco Tuesday before we headed to the spa."
Article continues below advertisement

She said that she ultimately "never made it to the spa or to my birthday dinner because I was immediately rushed to the hospital. I know y'all wondering what happened after we finished eating we walked to the car and I had a napkin sticking out of my door handle."
The video then cuts to a recording of a napkin in her car door handle, which Erin re-created for the purposes of the video.
Article continues below advertisement

"When I saw it I just picked it up with my fingernails...and I tossed it out. I didn't touch the napkin but guess what, I still opened the door with my fingertips. I asked my husband, 'Did you put a napkin in my door?' and he was like, 'No,' so immediately I started looking for hand sanitizer..."
Article continues below advertisement

Erin, who said she's somewhat of a germaphobe, ended up going back inside the restaurant to wash her hands, but then she said her "fingertips started tingling." She tried to dismiss it at first as "nothing" and decided not to tell her husband about the sensation right away.
Article continues below advertisement

"Then after maybe about five minutes my whole arm just started tingling then it started to feel numb, I got light-headed, I felt like I couldn't breathe, I just, I got hot, it just was a whole bunch of different feelings at one time and I started to panic, uh, he calmed me down and he told me to just calm down...drink some water....just breathe."
Article continues below advertisement

Erin says she took several deep breaths and her husband ended up calling 9-1-1 because they weren't in their "normal area" and that they "didn't know where the nearest emergency room" was located. Emergency services ended up informing the couple of where the nearest hospital was and when she arrived she told them what happened and they rushed her inside and began performing tests/medical assessments.
Article continues below advertisement

She said that she was there for "about six and a half hours [and that] the doctors said I had acute poisoning from an unknown substance. I didn't have enough of it in my system to determine what it was...but just that little amount had me messed up, y'all. Like, so just imagine if I would've grabbed it with my full hand, like, I probably could've been dead...like...so I'm just recording this to let y'all know...be careful."
Article continues below advertisement
In a quick cut, she went on to say that the doctor told her the substance "could've been a possible kidnapping attempt so...just for everybody all the women in Houston and just everywhere y'all just be careful when you're out. Pay attention to your surroundings, just, be careful. Be safe."
Article continues below advertisement

To close out the clip, she was thankful that her husband was present when the poisoning attempt occurred. "Just to help me, calm me down and bring me to the emergency room in enough time. They got some crazy ass people in the world y'all like I never thought this would happen to me on my side of town. So it could happen anywhere y'all."
Article continues below advertisement

Recently, another TikToker went viral after sharing her own story of what she thought was a kidnapping attempt when a man followed her into her pilates studio, messed with her water bottle before class, and then followed her afterward and tried to get her inside of his car.