Apparently It's Legal for Kids to Ride in Car Seats in the Back of Your Pickup Truck
A viral video shows kids riding in the bed of a pickup truck in car seats. It seems extremely unsafe, but apparently, it's totally legal.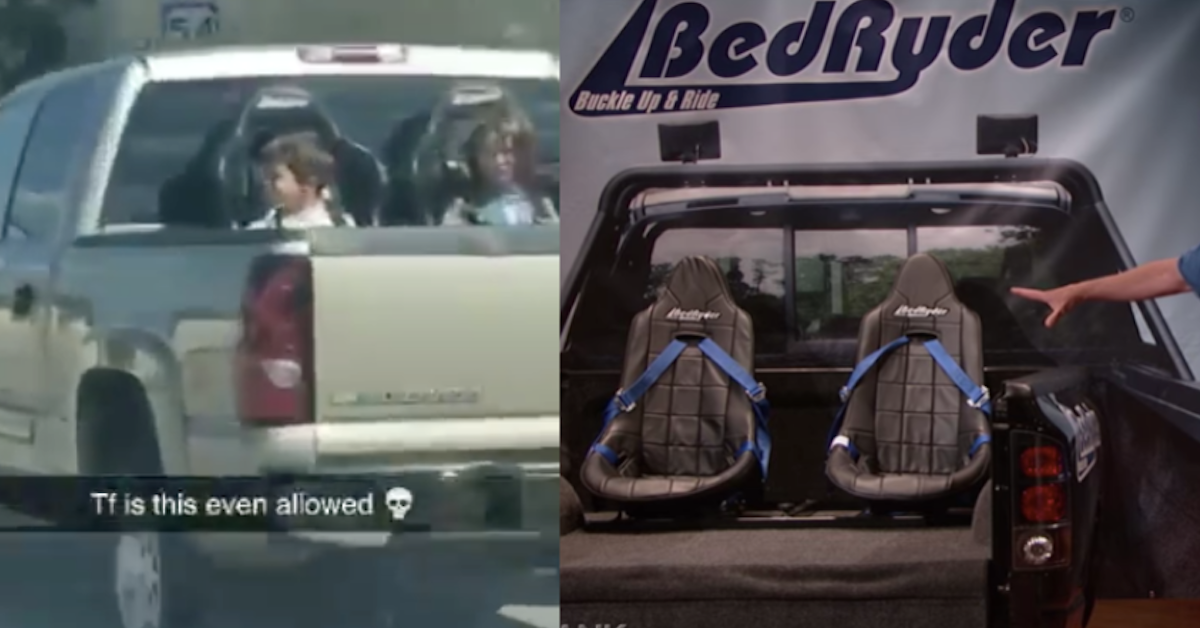 When you were a kid, the greatest thrill of your life when it came to transportation was one of two things: riding in the car facing the wrong way or riding in a convertible. You know what I'm talking about.
Article continues below advertisement
Well, recently, a video went viral that shows a couple kids living our childhood dream. Except now that we're adults, we can see how dangerous it looks. They're riding in the bed of a pickup truck down a highway, albeit in car seats. But while it appears to be extremely fun, it also seems extremely unsafe.
Article continues below advertisement
The video garnered over 13,000 retweets and 47,000 likes. The kids seem calm and collected. They don't seem scared, but they also don't seem overly excited about what's happening. It kind of feels like they've done this before.
Maybe this is the norm for their family. When your parents have a pickup truck, there might not be enough seats for all the kids, and this is a, um, very creative solution. And apparently, it's completely legal. Yes, that's right. Legit, above board, totally cool.
Article continues below advertisement
According to The Drive, "Were those regular old child car seats bolted to the Chevy Silverado's bed in some homebrew arrangement, then this would very much not be allowed. But the twin jump seats are actually the work of a now-defunct company called BedRyder that specialized in adding legal al fresco seating to any midsize or full-size pickup."
The company was featured on an episode of Shark Tank, where one of its founders, George Conway (not Kellyanne's husband) presented the BedRyder contraption.
Article continues below advertisement
The company, before it folded, sold $750 frame-and-seat combos that you had to drill into the floor of your pickup truck bed. The whole purpose of the BedRyder was to allow kids to "live out their memories of riding unsecured in the backs of pickup trucks" in a much safer way
Article continues below advertisement
With that in mind, George and his co-founder, Carey Hide, made sure that the "BedRyder meets all relevant U.S. Federal Motor Vehicle Safety Standards; it's legal in all 50 states, even those that normally ban any passengers in a pickup bed outside agricultural work or parades."
That's amazing! Somehow this contraption is legal everywhere. All your childhood dreams can now come true. My only question is: do they make this with adult-sized car seats? I want to legally live the dream, too!
Article continues below advertisement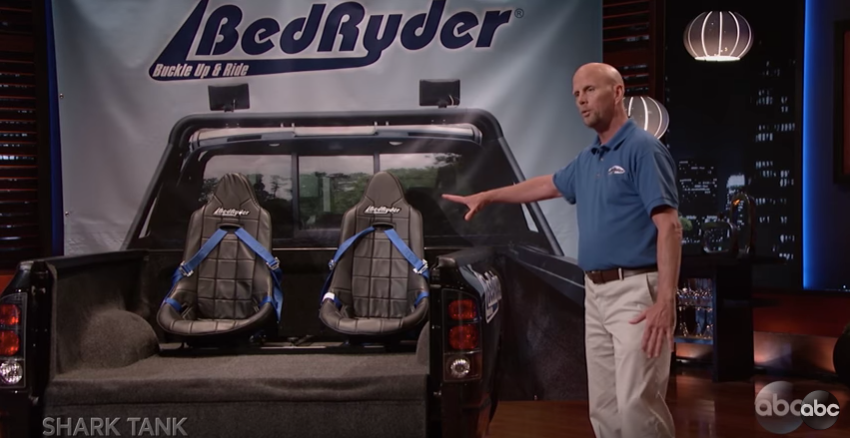 Still, most commenters reacting to the video don't realize that it's legal and argue that these kids are in danger, even if it looks super fun. "I would've been the happiest kid alive sitting in the bed of the truck," one person wrote. "I get your reaction tho." Truly, my biggest concern would be things flying off other vehicles and hitting the kids in the head! They should be wearing helmets!
Article continues below advertisement
Many pointed out that this was common practice in the '70s and '80s, as was riding without a seatbelt. There was even a car designed with seats in the bed of the truck back in the day. The Subaru BRAT is a true feat of design.
But you know what else we used to do regularly? Smoke cigarettes. Doctors would smoke. In appointments with patients. As time goes on, we learn about the things that are unsafe, and we stop doing them. There's probably a reason they stopped designing pickup trucks with seats in the bed. Even if it's legal, it might not be the best idea in the world.