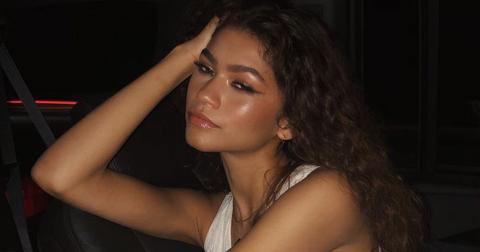 Zendaya's New Film Was Shot During Quarantine — in a Totally COVID-19-Proof Magical House
By Gina Vaynshteyn

Updated
Between June 17 and July 2 (yes, during the pandemic — we'll get to that), Zendaya was hard at work on her next film. Although it's been super under wraps (it's been called her "secret" movie, though it now has a title: Malcolm & Marie), we do know that the brains behind the film is HBO's Euphoria's creator Sam Levinson, and aside from Zendaya, John David Washington will also be starring in the movie.
So far, we don't actually know what the film is about, but Deadline says that it has "some echoes of Netflix's Marriage Story, while resonating [with] a number of social themes which the world is experiencing right now." Could the movie be about the pandemic? Does the plot involve the Black Lives Matter movement? Maybe just themes of isolation? Toilet paper panic-buying? (Just kidding!)
The film was also notably shot at the Caterpillar House in Carmel, California.
What's the Caterpillar House?
According to Deadline, Feldman Architecture's Caterpillar House is described as "an environmentally-conscious glass architectural marvel," and "the first LEED Platinum Custom Home on California's Central Coast." The house and its coastal location "allowed production to use very little air conditioning or heat with the home's glass doors providing fresh air." Sounds a lot like Jeanette Walls' novel The Glass Castle, which centered around her troubled father's fantasy of an all-glass, fantastical home. Could this be the Glass Castle IRL?
So, not quite...but it's probably as close to magic as modern-day architecture will allow. See photos from this tweet below. (You can also find more photos of the incredible Caterpillar House here.)
'Malcolm & Marie' was filmed at Caterpillar House, an "environmentally-conscious glass architectural marvel in Carmel, CA – all compliant with WGA, DGA and SAG-AFTRA approvals and COVID-19 safety protocols." (via Deadline) pic.twitter.com/nT5NW1KN4V

— Film Updates (@FilmUpdates) July 8, 2020
The multiple award-winning Feldman Architecture's Caterpillar House was the perfect location to film (it was totally kosher, even though it's on a private property — and it's on 33 acres of land (which also allowed the cast and crew to practice safety precautions while filming).
As for the film itself, once again, it's been pretty under wraps, but a few hours ago, Zendaya shared a scene to her Instagram account, showing herself and the very dreamy John David getting intimate in their roles. Hopefully the movie isn't as heartbreaking as Marriage Story.
We currently don't know when to expect Malcolm & Marie to be released, whether it'll be a theatrical release, or if we can just simply stream it online. (Hopefully the latter!)