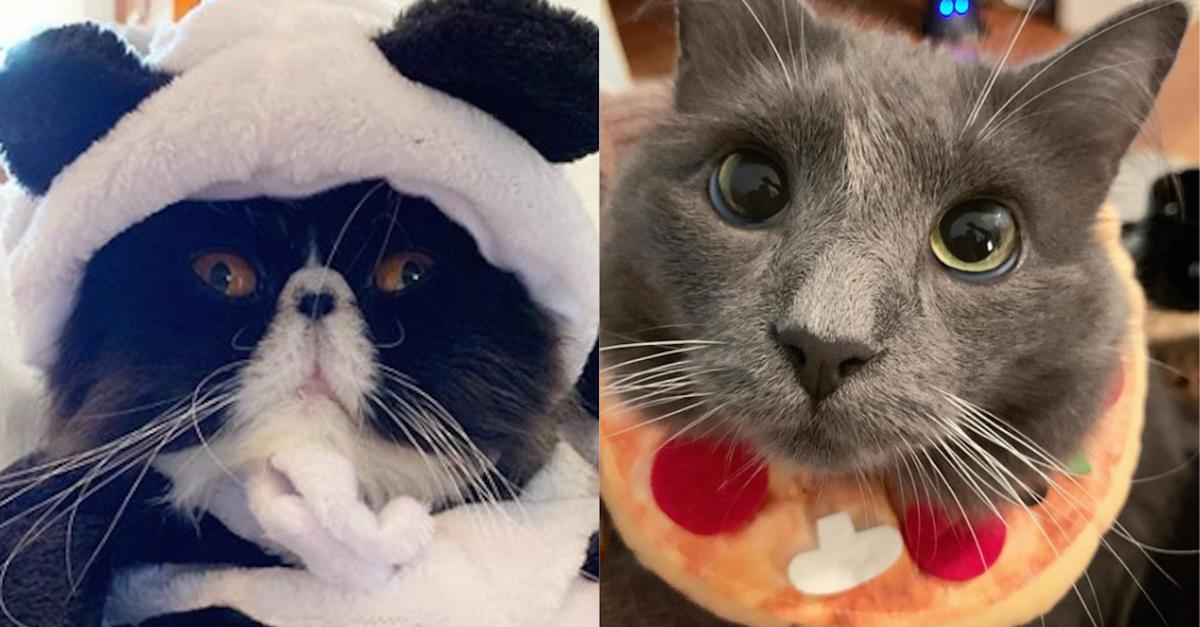 These Cats Dressed up for Halloween & Their Costumes Are Incredible
Dressing up your pup for Halloween is almost a societal expectation these days, and TBH it makes total sense — although the average dog simply can't stand the feeling of those $30 Target costumes (Doug the Pug is an outlier), they never fail to look straight-up adorable.
This spooky season, however, felines are stealing the limelight by sporting the cutest of costumes. And in case you didn't know, October 29 is National Cat Day. Seriously, if you haven't seen these cats in Halloween costumes, they are seriously game-changing.
Article continues below advertisement
1. This Cat-vocado Toast
Everyone and their mother knows that cat-vocado toast is the basic betch's breakfast of choice. Don't lie — you could totally gobble up this adorable kitter in a matter of minutes.
2. A Creepy Crawly Kitter
Arachnophobia? More like cat-rachnophoba. This little guy is positively terrifying — between those long hairy legs and bright green eyes, I can hardly contain my fear. Zoinks!
Article continues below advertisement
3. A Pizza With Cat-zarella Cheese
There is truly nothing better than a good, old-fashioned pizza party, and this kitty totally proves it. What's better than giant kitty eyes and spicy pepperoni? Seriously, I can't think of anything.
Article continues below advertisement
4. This Kitty Dressed as a Panda
Is this a panda? Or is it a cat? To be honest it's pretty hard to tell if this is a costume, or if it's really just part of his body. But I guess we'll worry about that later.
Article continues below advertisement
5. Just Your Run-Of-The-Mill Pine-cat-pple
Who lives in a pineapple under the sea? This little guy! With a leafy headpiece and a bright yellow body suit, there is truly nothing sweeter than a pine-cat-pple.
Article continues below advertisement
6. A Kitty K-lobster in His Natural Habitat
If you were looking to sit down for a lobster dinner, this probably wasn't what you had in mind. But sharing a meal with this little guy is basically a dream come true.
Between those plush claws and giant eyes, there's no way anybody could dream of eating this love bug.
Article continues below advertisement
7. A Devilish Kitty
Don't get me wrong — we love our furry friends more than anything in the whole world. But sometimes your beloved feline is quite literally the devil, whether they're smashing your belongings, waking you up in the middle of the night, or simply wreaking havoc left and right.
So it's safe to say this is a lovingly ironic costume for any cat owner out there.
Article continues below advertisement
8. A Spooky Bumble-Cat
I usually try to avoid bees at all costs (for obvious reasons) but giving love to this bee is simply inevitable. Between those giant eyes, adorable antennas, and most importantly, no stingers, its the bee of my wildest dreams.
Truly sweeter than honey.
Article continues below advertisement
9. A Luminesce Cat-O-Lantern
Cat-o-lanterns are the new jack-o-lanterns, people — if you aren't putting your pump-cat on display, you're definitely doing Halloween wrong.
Article continues below advertisement
10. This Haunting Cat-Bat
It's a bat! It's a cat! It's... a bat-cat? This feline is flightless, but adorably spooky nonetheless. If this flew into my house I definitely wouldn't be mad about it.
I think it pretty much goes without saying that a cat in a Halloween costume is vastly underrated. There is truly nothing cuter than a cat attempting to be spooky, so if your cat isn't dressing up for Halloween, please change that ASAP — I need more costume-wearing-cats in my life, y'all.