Home Depot Cat Leo "Always Has Everything He Needs" While Living in the Hardware Store
Leo, the aptly-named Home Depot Cat, has become an internet sensation after being introduced to the world by Home Depot employees.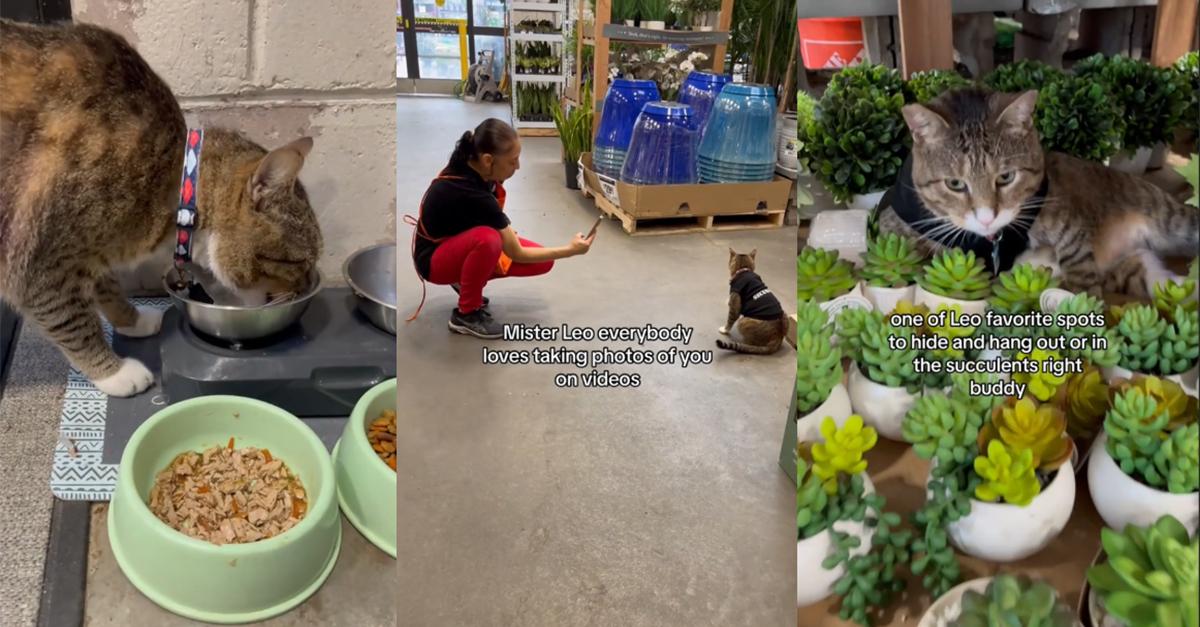 You've heard of bodega cats, right? Mostly commonly found in New York City, bodega cats are little domesticated or even stray cats who make a home out of local corner stores in the area. These cats are typically cared for by the store owners and can even be spotted near the cash register during working hours. They can easily become staple mascots of a community with local shoppers often taking time to pay personal visits to these pets.
Well, this cat on TikTok has taken a step up from bodegas.
Article continues below advertisement
Lately, folks on TikTok have been going gaga over Leo, a domesticated shop cat who's made a home out of Home Depot. You read that right, a branch of the popular hardware store chain has become a de facto home to a beloved cat. As cats often do, Leo has become the talk of the internet. Let's get to know Leo and what his life is like living in Home Depot.
Article continues below advertisement
Meet Leo, the Home Depot Cat.
Folks first caught wind of Leo after self-proclaimed cat dad Jeff (@cat_dad_2020) first posted about him on TikTok. Being no stranger to sharing posts about his own cats as well as others, Jeff began sharing dozens of videos about Leo, who has appropriately been dubbed the Home Depot Cat.
He can typically be spotted wandering the store and holing up in some of his favorite spots across the show floor. These spots include the top shelves, on top of a worker's drawer between aisles, and even amongst the succulents in the plant section.
Article continues below advertisement
Naturally, he has a whole routine set up. Every night, Leo is placed in the garden center by whoever is on duty at the time. He gets locked in there with everything he needs, including fresh water and food. Some workers are even responsible for changing his litter box, which is probably the last thing you expect to be doing when applying for a job at Home Depot.
Article continues below advertisement
Though everyone in the store is happy to care for him, his "primary caregiver" is a worker named Donna. According to another one of Jeff's TikToks, Donna takes Leo to vet appointments and keeps track of his health. Donna also picks out Leo's food and gets him water.
Article continues below advertisement
It should come as no surprise that Leo has become a local celebrity at this Home Depot. He is often surrounded by customers, some of whom only patronize the store just to see Leo. He is also incredibly friendly and isn't afraid to approach friendly customers with nuzzles and kisses.
As for Jeff, he's even taken his own cats to the store to play with Leo and continues to do so. Whether he's surrounded by folks with smartphones, cared for by the Home Depot staff, or even on a playdate with other cats, Leo certainly isn't at a loss for attention.
Article continues below advertisement
Unfortunately, he may have proven to be too popular. In one TikTok, Jeff revealed that Leo has nearly been cat-napped on multiple occasions. Luckily, they've been stopped at practically every turn.
Article continues below advertisement
We're used to cats becoming popular on the internet, but it's pretty safe to say that Leo is certainly unique even among internet cats. After all, he's become an unofficial mascot for Home Depot and has even received some gag clothes designating him as an employee or even the manager of the store.
Would it be so unreasonable for all hardware stores to have cats like Leo living in their establishments?