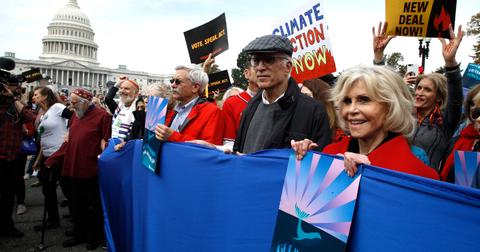 A Rundown of Every Celebrity Who Has Been Arrested With Jane Fonda
By Jacqueline Gualtieri

Updated
Jane Fonda has never been one to shy away from politics. Throughout the '60s, she worked on behalf of Native Americans and the Black Panthers and she spent the '70s protesting the Vietnam War. Though the actress is 82 years old, you can't keep her from taking to the streets for what she believes in.
Although she's been protesting inaction in regards to the climate crisis since before 2019, she started Fire Drill Fridays in October. The phrase was inspired by Greta Thunberg's statement, "our house is on fire". Jane even moved to D.C. to hold the demonstrations on Capitol Hill.
But she wasn't the only celebrity who participated in the protests, nor was she the only one to get arrested from them. Here's the current list of all of the celebrities arrested during Fire Drill Fridays.
Sam Waterson
Although Jane was arrested at her first demonstration on Oct. 11, it took until her second one for her famous friends to start joining her. Her Grace and Frankie and The Newsroom co-star Sam Waterston marched with her on Oct. 18 and the pair walked away in handcuffs together. Sam would be arrested again weeks later.
Ted Danson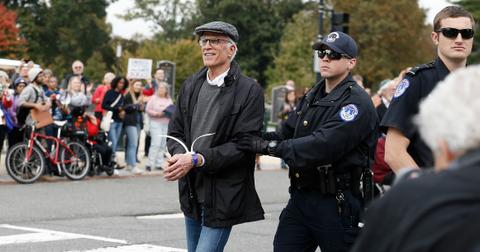 The next celebrity arrest came during the third protest. While Jane was again detained herself, Ted Danson was also getting put in handcuffs. It's reported that he was smiling the whole time and gave Jane a handcuffed high five. His co-star on The Good Place, Manny Jacinto was at a demonstration several weeks later, although he was not arrested.
Rosanna Arquette
Rosanna Arquette was arrested during the fourth protest. The Desperately Seeking Susan star was among 46 others who were arrested during the event. She would be arrested again weeks later.
Catherine Keener
Alongside Rosanna was Catherine Keener. The Being John Malkovich actress was detained while the crowd of protesters around her cheered.
June Diane Raphael
Another of Jane's co-stars, her Grace and Frankie on-screen daughter June Diane Raphael, was arrested in the sixth protest. June's on-screen sister Brooklyn Decker joined as well but she was not detained. Though June came back multiple times, this was the only time she was arrested. During other demonstrations, she brought her children.
Marg Helgenberger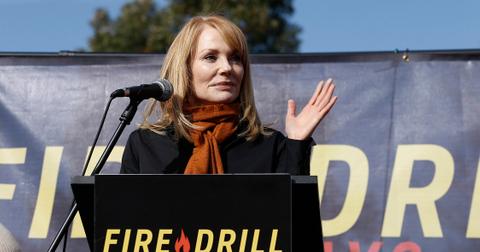 Robert F. Kennedy, Jr.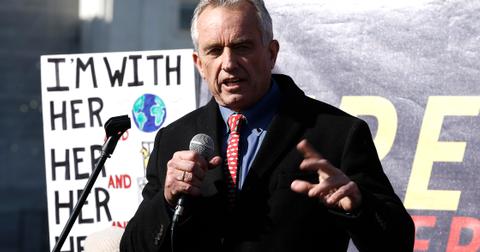 RFK, Jr. is an environmental attorney and the president of the board of Waterkeeper Alliance, a non-profit environmental group. It's only fitting that this Kennedy was arrested during a climate change protest. He's not the only one with a famous last name that attended this demonstration. He was joined by Abigail Disney, although she was not arrested.
Diane Lane
The seventh protest was quite a big one with many celebrities being put in handcuffs. One of the biggest names was Diane Lane. The Under the Tuscan Sun actress was arrested for the first time during Fire Drill Friday.
Piper Perabo
If you follow Piper Perabo on Instagram, you likely know that she's an outspoken activist for pretty much every cause. So it shouldn't come as a surprise that she was arrested alongside Diane during the seventh day.
Amber Valletta
Model Amber Valletta marched for the protection of water resources. If there was any question of why she was there, she took to Instagram to explain in detail what's at risk if we don't put these protections in place.
Paul Scheer
Political activism is a beautiful thing to be shared between a husband and wife. Paul Scheer followed in his wife, June's footsteps by getting arrested during the eighth day of Fire Drill Fridays. He marched alongside Young Sheldon and Big Little Lies star Iain Armitage, who, of course, wasn't arrested and who attended several more demonstrations.
Sally Field
The incomparable Sally Field was arrested during the tenth Fire Drill Friday. But before she walked away in handcuffs, she spoke at the event, calling for everyone to get our of their comfort zones and "demand a change for better lives".
Casey Wilson
Casey Wilson may be a brilliant comedic actress but climate change is no laughing matter for her. She was taken away in handcuffs during a sit-in on the eleventh Fire Drill Friday.
Matt McGorry
Matt McGorry joined Casey in the arrests made on day 11. The How to Get Away With Murder alum shared that he was there with the goal to "hugely transform our economy and our social structures to avoid irreversible climate catastrophe".
Gloria Steinem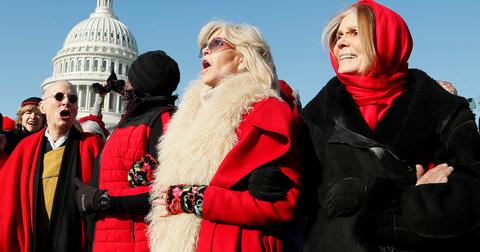 It's hard to deny Gloria Steinem's political impact on the world. She's been an activist since the 1960s, just like Jane. She was arrested with Jane on day 11 of the climate change protests and joined the crowd in wishing the actress a happy 82nd birthday on the day of the event.
Lily Tomlin
Yet another Grace and Frankie co-star joined the fight, this time Jane's partner-in-crime on the series, Lily Tomlin, proving that, even though their show is ending, their friendship lives on.
Joaquin Phoenix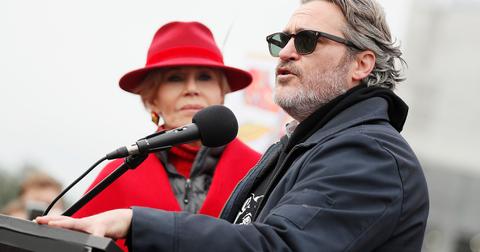 The 14th and final Fire Drill Friday took place on Jan. 10. Fresh off his Golden Globe win for his portrayal of Arthur Fleck in Joker, Joaquin Phoenix condemned the meat and dairy industry for their role in climate change. He was arrested shortly after.
Martin Sheen
Everybody's favorite fictional president took to the stage at the final Fire Drill Friday. Martin Sheen tapped into his The West Wing roots to give a rousing speech about the need to fight.
Honorary members: Ben Cohen and Jerry Epstein, the founders of ice cream company Ben & Jerry's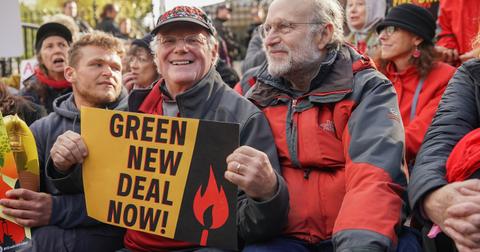 Ben and Jerry actually didn't get arrested because they were at the fifth Fire Drill Friday, when no one was arrested. That being said, they probably deserve to be on this list because they're incredibly outspoken about climate change. They have also been arrested previously for protesting in favor of a democracy that favors everyone instead of the "wealthy elite".