Why Black and White Photos Are Being Captioned "Challenge Accepted" on Instagram
What is the meaning of "challenge accepted" on Instagram? Users are posting the phrase with a black and white photo, for this social media challenge.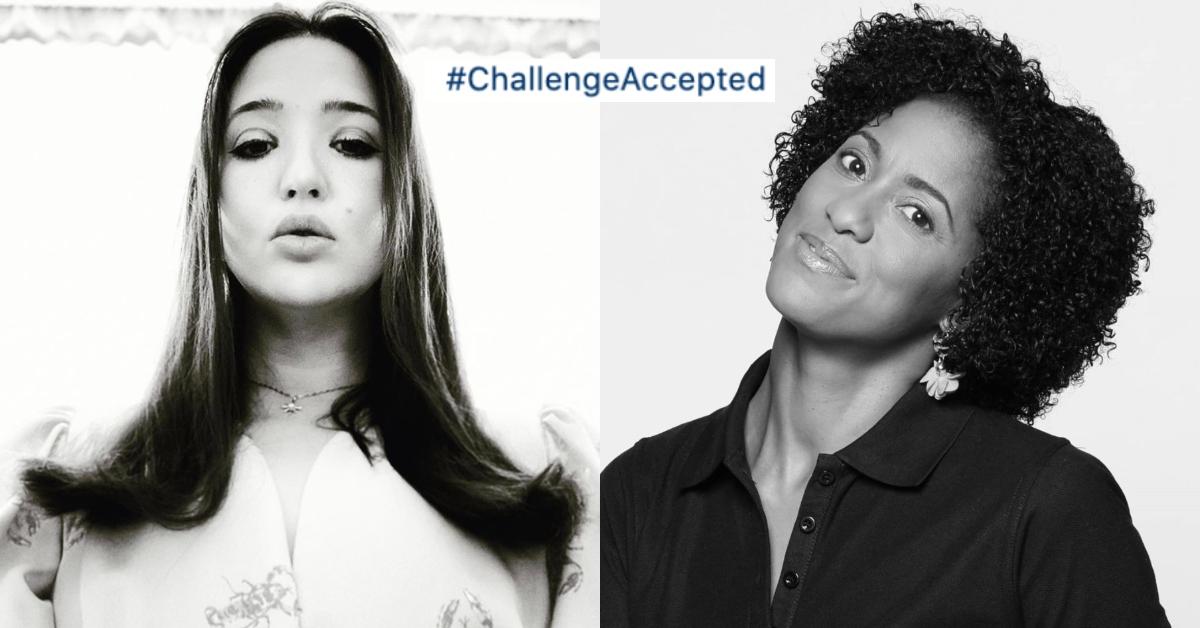 While various Instagram challenges were popping up on a daily basis in the beginning of the coronavirus quarantine, from push-up challenges to the Game Face Challenge, they've been few and far between as of lately. However, a (sort of) new trend has emerged from the depths of social media, which has users posting black and white photos, along with the phrase "challenge accepted" or the hashtag #ChallengeAccepted, in the caption.
Article continues below advertisement
What type of challenge is being accepted in this mysterious new Instagram trend, and why does it include a black and white selfie? We've done a deep dive into the latest and greatest social media trend that has most likely filled up your feed these last several days, so sit tight. We have all the details.
Article continues below advertisement
Why are people using the phrase "challenge accepted" in their latest Instagram posts right now?
Boredom and a need for positivity in these dark times has inspired Instagram to bring back an old Instagram challenge from 2016 called the Black and White Challenge, according to Hit C.
Users are posting black and white selfies to the app, and including the phrase "challenge accepted" in the caption. Originally, the point was to raise cancer awareness, but these days, it seems to be advocating for female empowerment.
Women of Instagram have been tweaking the original challenge by including hashtags such as #womenlifteachother, #empoweringwomen, and #womensupportingwomen, The point is to make Instagram a safe and positive space for those who need it most right now, and for women to appreciate each other's beauty. Take a look at a few recent examples, below, and soak everything in from this incredible girl power movement.
Article continues below advertisement
Article continues below advertisement
Why the influx of female empowerment? It may have something to do with New York legend, AOC.
One reason Instagram may be seeking out a little good old-fashioned some female empowerment right now could be due to the reecnt altercation that occurred between New York Democratic Rep. Alexandria Ocasio-Cortez — aka AOC — and Florida Republican Rep. Ted Yoho on Tuesday, July 21. On the steps of the Capitol, according to USA Today, Yoho confronted AOC, calling her a "f--king b---h."
Article continues below advertisement
Although Yoho reportedly apologized, many, including AOC, have deemed it insincere. In fact, AOC took to the House and clapped back at the congressman with a powerful speech, standing up for herself and for women and womxn as a whole. Needless to say, ladies across the globe are reveling in girl power vibes after all of this.
Women have gone through a lot these last several years, and this girl power movement is what many of us need right now. Although a black and white photo and a few likes won't make everything better, it definitely enables us to ~feel ourselves~ and kick off the weekend feeling cool and confident.
You definitely don't need to participate, but throw out a few likes and maybe a couple of compliments. Spreading positivity certainly never hurt anybody.