Guy Shows off AI Tool That Lets You Cheat on Job Interviews
A TikToker claims that a ChatGPT-like AI tool can help people during job interviews. Here's what to know about the app and how effective it is.
With the threat of a recession looming over everyone's heads, you may find yourself on the job-hunt grind sooner rather than later. Whether or not you have some job security, plenty of folks are updating their résumés and dusting off their cover letters in case they start searching for new places of employment. Job hunting can be difficult for anyone, and folks will want to do everything they can to get a leg up in job interviews.
Article continues below advertisement
To that end, some folks have considered using a new AI transcription tool to come up with the perfect responses for interviewees to try out while job searching.
In late May 2023, TikTok started buzzing about a relatively new AI tool that functions similarly to ChatGPT in generating responses based on the prompts that it is given in real-time. It's touted as something of a life hack for job interviews, but does it actually work? Here's what you should know.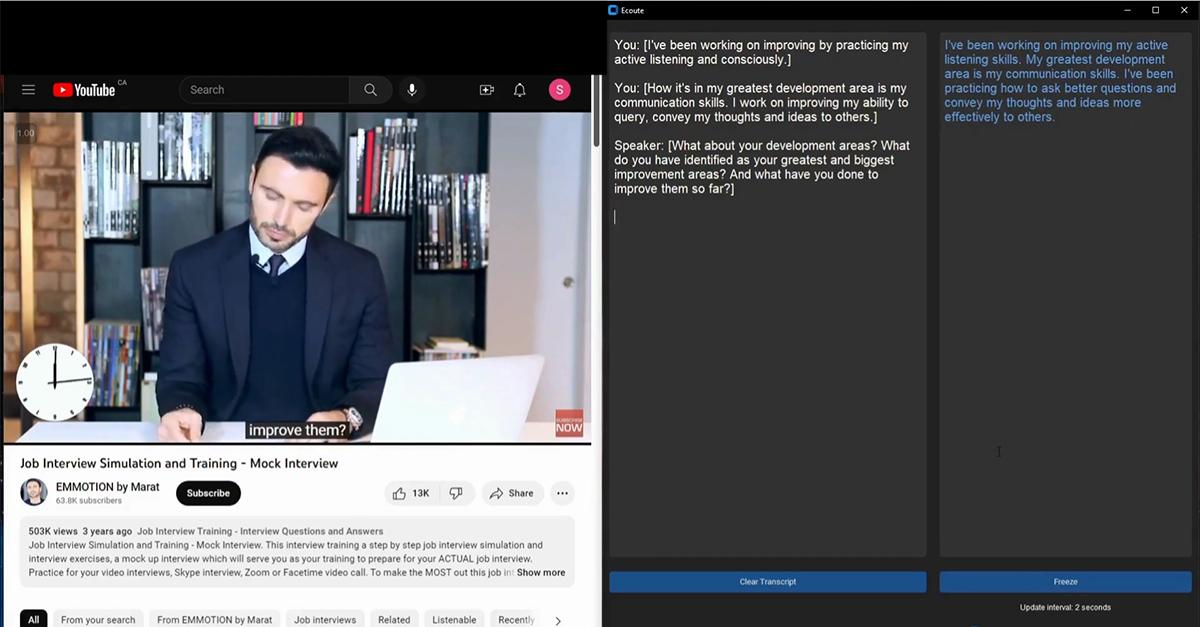 Article continues below advertisement
This ChatGPT-like AI tool can supposedly help you in job interviews, but does it actually work?
Over on TikTok, a user going by the handle @YourAIClub shared a quick video exploring this new tool, which stirred up an interesting discussing in the comments.
The service is called "Ecoute." Derived from the French word écouter which means "to listen," Ecoute is described as a "live transcription tool" that will listen to and transcribe anything that it picks up from the user's microphone or speaker. And not only will it jot down everything that someone is saying, but it will also generate "contextually relevant responses" based on the information it receives.
Both the app itself and @YourAIClub on TikTok suggest using it for job interviews.
Theoretically, you could have Ecoute active on an open tab hidden from your interviewer to have a real-time cheat sheet for getting a new job. Instead of being put on the spot during a job interview with a question that you don't quite understand, Ecoute aims to be a tool that helps you craft the perfect response in a job interview so that you're not left floundering for an answer. Does it actually work, though?
Article continues below advertisement
According to most folks in the comments section, not really. While plenty of people are curious to see how well it works by applying for random high-paying positions regardless of their job experience, interviewers claim to be able to tell the difference between a genuine interviewee and someone using AI tools.
"Someone tried this when I was interviewing them," claims one commenter. "It was clear that they were reading something and it felt completely unnatural and staged. It was a fail."
Article continues below advertisement
Another supposed interviewer on TikTok said, "I just completed an interview where my notes literally said 'sounded like he was reading from an AI script — total robot.'"
By and large, several recruiters claim that they can hear when someone is using an AI tool for their interviews. Reportedly, many of the responses come off as unnatural and, worse still, not indicative of someone's actual job experience.
AI tools like Ecoute may be useful as a jumping-off point for creativity, but it's also important to inject some of your own words and experiences into any conversations, including job interviews. Otherwise, people will ironically think they're interviewing a robot anyway.