Chick-fil-A Worker Says She Had to Hide In Bathroom After "Two Creepy Guys" Offered to Walk Her to Her Car
Chick-fil-A worker says two male customers tried the same pick-up line on her while she was working, and she ended up hiding in the bathroom as a result.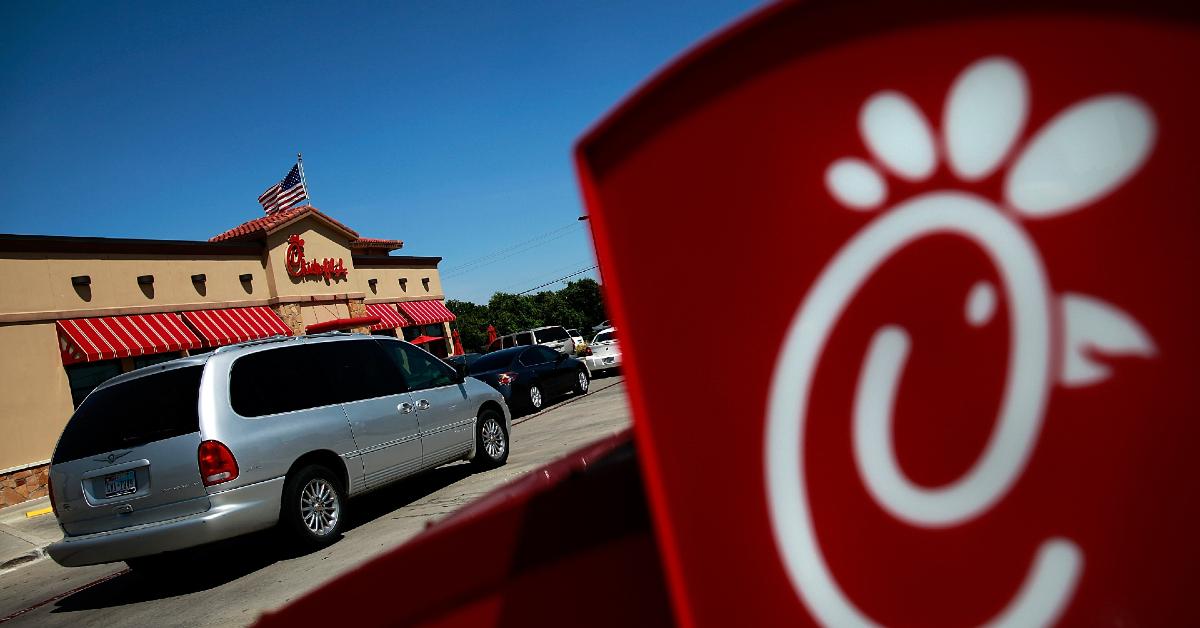 A Chick-fil-A employee's viral TikTok has sparked a conversation in the comments section about safety in the workplace.
Des, who posts under the handle (@destini.j) said that two separate customers approached her while she was on shift, asking her what time she gets off of work.
Article continues below advertisement
Des, much to the chagrin of many commenters who responded to her video, remarks that she did indeed inform them of when her shift was over for the day.
When she was done with her hours for the day, she didn't want to have to interact with the pushy customers following the end of her shift, despite the fact that the restaurant was closed.
Des decided to wait it out instead of having to be alone with strangers, one of whom was a police officer. She delved into the specifics of her situation: "Let me tell y'all why I'm hiding in the bathroom right now. So, we're closed, and we're doing our closing tasks before we get ready to go home."
Article continues below advertisement
She continued, "Earlier today while I was at work, this police officer came in and he was like talking to me but I didn't pay no attention to it. When it was time for him to leave he's like what time do you get off work? I was like ten o'clock. He was like OK bet I'm gonna be here in my police car I'll walk you to your car."
Article continues below advertisement
Des didn't seem like she was too thrilled by this proposal, "OK big man, all right, couple of hours later, another guy comes in, completely different aesthetic, completely different type of man, he comes in he talks to me...I give him his food he's like what time do you get off? But he said it in a way like oh you seem like you been at work all day, what time do you get off?"

Article continues below advertisement
Again, she told the second customer, "Oh, ten o'clock cause, why would I lie? And he's like, I'll be here to walk you to your car. What? No, cause somebody else was trying...it's too much. It's too much, in the same day, it's too much...and now I'm hiding."

Article continues below advertisement
Several TikTokers in the comments section began relaying their own tales of pushy customers who attempt to spend time with them after their shift is over at work.

Article continues below advertisement
Others said that they too have felt the need to come up with creative ways within conversations to try and let people down easy without upsetting them, while others said that putting someone in the position to do that is a terrible personality trait for someone to have.

Article continues below advertisement
And then there were those who wished that individuals would be more considerate when it came to talking with employees on the job and confusing their kindness for potential romantic interest, as most folks who are on the clock are just concerned with getting their work done for the day and then going home.

Article continues below advertisement
Of course, many TikTokers wanted to know what ultimately happened when she finally left the bathroom to go home. Des provided a follow-up video explaining what happened when she returned to work the next day.

Article continues below advertisement
"All right so many people have been waiting for this update from yesterday...the cop he ended up coming in but he was like I have a call I don't want you to think I wasn't thinking about you but I wasn't done working so I was like it's OK cool bye, and then what else happened, the other guy...he never showed up. At least I don't think he showed up, so cop for the win."
What do you think? Have you ever worked a retail job and had to deal with overly pushy customers who are trying to hit on you while you're on the clock? Were you ever made uncomfortable by a patron while on the job?