Mom Says Son Came Home "Starving" on First Day of School Because Other Student Ate His Lunch
A mom wanted to know if she was in the wrong for wanting to cause a stink over another student eating her son's school lunch.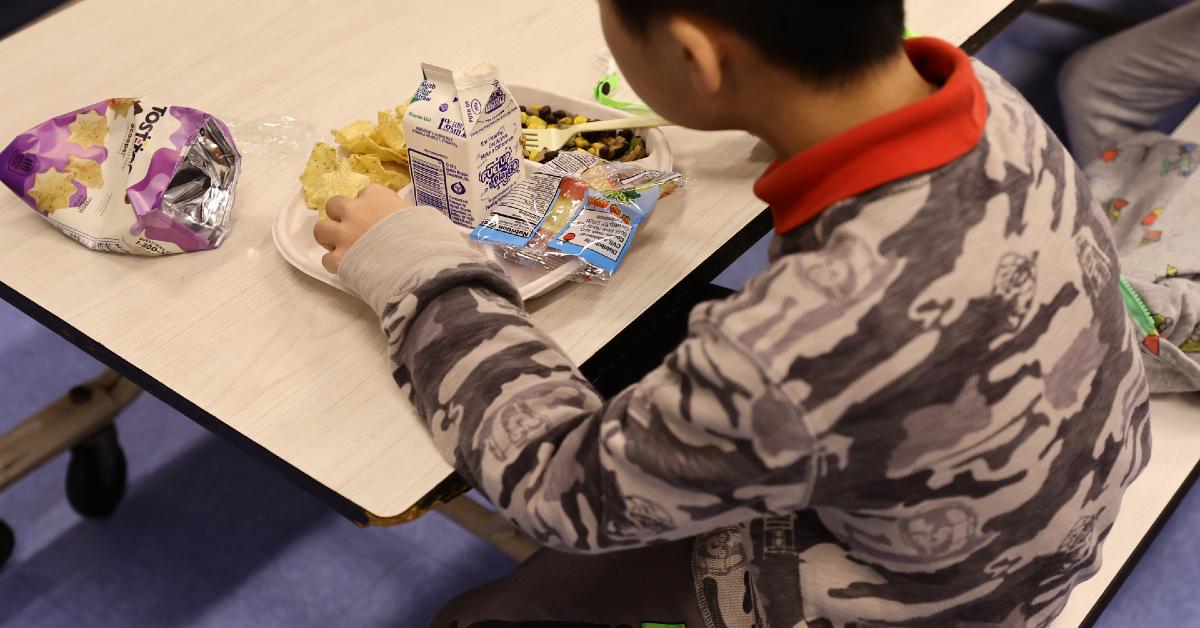 There's something utterly primal about another being swooping in and eating our food. Sure, an argument can be made that there are plenty of metaphors for that in the workplace, the creative arts, or in the world of cutthroat business deals. But there are certainly folks out there who will have no problem literally taking the food of another person, just ask people in jail or in school.
Article continues below advertisement
However, there's a stark difference between someone intentionally eating your food as a means of trying to insult/degrade you, and someone making an honest mistake. While enough prison movies have probably taught us that when that happens in the mess hall of the big house, well, a brawl's about to go down.
School is an entirely different story, especially during the chaos of the first day back.
At least that's what Mumsnet user @charley39 encountered when she asked for some advice from fellow users on the platform in a viral blog post delineating what happened to her son's sandwiches. Charley learned that another student had eaten her son's lunch and she wanted to know if she was wrong for wanting to bring it up to school staff and/of if it would be a big deal if she decided to say something.
Article continues below advertisement
She wrote in her blog post: "Just collected my son from his first day of school in reception. Nothing was said at pick up by the teacher. On our way out of the school my son told us that he didn't eat his sandwiches. Bit more digging and he's told me that he didn't get his lunch another child ate it all and he was given a baguette instead. None of it was making any sense so we went back to the class to speak to the teacher."
Article continues below advertisement

Charley continued, "Apparently another child has picked up his lunch bag and they assumed my son didn't have a packed lunch so they got him a ham baguette which he ate half the bread off(he won't eat ham only plain bread). Then she said they then realized another child had his lunchbox and they then gave it back to my child so I said oh so you did eat your crisps and cake and my son was adamant he didn't get it it was eaten. The teacher then said oh I don't think we had picked up on it quick enough."
Article continues below advertisement

"Now I've come home I'm getting more and more upset about the situation. He's come home starving and it has stressed him out the fact he didn't get his own lunch which is a big thing for him. And the fact it's his first day of school."
Article continues below advertisement

The mom concluded, "Also extremely concerned in terms of allergies, etc if the other child who had his lunch had allergies. I feel like it is a big issue?" She wanted to know if she was being unreasonable, and several users on the platform assured her that it was probably just a case of things being all topsy turvy because it was the first day of school.
Article continues below advertisement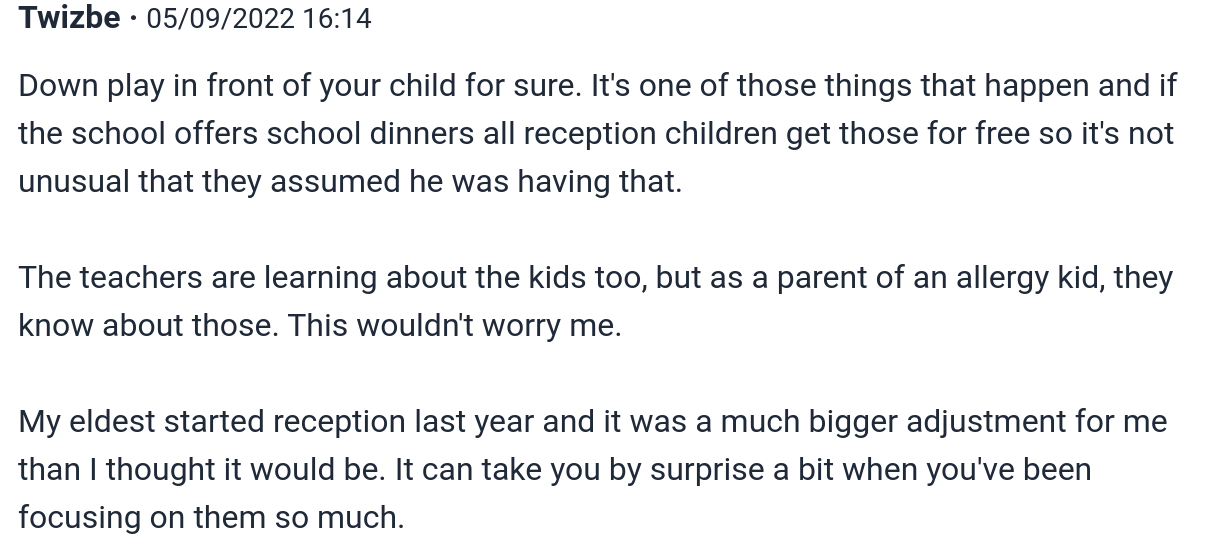 "Downplay the drama for the sake of your son."
"It's really not a big issue op. It's just one of those things.When your ds is eating his own lunch tomorrow, he won't even be remotely bothered by it anymore - unless of course you make it out to be a bigger deal than it is, in which case he'll feed off your anger and upset."
Article continues below advertisement

"Children almost always get anxious when they see their parents being dramatic and anxious.Calm it down, play it down or this is going to do him more harm than good.."
Article continues below advertisement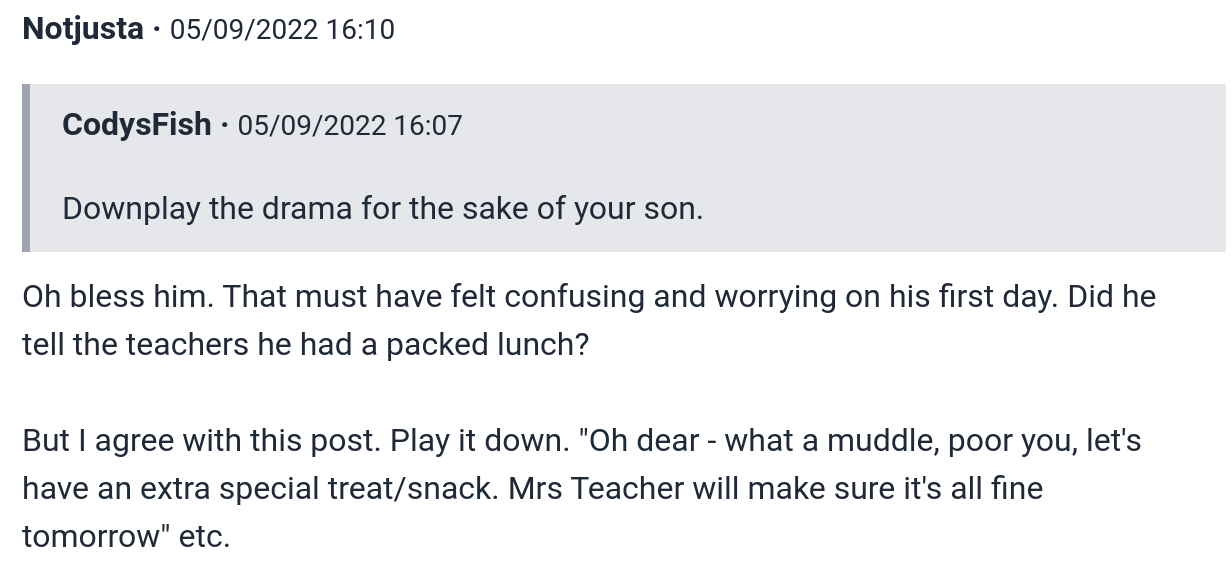 The majority of parents on the forum said that ultimately Charley's child, like many children, would feed off of her own energy and if she decided not to turn it into a big deal, then he would more than likely not make it a big deal himself.
Article continues below advertisement

Of course, no parent wants to hear that their child came home not eating their school lunch, and it's even more frustrating to hear that another student may've eaten that food, or worse, bullied their child for it.
Article continues below advertisement

The National Bullying Prevention Center reported that one out of every five students in America have said they've been bullied at one point or another in their lives. And even though tons of strides have been made in raising awareness against bullies in recent years, along with new legislature and rulings crafted to help curb the spread of bullying, it's still a prevalent phenomenon.