Did Jeffree Star Really Come After Loona's Choerry?
What happened between Jeffree Star and K-Pop icon, Choerry? The Loona singer found her name trending alongside the beauty entrepreneur's. Details.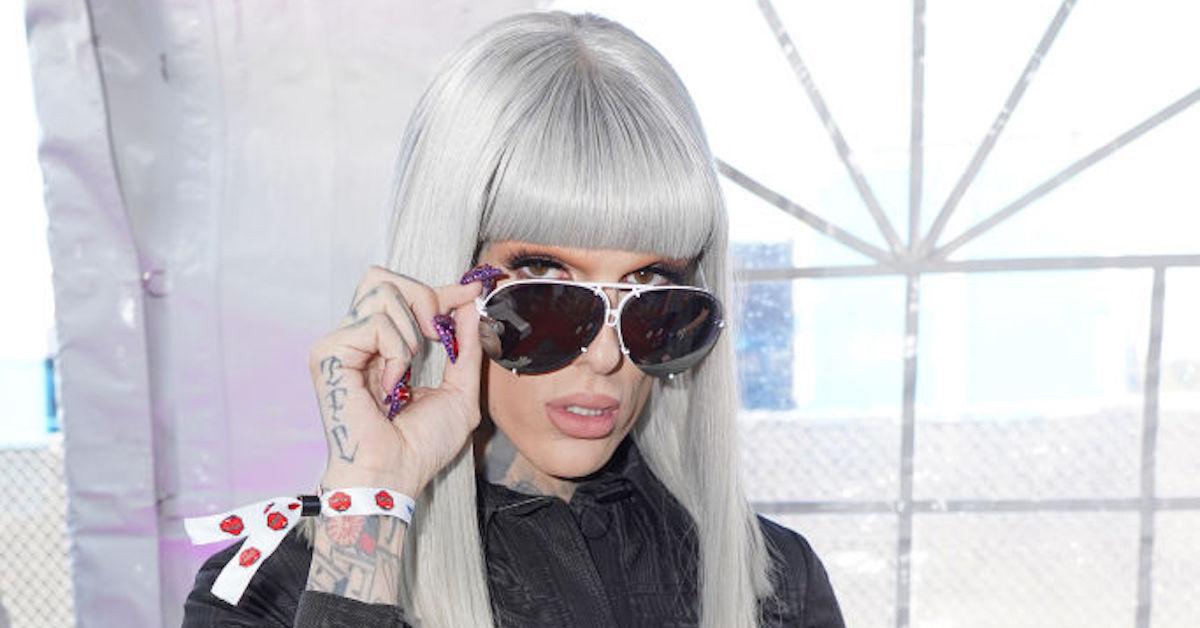 Article continues below advertisement
But considering the fact that these two personalities typically inhabit two markedly different online stratospheres, you might be scratching your head wondering what drama brought them together.
Keep reading while we do our best to unpack the beef between K-Pop's Choerry and beauty guru and entrepreneur Jeffree Star.
Article continues below advertisement
What caused drama between Jeffree Star and Loona's Choerry?
Jeffree Star had been noticeably silent on social media leading up to the 10-minute apology video he released on July 19, titled "Doing What's Right." In the video, the beauty guru cleared the air about last year's Tati Westbrook and James Charles' drama, apologizing to the latter after spending a lot of time "reflecting on his own behavior."
The video, however, had nothing to do with the Korean pop star and member of Loona. According to Twitter's English-language translations of Korean closed captions, Choerry released a recent YouTube vlog where she reportedly said that Jeffree "looks like Skeletor."
Article continues below advertisement
As a result, a verified Twitter account appearing to belong to Jeffree tweeted the following along with two screengrabs from Choerry's video: "I will not tolerate an untalented girl such as yourself bashing my name online. You should be ashamed."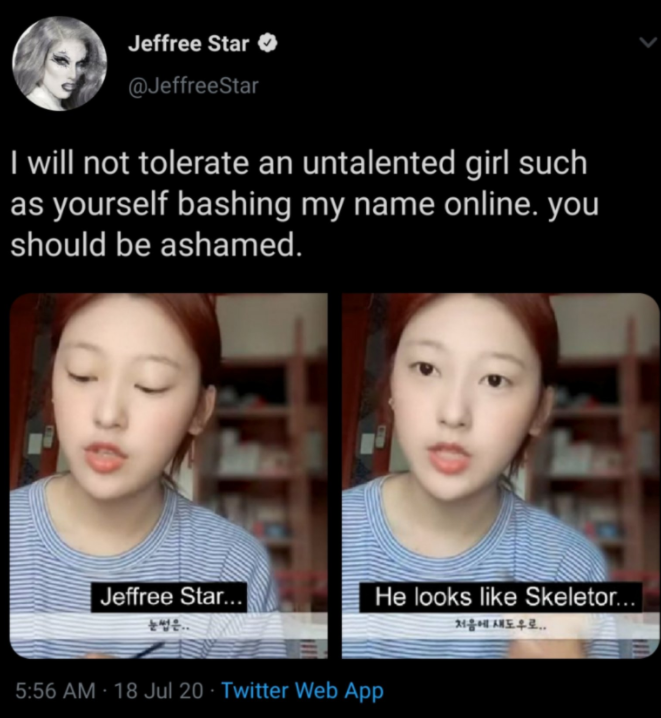 Article continues below advertisement
The Loona fandom came crashing down on Jeffree after the tweet. "I've always known he was trash, but what he did to this queen is unforgivable," one Loona fan wrote. Another lashed out: "You can't address the Shane situation but you can silence a young woman of color? Please, you're nothing compared to her. Jealousy is a disease. Get well soon, Skeletor."
"Another scary-looking [white] man trying to silence an Asian woman of color," lamented another. "So f--king disgusting please get off Twitter and focus on your sh--ty makeup."
While K-Pop fans tirelessly kept both Jeffree's and Choerry's names trending as a result of their verbal barrage, it actually appears that the Jeffree Star tweet was fake.
Article continues below advertisement
It seems that Jeffree's tweet was just a fake screenshot.
It now appears that Loona's fanbase spent a lot of energy going after the wrong person this weekend, as Jeffree Star's tweet is nowhere to be found on his own account. YouTuber Keemstar also says that he spoke to the make-up expert, who claimed he never said anything about Choerry.
Article continues below advertisement
"He never tweeted this," Keem wrote. "It's a fake screenshot by Kpop Stans running a Fake News for clout!"
Several internet sleuths were quick to point out another discrepancy: the fact that the supposed Jeffree tweet was dated July 18, when it was still July 17 in the United States. A BlackTea video also expanded on the fact that the Korean screen grabs, which are translated to be about Jeffree looking like Skeletor, have been mistranslated.
One thing's for certain: The K-Pop community is faster to organize than almost any other group online.