Woman Lists Bed for Free on Internet, Gets Unhinged Texts When She Refuses to Deliver to Stranger
A person giving away a free bed shared a frustrating text message conversation with someone who thought that they deserved the white glove treatment.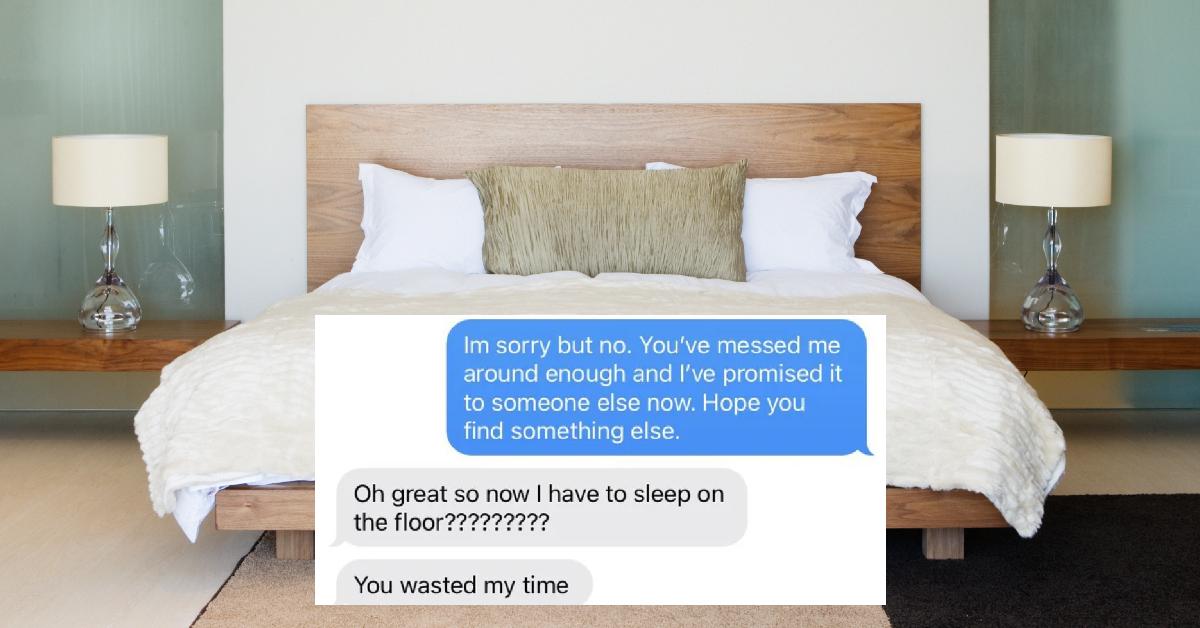 While there's a lot of oppression in the world and certain rules and systems set in place that stack the odds against us, like Robinhood changing its rules after a bunch of hedge fund bros and Wall Street investors got beat at their own game during the Gamestop stock fiasco, there are certainly people who spend more time complaining about their lot in life than actually trying to do anything to actively change it.
Article continues below advertisement
I.e., regardless of whether or not one "feels" like doing something, actively forcing themselves to do so becomes habit forming and a part of that individual's personality.
Unfortunately, if a person expects to have things handed to them on a proverbial silver platter and expects others to participate in these feelings of privilege, it can lead to some nasty exchanges.
Sort of like what this Redditor endured.
Article continues below advertisement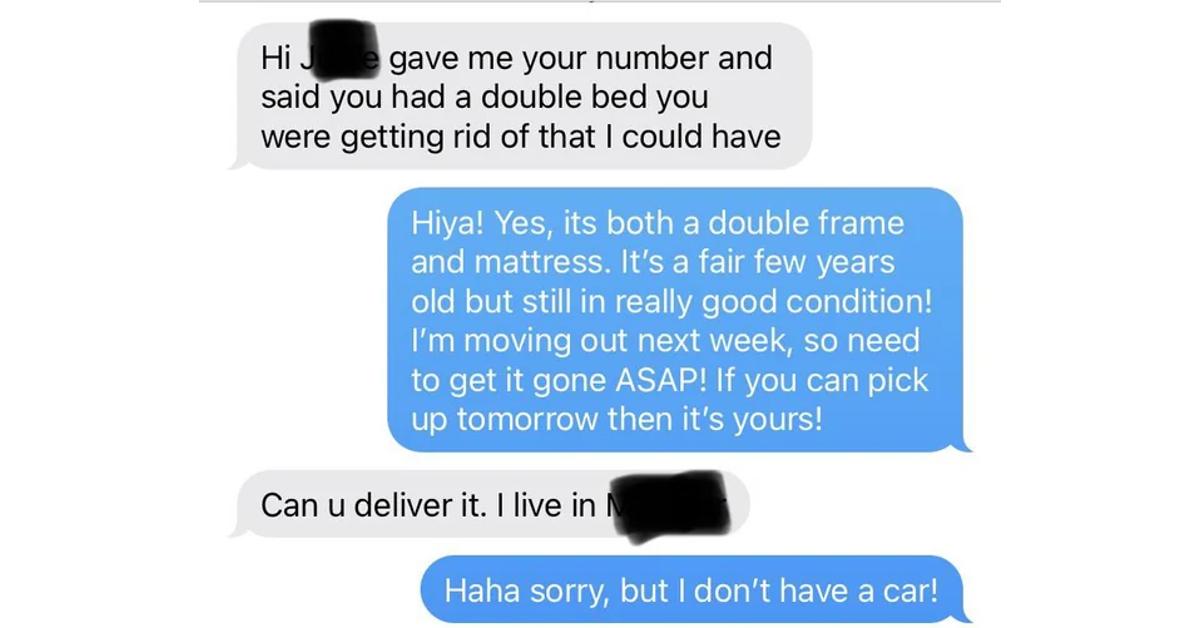 User @greenacregal screen captured and uploaded a message thread to the r/choosingbeggars sub by a user on the site that shows their infuriating correspondence with a person they were gifted a free mattress to.
Article continues below advertisement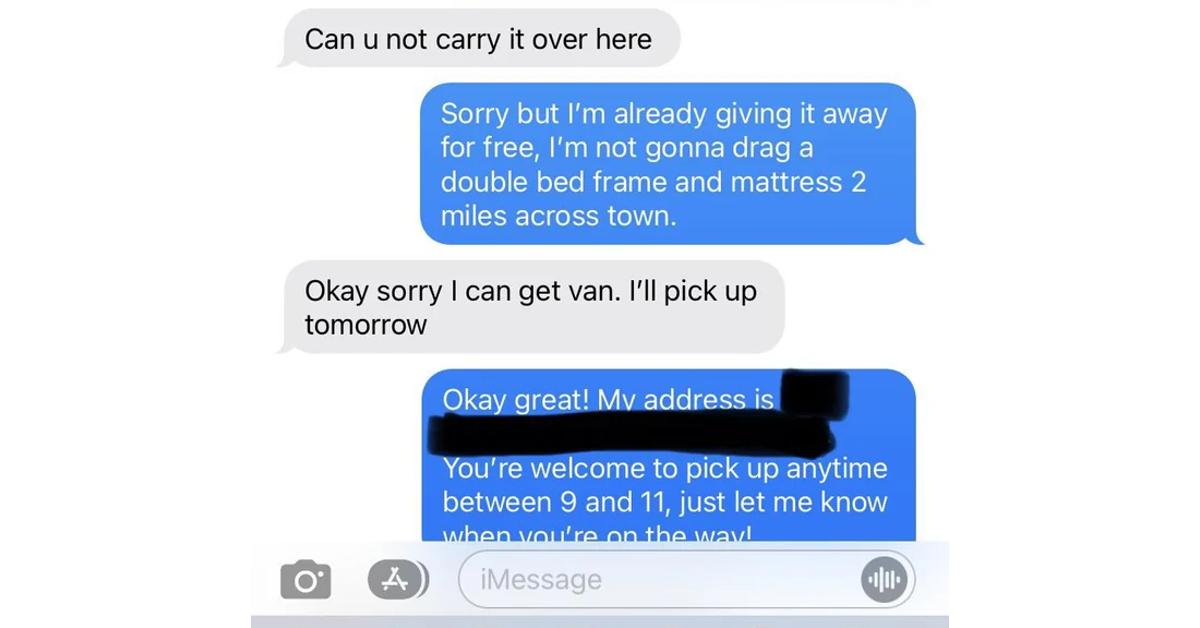 Since OP was giving away the mattress for free, they expected that whoever was getting it could, at the very least, take it out of their place themselves during a time that was convenient for OP. As the saying goes, beggars can't be choosers, right?
Article continues below advertisement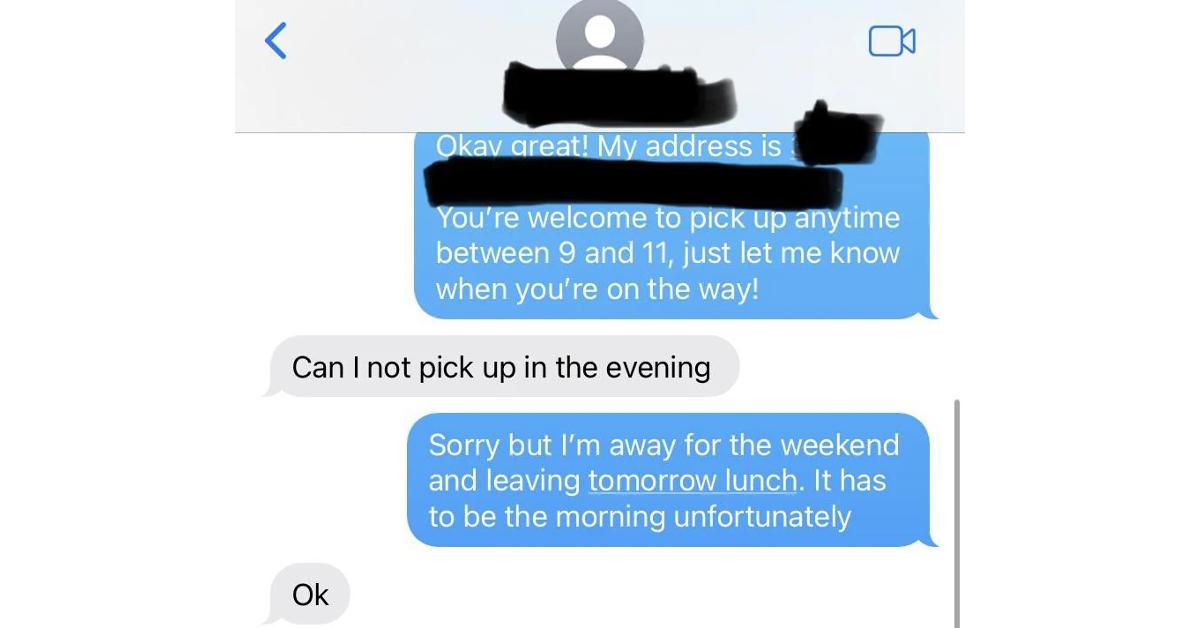 Well, the person who wanted the mattress apparently never heard that term before, because throughout their discourse they constantly tried to either get OP to deliver it to them, or carry the mattress down the stairs themselves and leave it outside of their home.
Article continues below advertisement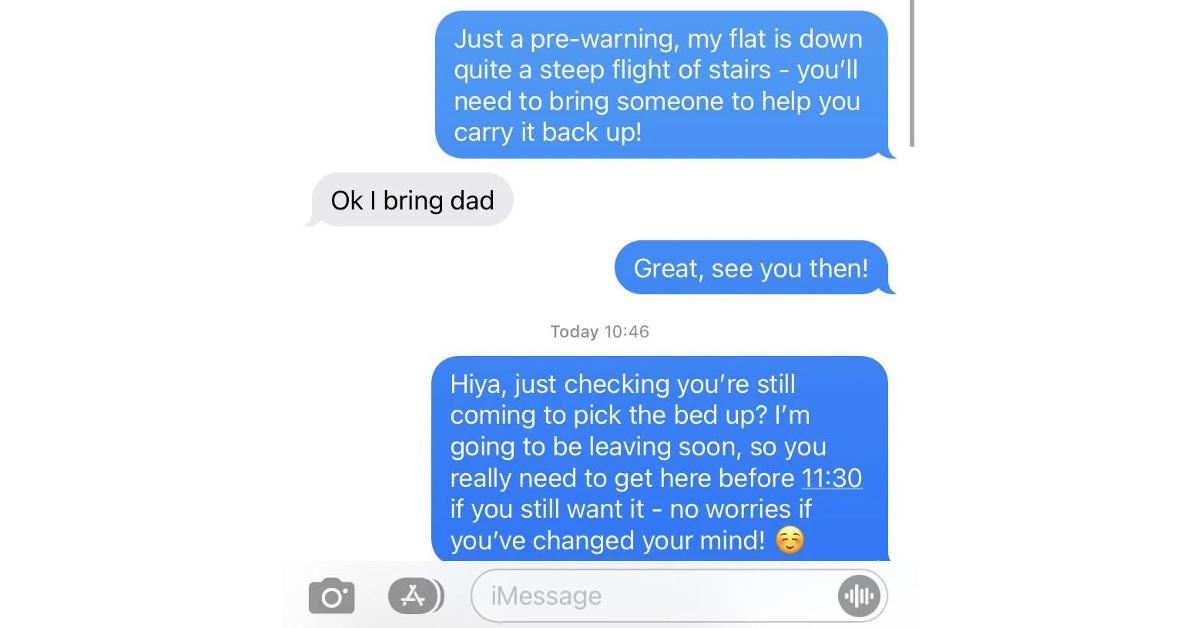 OP explained that this wouldn't be possible, and the choosing beggar kept going back and forth asking if there were any other concessions that they could make so they'd be able to pick up the mattress in a manner that better fit their schedule.
Article continues below advertisement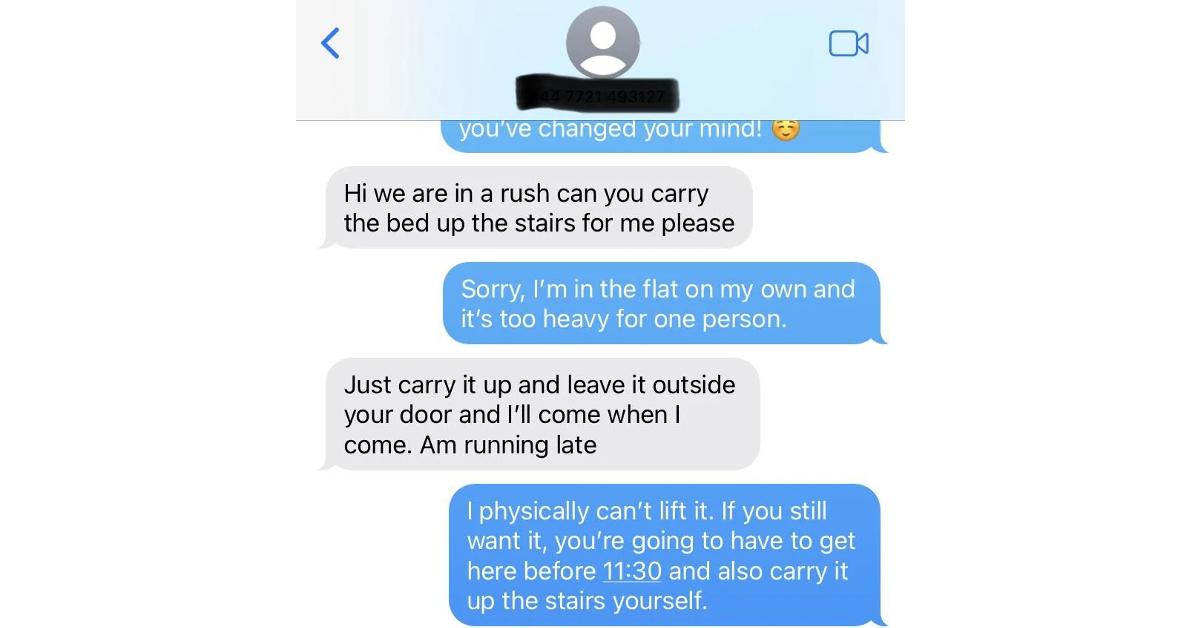 It all became too much for OP to bear and they ultimately decided to just give the mattress away to someone else because the choosing beggar couldn't be bothered to make it by the time that OP said they had to get it out of their house by.
Article continues below advertisement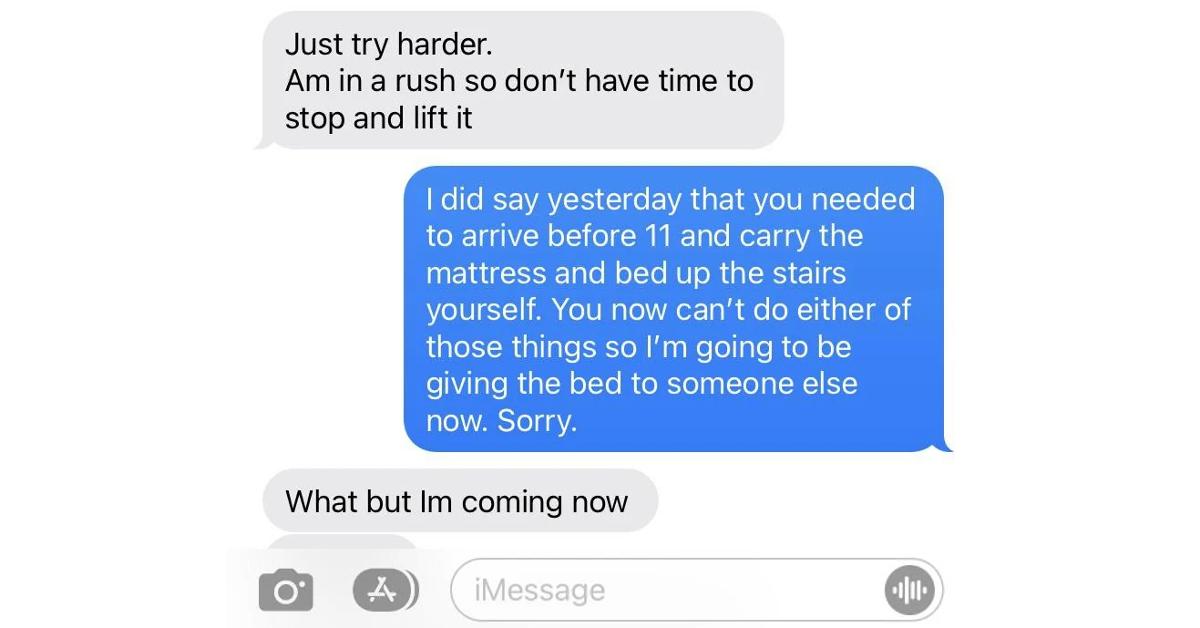 This, unsurprisingly, didn't sit so well with the choosing beggar, who immediately began taking ownership of the mattress and couldn't believe that OP would give away something they initially said that they could have.
Article continues below advertisement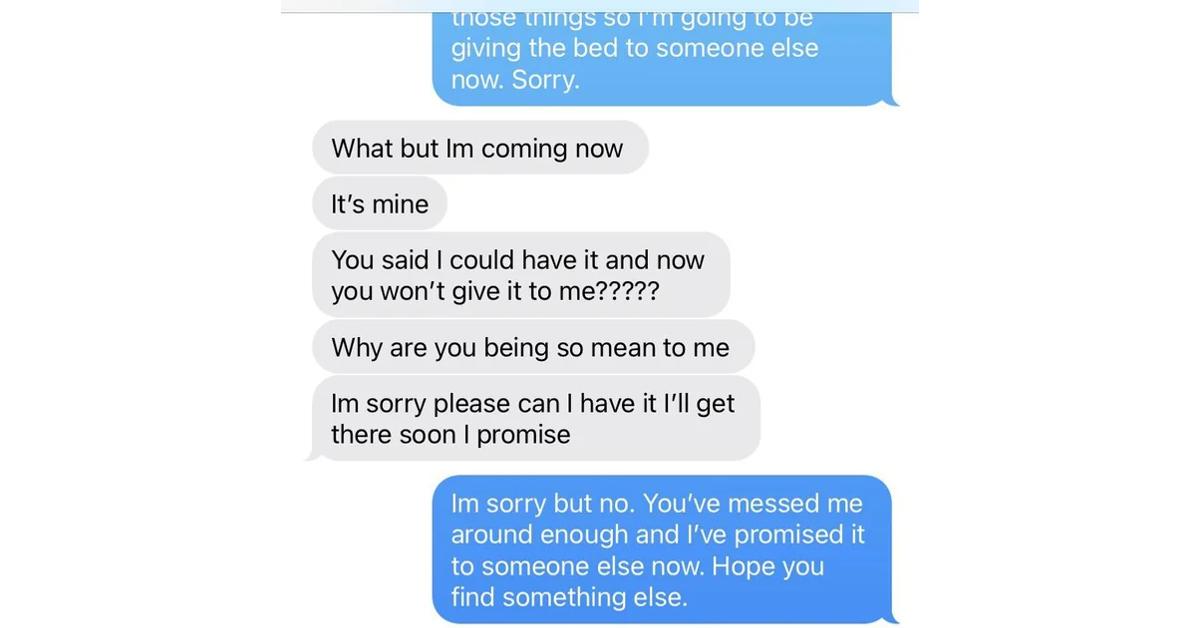 They also tried to guilt trip the Redditor saying that they were going to have to sleep on the floor now because they promised the mattress to someone else.
Article continues below advertisement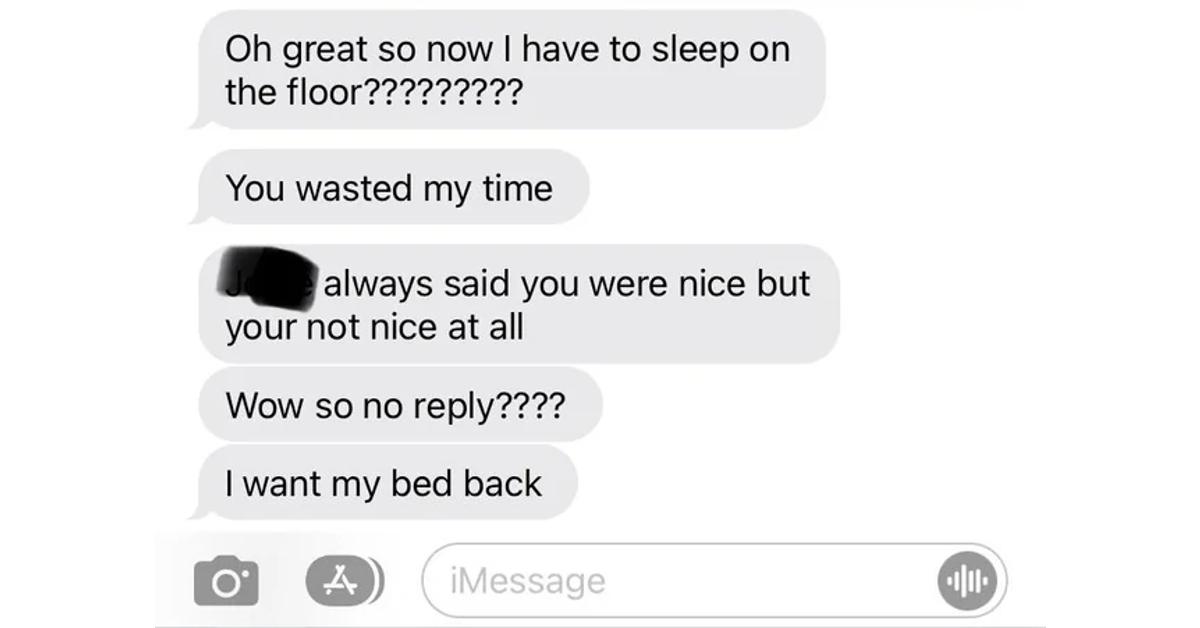 Users who replied to the sub post expressed their secondhand shock and anger. Folks began posting some of their most rage-inducing quotes from the choosing beggar in their responses while others questioned the person's sanity, stating that they couldn't believe a person could be that dense.
Article continues below advertisement

What do you think? Would you have been as patient as the Redditor? Or would you have tried to learn more about their situation to see if they really needed the bed that badly?