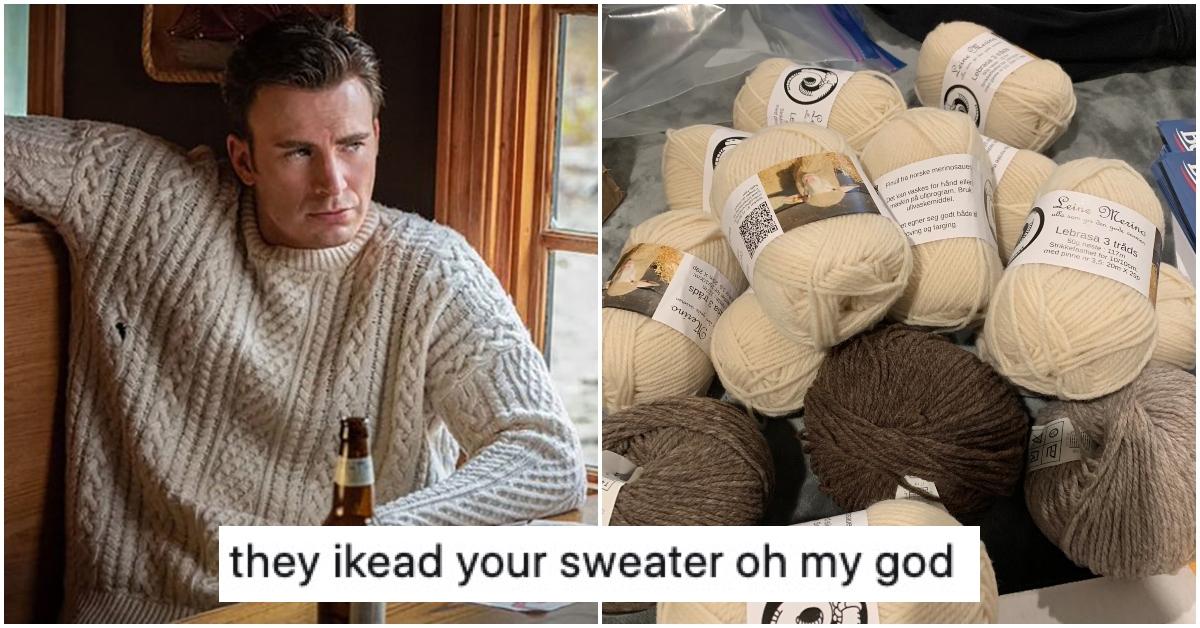 Guy Orders Chris Evans Sweater from 'Knives Out' — But There's Some Assembly Required
He thought he found a very reasonable sweater that resembled the one Chris Evans sports in 'Knives Out.' But he had unknowingly ordered just a bunch of skeins of yarn.
Chris Evans wore a cable-knit sweater in Knives Out and absolutely ruined it for all other men who attempt to wear any sweater ever again. The Knives Out sweater is arguably more iconic than Captain America. Yes, I said arguably. I'll argue that. It makes sense that people everywhere are searching the depths of the internet for a sweater that resembles the cozy, frayed one Chris Evans donned in the Rian Johnson flick.
Article continues below advertisement
One such man, writer Dan Sheehan, thought he finally found the sweater of his dreams, the one that would transform him from Dan Sheehan into a guy who was clearly trying to cosplay as Chris Evans's character Ransom Drysdale. The price was extremely reasonable, so he ordered it. But he evidently didn't read the fine print, and what he got was not what he expected.
Article continues below advertisement
This is priceless. If Ransom himself were made aware of this, he'd probably cackle annoyingly right in Dan's face. Unfortunately, Dan does not know how to knit, so it doesn't look like he'll be getting his sweater anytime soon. In a follow-up tweet, he takes all the blame for his mistake ("100 percent my fault") and says he will gift the very soft wool to various friends who do knit... for years to come. That's a lot of yarn.
But there's more to the story! Dan keeps coming at us with surprises, kind of like the movie Knives Out. He writes in yet another follow-up tweet, "An extra wrinkle on this whole thing is that it's a farm I worked at briefly in 2016 so some of these sheep are my friends." I didn't think this story could get any better, but then it did.
Article continues below advertisement
I mean, look at that little guy. He's practically begging Dan to abandon all his responsibilities and devote all his time learning to knit so he can make that sweater. Don't you think? Dan's little thread went totally viral, garnering over 130,000 likes, nearly 10,000 retweets, and over 1,000 responses from people who loved everything about the story.
Article continues below advertisement
"They IKEAed your sweater oh my god," one person wrote. "Guess you feel pretty sheepish, eh?" another wrote. "I would, if I were ewe. Maybe you can claim you were fleeced and try and return it." See? Twitter is good sometimes.
Article continues below advertisement
Article continues below advertisement
Some people in the responses wanted to know where he got such nice, affordable yarn. Others offered to knit the sweater for him. All he had to do was ship the yarn. But so many people in the comments encouraged Dan to take up knitting and learn to make the sweater on his own. Even Knives Out director Rian Johnson got in on the conversation. His short tweet amounted to what we in the biz call a challenge.
Article continues below advertisement
That little yellow shrug emoji is devastating. Do I think Chris Evans really knitted his sweater for Knives Out? No. But would I be surprised to learn Chris Evans loves to knit, has been a knitting enthusiast his entire life, and in fact did fabricate the now-iconic piece of clothing? Also no.
Dan responded to Rian's tweet with a very simple, somber "Then I know what I must do." "Needles Out," wrote a clever contributor in response. Raise your hand if you think that in the sequel to Knives Out, which is apparently happening, Dan should be featured in the background of every single shot, knitting away?
Article continues below advertisement
He wouldn't need his own story line. But it would be like an inside joke for the Twitterverse. We'd see his knitting triumphs and failures, his progression, and eventually (hopefully) the finished product. Someone get Rian Johnson on the phone. I think this is a great idea.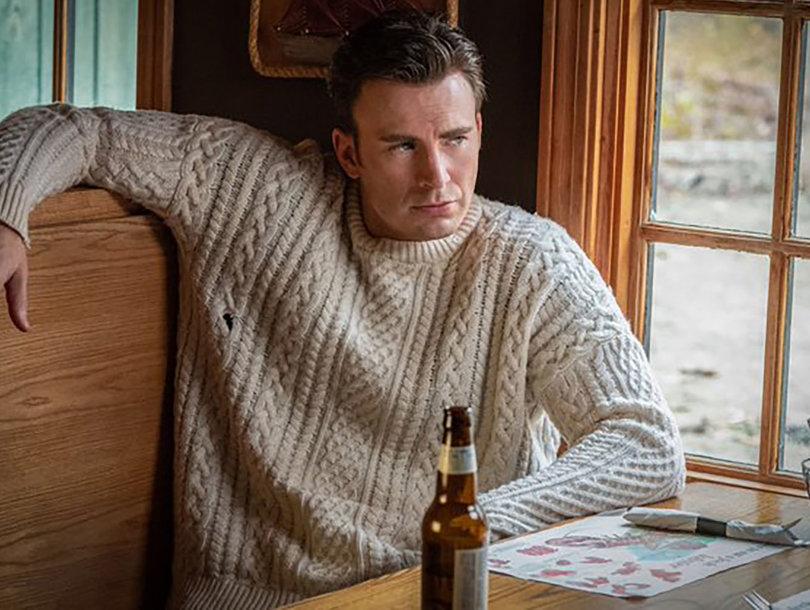 You can't take your eyes off that thing! But you also can't look at it for too long, otherwise everything else in your life becomes perceptibly uglier. I hope that Dan gets the sweater he wants, through any means, and I bet we all can't wait for Knives Out 2: Sweaters, Sweaters, Everywhere.