Chris Meloni and His Wife Have Been Married 25 Years
Here's what you need to know about Christopher Meloni's family life, including who his wife is, and whether the couple have kids together.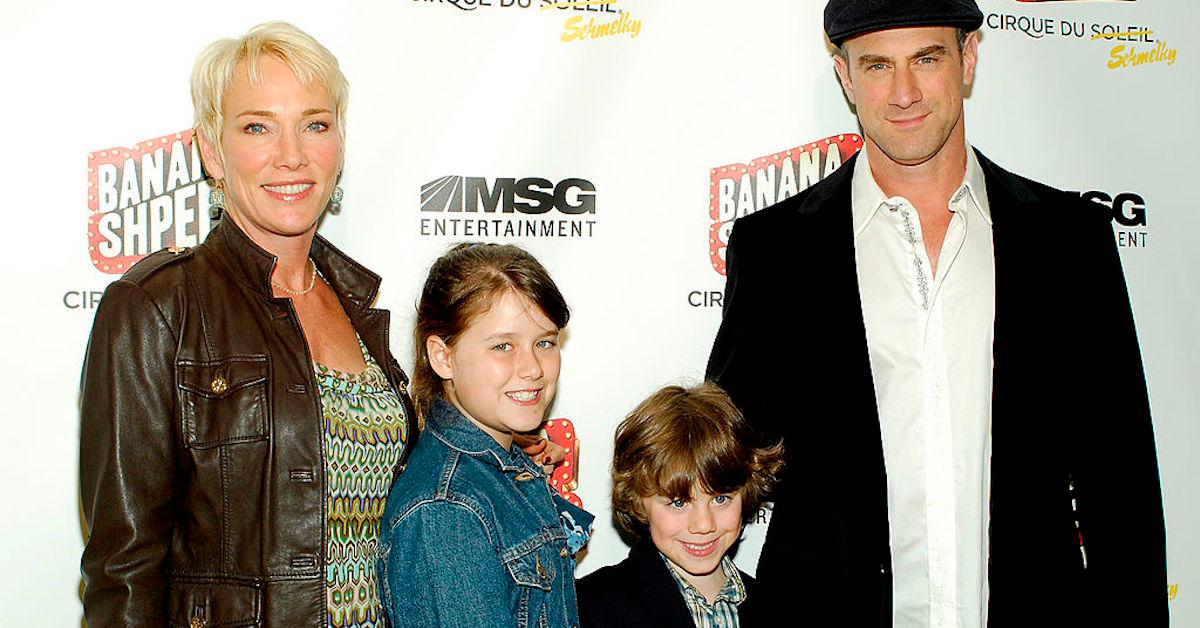 We are honestly so excited for Christopher Meloni to return to the Law & Order franchise and head his own spinoff called Law & Order: Organized Crime.
Article continues below advertisement
The actor, who has also starred in Oz, True Blood, The Handmaid's Tale, and 12 Monkeys is set to reprise his role as Eliot Stabler, following his character's formal retirement from the Special Victims Unit. The recent casting announcement has many Stabler fans curious as to the actor's personal life. Stabler, for a fact, has been married to Kathy for over 30 years and the two share five kids. But how about Chris Meloni? Who is his wife, and does he have kids?
Article continues below advertisement
Who is Chris Meloni's wife?
Chris met his wife Doris Sherman Williams (she goes by Sherman) back in 1989, fittingly, on the set of an "immensely forgettable" (Chris's words) HBO series. Sherman was working as a production designer and Chris was in the early days of breaking into his acting career, when Sherman arrived to work one day riding a motorcycle.
"This I gotta meet," he recalled thinking to Your Tango. He thought she was "cool, funny, sexy," which we cannot disagree with. After all, Sherman looks like a Sharon Stone doppelganger! Unfortunately, she had a boyfriend at the time, and the two would continue to bump into each other for the next couple of years until they were finally both single and could entertain the possibility of dating.
Article continues below advertisement
"On our first date, we went to three parties, given by three sets of my friends," Sherman recalled to the outlet. "The first was in West Hollywood. Every guy there was gay. Chris passed with flying colors. Next we went to a party given by Beverly Hills snootballs. Chris kept his manners in check and held his own. Then we went to a costume designer's party in the Hills, where we drank beers from a tub on the porch. And I thought: I can take him anywhere."
Article continues below advertisement
Before long, the two were married, fantasizing over a house and children. But they waited, because "in 1995, I didn't feel I could establish a career as an actor and commit to kids at the same time," Chris says.
Do Sherman and Chris have kids?
On Law & Order, Stabler has quite the large family of seven. But Chris and Sherman only have two kids, Sophia Eva Pietra, 19, and Dante Amadeo, 16.
Sophia, from an early age, was drawn to performing and would produce little plays that she'd get her dad to act in. "My choices are always wrong," he said of his inability to satisfy his young director daughter. "I have never second-guessed myself [as an actor], but with my daughter, I do."
The tables turned somewhat in 2011 when Sophia took on the role of Suzy in Dirty Movie, a film that Chris starred in and directed about a producer's lifelong dream to make a movie about the most offensive, crudest jokes ever told. She now attends Wesleyan University.
We are definitely curious about the Meloni production, and cannot wait to see Chris reprise his role as Stabler both on Organized Crime and on SVU, where Warren Leight has promised he would make an appearance.