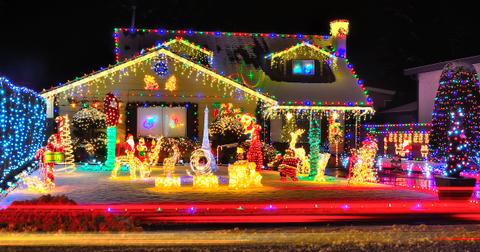 It's LIT! Here Are 14 of the Best Christmas Light Displays Near You
By Pippa Raga

Updated
While the holidays are certainly about great food and visiting family, the Christmas season wouldn't be complete without some dazzling decorations, humbling Christmas trees, and some over-the-top holiday lights.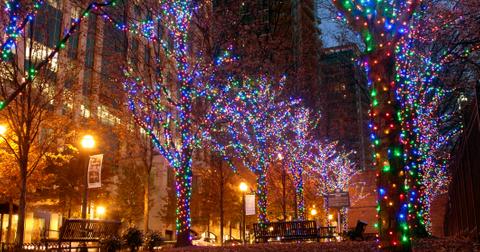 Christmas lights near me: Here's where to see the best displays...
Atlanta
December 5 will see the lighting of the Christmas tree in Marietta Square, along with musical performances by school choruses, a tree lighting ceremony, and a surprise visit by Santa.
If you're feeling adventurous, head over to Six Flags Over Georgia to check out the more than a million LED lights they've put up in honor of the holidays. What's more, you can ride all of the usual attractions but enjoy a totally fresh perspective of them with the dozens of Christmas trees spread around the amusement park.
Want something more out of the box? Try the Chinese Lantern Festival at Centennial Olympic Park. More than 25 handcrafted lanterns of land and sea animals are on view as part of the "Into the Wild" exhibition going on in conjunction with the International Winter Wonderland. Catch the beautiful light sculptures through Jan. 5.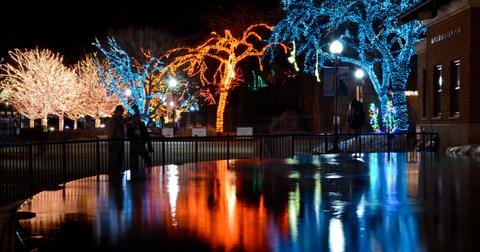 Chicago
Yes, the weather in Chicago may be frightful, but the Christmas lights are delightful enough to make up for the cold. That's especially true in the Logan Square neighborhood, where you should stroll around the houses to catch some of the most insane Christmas decor this country has seen. Hot tip: 2656 W Logan Boulevard is slated to be spectacular, and the residence has even been dubbed "the Logan Square Christmas House" for being the most original and fantastic on the block.
We are especially fans of Christmas activities that don't require braving the cold, and if that sounds like something you're into, we recommend visiting the Museum of Science and Industry's "Christmas Around the World," which pays respects to Chicago's communities and their respective holiday celebrations. While every day features 30,000 lights and falling "snow" on the half-hour mark, weekends will also include live performances of holiday music, which you won't want to miss.
Feeling outdoorsy? Leave the city and check out the Morton Arboretum in the suburbs of Chicago. The trees at the arboretum light up in a bunch of different colors to surround your one-mile walk through the enchanted forest. After the walk, there's a crackling fire where s'mores await.
Miami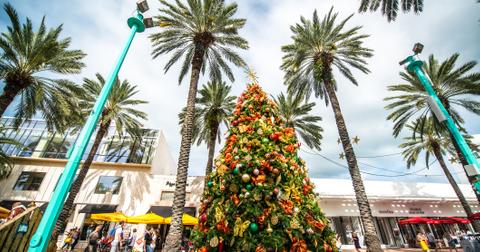 If you're lucky enough to be in warm Miami for the holidays, you're going to want to check out some of their nearly psychedelic Christmas light displays. The first stop should be Fairchild Tropical Botanic Garden's NightGarden, a pop-up exhibit that turns the garden into a neon wonderland featuring virtual fairies and talking trees. If your schedule is busy in the next few weeks, don't worry because NightGarden will be around until Jan. 11.
Plus, there's also Luminosa! Festival of Lights taking place on Jungle Island through Jan. 8, where illuminated silk lanterns and colorful jellyfish take over 13 of the park's 18 acres. Oh, and did we mention that there will be live music and performances by Chinese acrobats?
If those activities sound a bit high-key for your taste, take a stroll down Miami Beach's Lincoln Road Mall, where a massive menorah and 30-foot tree keep the holiday spirit afloat through the new year.
Philadelphia
The new entertainment and retail space that just opened in Market East, Fashion District Philadelphia, is celebrating its first Christmas with a bang. Every single night until the new year, Fashion District Philadelphia will host a light show timed to music by The Philly POPS. But that's not all: the space is also home to a 45-foot-tall floating tree, which makes it a definite must-see.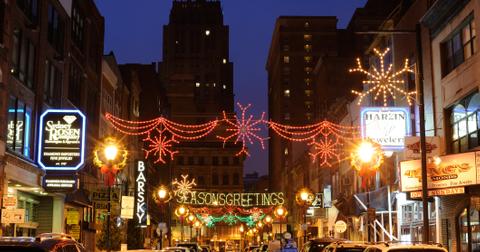 If you're in the mood for some family-friendly fun, visit the Elmwood Park Zoo's Wild Lights festival, where there will be over 1 million lights covering the entire zoo. Plus, every night of Wild Lights promises live entertainment, performers, photos with Santa, and even your chance to hang out with some of the zoo animals.
Perhaps the most wholesome Christmas wonderland on this list is A Very Furry Christmas at Sesame Place, which continues through Jan. 1. The park is transformed into a holiday extravaganza, complete with twinkling lights, festive decorations, and a 30-foot pixel-based tree that will project images that guests can dance to, for a fully interactive and immersive vibe.
Houston
If you're in the Houston area, you have to check out Woodland Heights, an area known for its high concentration of Christmas lights. If you happen to be in town on Dec. 14, check out their annual "Lights in the Heights" celebration — but even if you aren't, this neighborhood stays LIT all season long.
Don't want to get out of your car? We get it! Check out the Christmas Ranch just a few miles out of the city in Cleveland, Tex. It's a ranch owned by the Hanley family, who have been committed to spreading the Christmas spirit for the past 30-something years, and the funnest part is that the whole experience is a drive-thru, so you don't have to move much to take in the sights.
Hopefully these incredible Christmas light displays have you and your family covered wherever you are, for the rest of the season! Happy holidays!