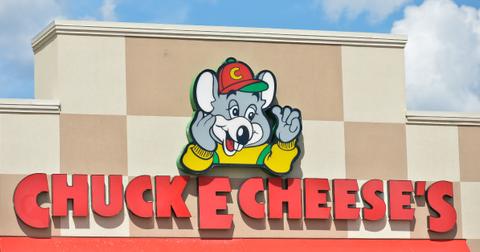 Chuck E. Cheese Changed Its Name to Sell More Pizza on Food Delivery Apps
By Robin Zlotnick

Updated
Charles Entertainment Cheese, you sneaky, devious mouse. First, you trick people into thinking that celebrating birthday parties with gross, gooey pizza and terrifying animatronic creatures is a good idea. And now, you're tricking those same people into ordering your gross, gooey pizza by putting your "restaurant," (if it can even be called that) under another name on food delivery apps.
Dastardly. And apparently, they're not the only ones. That's right. One Reddit user discovered that the party chain/house of nightmares known as Chuck E. Cheese actually went by a different name on food delivery apps. Soon, their secret scheme was busted wide open.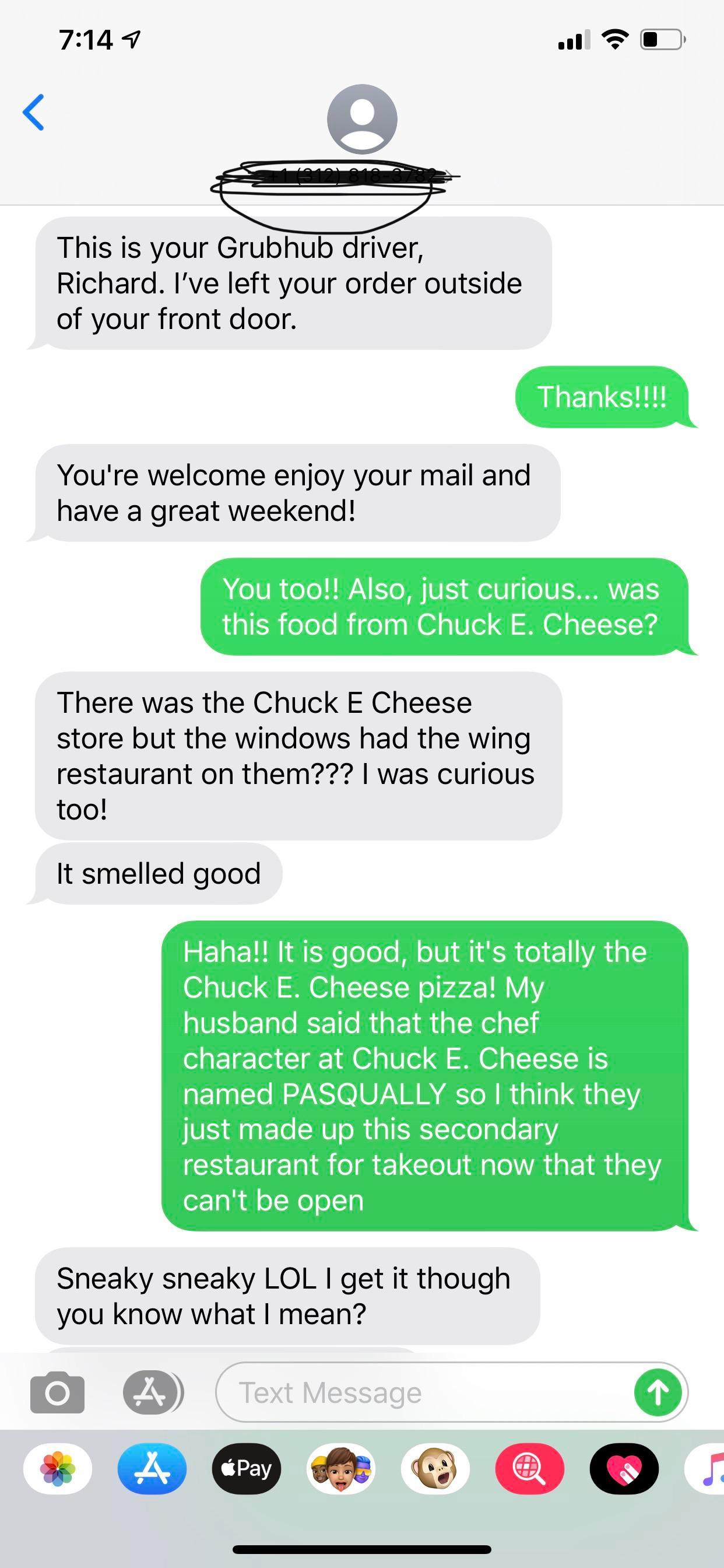 Thanks to this Reddit post, people started noticing that Chuck E. Cheese and "Pasqually's Pizza and Wings" were listed under the same address on Grubhub. "Slightly different menus, but a lot of the same pictures. Are they running two businesses out of the same kitchen?!" asked one horrified, betrayed human being.
Turns out, kinda. For OneZero, Sarah Emerson did a deep dive into the matter. She found that Chuck E. Cheese operated as "Pasqually's Pizza and Wings" on Grubhub to allow their business "to generate revenue while technically remaining closed due to the coronavirus."
"The brand is owned by CEC Entertainment, Inc., which also owns Chuck E. Cheese, and a trademark registration was filed for the restaurant name on April 16, 2020." Perhaps the silliest piece of all of this is that the name Pasqually's was taken from Pasqually P. Pieplate, "an Italian chef character and drummer for Chuck E. Cheese's resident rock band." No, that's not a joke.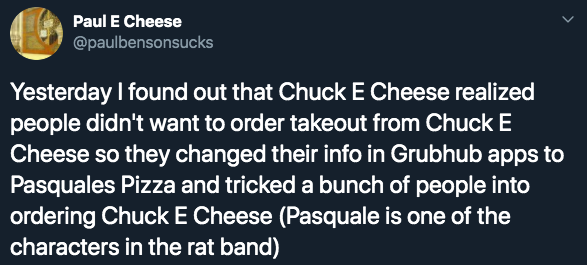 It's not the sneakiest way to do this, especially if they meant to keep it a secret. Not to mention, Chuck E. Cheese is often still listed on Grubhub (you know, in case you're craving some extra sadness with your pizza) with the exact same address as Pasqually's. This isn't the move of a company that really cared whether or not we discovered what they were doing.
A spokesperson for Chuck E. Cheese told Today in an email, "CEC Entertainment, Inc. recently launched Pasqually's Pizza & Wings nationwide. Pasqually's Pizza & Wings, named after another favorite member of Munch's Make Believe Band, shares kitchen space with the Chuck E. Cheese restaurant, ensuring high-quality, fresh ingredients."
They're not even trying to hide the fact that they're trying to trick you into taking business away from actual mom and pop pizza shops. And they're not the only ones. Dun, dun, dun!!!!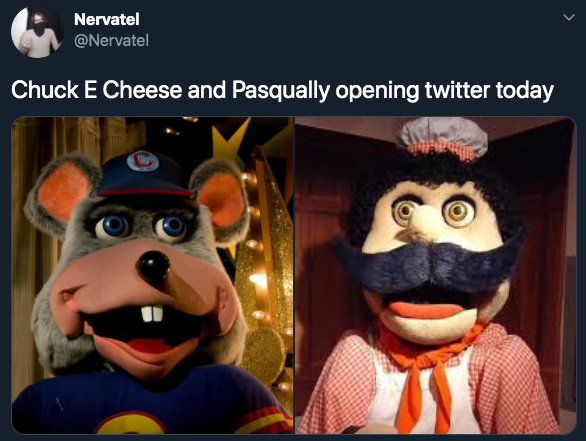 According to Today, this strategy isn't new and places like Applebee's and popular UK chain, Frankie and Benny's, do the same thing. In April, Applebee's registered the name "Neighborhood Wings" to sell wings on Grubhub.
If you want to support your small local businesses, maybe google their address and make sure at "Burgers and Friends" isn't actually a McDonald's. (I made that one up.)
But better yet, if you really want to support your small local businesses, call restaurants directly. Don't use food delivery apps at all. They take an ungodly amount of money from each order. And whatever you do, don't be fooled by "Pasqually's Pizza and Wings." It's really just that shifty mouse.