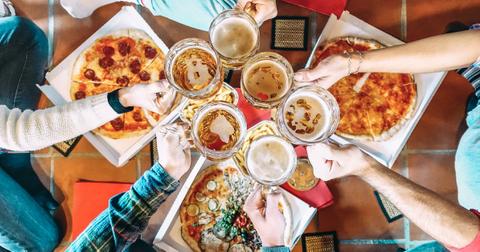 Social Distancing Calls for Ordering In, So These Restaurants Are Offering Free Delivery
By Lizzy Rosenberg

Updated
Although self-isolation is an undeniably solid time to tackle that recipe you never have time to make, sometimes a lot of social distancing calls for ordering in. And really, just because you're quarantining doesn't mean you shouldn't get to eat your favorite foods!
Take advantage of these free delivery deals during the coronavirus quarantine:
Free Chipotle delivery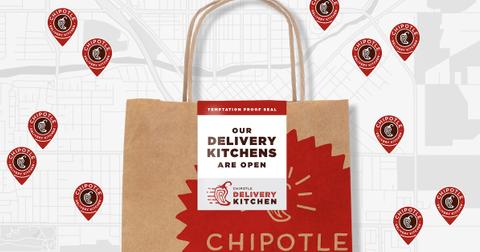 Self-isolating doesn't mean you have to miss out on your burrito bowl fix. The beloved fast-casual Mexican chain is offering free delivery on all orders from March 15 through March 31 to curb anxieties regarding COVID-19. Per a press release, all orders will also feature a tamper evident packaging seal to reassure customers that nothing has been tampered with. And those ordering online or through the app will be allowed to leave special delivery instructions, such as leaving the package on the door to limit contact.
Free KFC delivery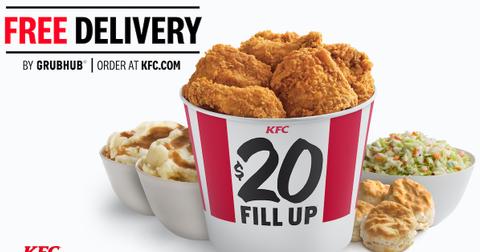 At this point, all KFC restaurant locations nationwide are only open drive-thru, carry-out, pickup and to-go orders, according to a press release, so that means you aren't limited to a chicken-less life in solitude. According to a press release, the chain will be offering free delivery across the U.S. through April 26, as long as the order is placed directly through the KFC website, via Grubhub or on Seamless.
Free Noodles & Company delivery
For the first time ever, Noodles & Company is now offering delivery directly through its website as well as its app, but the best part is, those who place orders that amount to $15 or more through the end of March will be delivered for free. Plus, all new Noodles Rewards users who sign up today through April will receive an extra 1,500 bonus rewards points, so I strongly suggest doing so.
Free Tijuana Flats delivery
Fun quarantine suggestion: a game night with wine and tacos! Luckily, southern Tex Mex chain, Tijuana Flats, is offering free delivery to any and all customers who spend $25 or more through March 31, according to the brand. All you need to do is place your order on their website or call the restaurant directly.
Free slice of cheesecake from Cheesecake Factory for pickup and curbside orders
OK, this isn't free delivery — per se — but to entice us to order Cheesecake Factory while social distancing, the chain is offering a free slice of cheesecake with every pickup or curbside drop-off order now through April 16, according to a press release. All you need to do is spend $30 or more (which is certainly easy for a family or a group of roommates) and use the promo code FREESLICE at checkout.
Half off Domino's pizzas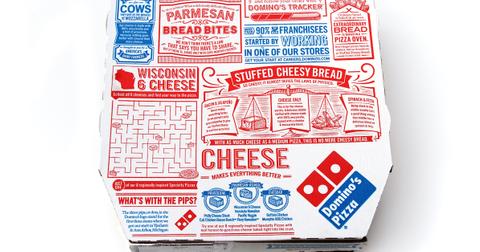 Free Moe's Southwest Grill delivery
As of March 19, Moe's is offering free delivery on all orders that amount to $10 or more, according to the brand, from now through April 10. A free kids' entrée will also come with the purchase of any adult entrée between March 21 and April 10, and the chain's iconic Moe's Monday deal will be offered all week through March 20.
Free Chili's delivery
The Tex-Mex chain is waiving delivery fees on orders greater than $15 until further notice, per the brand, so if you're dying for some skillet queso right now, Chili's has you covered.
Free Carl's Jr. delivery
Those who order Carl's Jr. delivery through Postmates or UBEREats will get free delivery right now, according to the brand. Through Postmates, customers can use the code CARLSJRNOW through April 6, and through UBER Eats, the offer will apply automatically through the end of March.
While staying inside for days on end is undeniably a lot to handle, there are definitely some perks to self-isolation, and one of our favorites is free delivery! Definitely take advantage of this delicious deal while you can, because honestly, delivery fees are the worst. In all seriousness, we're definitely going to relish in this tasty bonus while we still can.