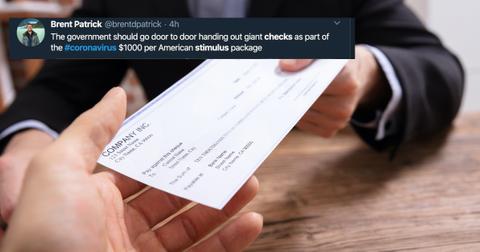 These Memes About the Coronavirus Stimulus Check Are Too Relatable Right Now
By Lizzy Rosenberg
As the coronavirus rampages through the U.S., thousands of Americans are out of work, making it hard to pay rent and other daily living costs. But the prospect of coronavirus stimulus checks were brought to the table, according to ABC 7, which definitely sparked hope for unemployed America, in hopes that they will actually be reimbursed for the financial damages brought on by the pandemic.
If you haven't seen these memes about the coronavirus stimulus checks, they're so relatable right now.
Because absolutely nothing in this world feels better than getting paid for self-isolating, right?
Are we truly getting compensated for the hour and a half we spent watching Family Guy reruns? And telling our dogs how freaking adorable and tiny they are? This is a straight-up miracle.
Seriously, the day that cash hits will be the greatest day ever.
Bye-bye anxieties, we're off to buy-buy everything we've been holding off on buying these last several weeks. Toilet paper, ketchup, and olive oil truly never sounded so good.
While there's no confirmed date for the check's arrival, that day will be absolutely glorious.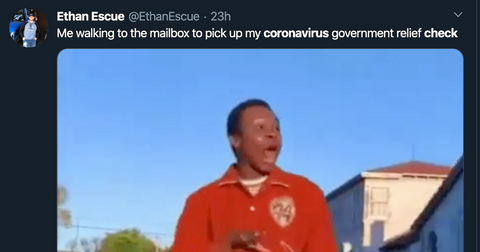 Will we sing and dance our way to the mailbox, and then eventually the bank? Absolutely. Everyone and their mothers will know we just got our coronavirus stimulus check.
This guy is asking the important questions.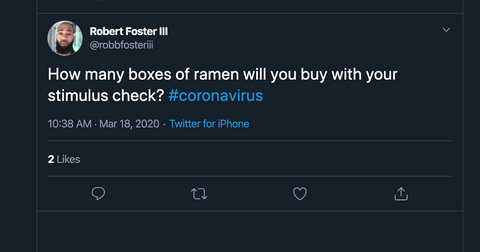 Even with a coronavirus stimulus check in our grubby little hands, we will definitely continue living our gross AF lifestyle, thank you very much. Ramen 4 ever, as they say.
When you realize how necessary this is.
Ron Burgundy was referring to the spike in unemployment rates due to COVID-19 when he said this, trust us.
We should definitely have fun with this.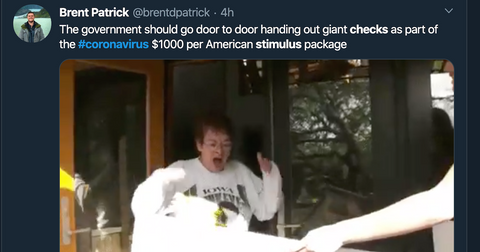 We don't want to get our own hopes up, but if the government ultimately decides to deliver a comically large check to our apartments, we WILL make a scene as if we were on T.V. It might honestly be the greatest day of our lives.
Here's a little food for thought! Just saying!
He has a point, you know... but alas, we digress.
At the end of the day, a lot of us are in the same boat right now...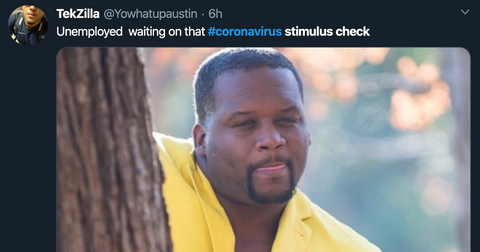 Hey... would y'all mind sending over that money like, now? Maybe by the end of the week? No pressure though, and hey, cash is fine, too! Thanks again, guys!
... Ha ha we're still waiting.
As they say, "a girl's gotta eat," and we mean that 100 percent literally.
Thanks! *Eye roll*
This does not mean we're going to like him, but we will 100 percent accept this check. WE LITERALLY NEED THIS.
The spike in unemployment rates that unfortunately came with the COVID-19 pandemic is kind of mind-blowing, so the prospect of compensation is definitely putting a large portion of us in a better mood today. Just sit tight until that stimulus check comes, because trust us, that day will be absolutely epic.