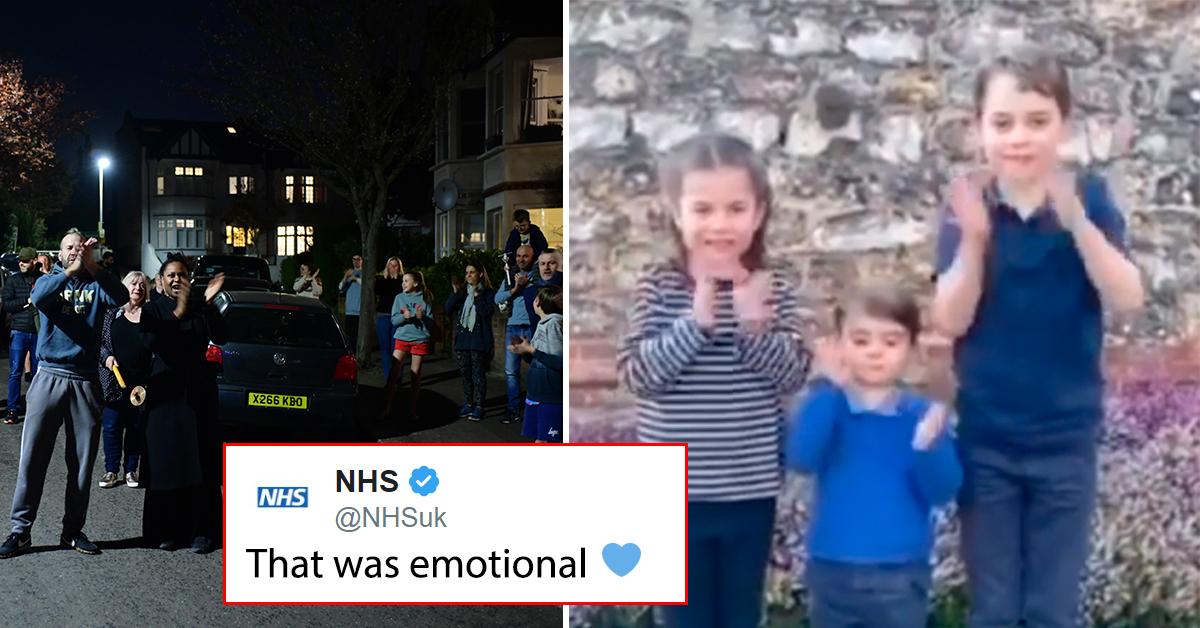 People Across the UK Came Together to Applaud Healthcare Workers on the Frontline of Coronavirus Pandemic
The United Kingdom is under lockdown as healthcare workers attempt to tackle over 14,000 coronavirus cases, which have led to 759 deaths. But last night, hundreds of thousands of people left their homes for a brief moment to applaud healthcare workers on the frontline of the crisis.
Article continues below advertisement
The Clap For Carers movement was started by Annemarie Plas, from Brixton, south-west London, who was inspired by a similar event in her home country of the Netherlands. Plas posted about the idea on social media, and it quickly attracted attention from thousands of people — including royalty.
"I hope that it creates a positive boost for those on the frontline," Plas explained. "But also [when] you hear your neighbors applauding you know that we are together in this, because we are currently all in our houses."
And sure enough, when the time came, thousands of people took part in the event to celebrate the efforts of the National Health Service (NHS) workers.
Article continues below advertisement
Clips of the event posted to social media show a deafening round of applause and cheering taking over cities.
Article continues below advertisement
Article continues below advertisement
"We are enormously thankful for the expertise and commitment of our scientists, medical practitioners, and emergency and public services," the Queen said in support of the event. Members of the royal family also joined in on the celebration.
Article continues below advertisement
"To all the doctors, nurses, carers, GPs, pharmacists, volunteers and other NHS staff working tirelessly to help those affected by #COVID19: thank you," the Duke and Duchess of Cambridge wrote in an Instagram post showing their children taking part.
Article continues below advertisement
After the event, healthcare workers also took to social media to say their thanks.
Article continues below advertisement
"My Doctor rang to check how I was just as I was standing on the doorstep clapping people like him & all the others who are working to care for us all," journalist Nick Robinson wrote. "He sounded amazed. Thank you. Thank you. Thank you."
Article continues below advertisement
The Chief Medical Officer for Scotland added: "Edinburgh at 8pm - I'm watching all the videos having just finished another day. What amazing support all over the country. And all my NHS colleagues will get up tomorrow and do it all again (or get home for a sleep)."
Article continues below advertisement
Dr. Sarah Hallett added: "Genuinely incredibly moved by this. People shouting "hip hip hooray" and chanting "NHS". So much love from my neighbourhood. Thank you so much. I will be going to my long day tomorrow feeling so supported."
What a great idea.
The best way to prevent contracting or spreading coronavirus is with thorough hand washing and social distancing. If you feel you may be experiencing symptoms of coronavirus, which include persistent cough (usually dry), fever, shortness of breath, and fatigue, please call your doctor before going to get tested. For comprehensive resources and updates, visit the CDC website. If you are experiencing anxiety about the virus, seek out mental health support from your provider or visit NAMI.org.