Does Your Kid's School Have a "Classroom Grandma"? This Mom Breaks It Down
A classroom grandma isn't what you're thinking. It's actually better than anything you could possibly imagine. Where can we sign up?
Grandmas are special people. There is something that lives in that gap between grandparents and grandchildren that allows an incredible kind of love to grow. In the Bill Withers song "Grandma's Hands," he sings, "Grandma's hands used to hand me piece of candy. Grandma's hands picked me up each time I fell." All the best parts of motherhood are amplified in grandmothers.
Article continues below advertisement
That love and care is being celebrated at the school where TikTok user Erin Monroe's daughter attends. In a video, she shared that her daughter's school has "classroom grandmas." It's not what you're thinking. In fact, it's much better. I want a classroom grandma in my house. That would probably just be a regular grandma, but there is always room for one more. Read on for something heartwarming and sweet.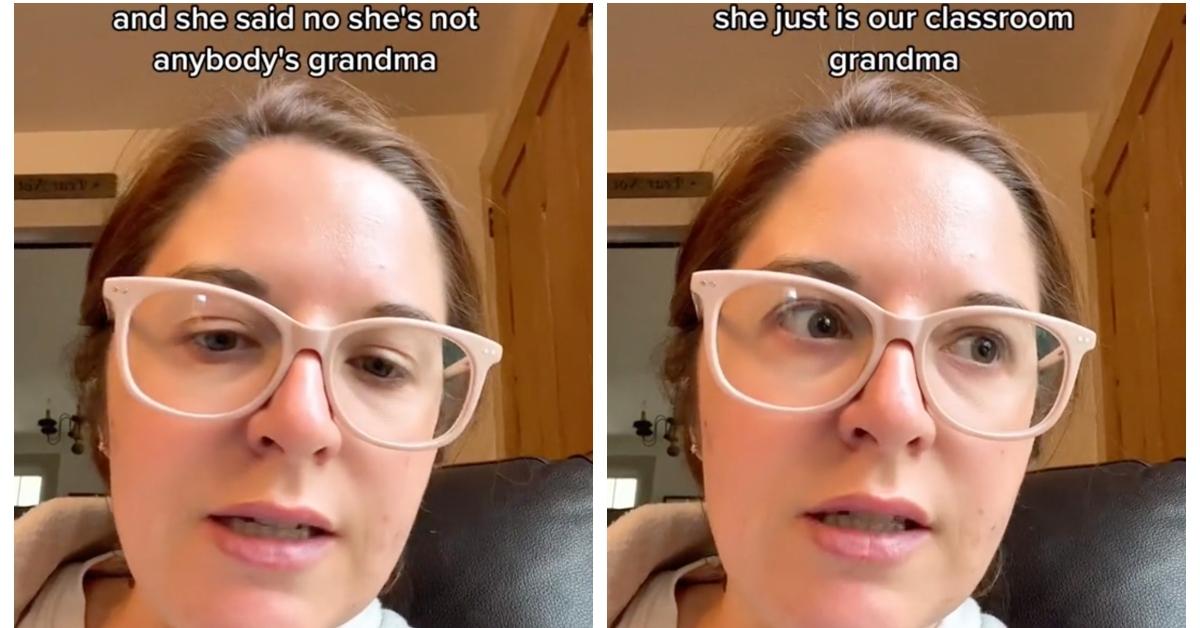 Article continues below advertisement
What exactly is a "classroom grandma"?
As a parent, Erin isn't always told what's going on at school. And by this I mean, her kids don't typically volunteer information. That's pretty standard as far as children go. They are very busy growing up and being weird in a fun way. This is why Erin missed the "classroom grandma" memo in its entirety.
She explains that, "when you're a parent, your kids only tell you bits and pieces about what happens in school." Erin added that it's rare to get a full picture. Someone call Frida Kahlo, because we'd love to see the full picture.
Article continues below advertisement
Thankfully, one beautiful day, Erin got a whole painting, and the end result is lovely. "I was spending some alone time with my middle child, she's in second grade, and I found out that she had a 'classroom grandma.'" When she asked if a classroom grandma is when someone's grandma pops into class, Erin got a surprising response from her daughter.
Article continues below advertisement
"No," said her daughter, "She's not anybody's grandma. She just is our classroom grandma." I can picture this being said in a way that suggests everyone knows what a classroom grandma is, and Erin is kind of silly for needing more information. Kids say the darndest things though, so it could mean anything.

Article continues below advertisement
According to Erin's daughter, this is a woman who is "donating her time." She went on to say that "Grandma Arlene comes to her class almost every day and helps kids, and reads to kids and helps kids with their work." Does Grandma Arlene cook? Because I have a kitchen that is very underutilized.
This could have gone one of two ways. Either Erin could be alarmed by the fact that an adult stranger she's never met has access to her child every day, or it could have gone the better way, which it did. "I could not possibly love this more," exclaimed Erin. "There is a classroom grandma for my second grader."
Article continues below advertisement
Not only was Erin moved by this, but she decreed that this is also her calling. "When I am older and I am retired, I need to volunteer as a classroom grandma. This is the best thing I've ever heard of. I love you, Grandma Arlene." I also love Grandma Arlene!
Article continues below advertisement
Apparently "classroom grandmas" are a thing.
More than one person jumped into the comments with their own version of Grandma Arlene. "We have them at our school. They get paid $4 an hour and it doesn't mess with their social security, and they looove the kids," said TikTok user Chrissy McCarty.
Melissa Allred brought down the house with this reveal: "They also have grandma volunteers that go and hold babies in the NICUs when the parents and nurses can't." Imagine what your life would be like if a chunk of it was devoted to holding babies as they heal. That's not a bad life.
This is what I'm talking about when I say that grandmas are special. It's important to note that this goes beyond actual grandmas. There is something about wisdom and time that older generations can bring that I find comforting. The future is scary but we have access to it in the form of people who came before us and are still here. Grandma's hands know things.