A Couple Found a Mysterious Note While Doing House Renovations — What Did It Say?
It's the start of every mystery movie — a couple finds a mysterious note in their wall while doing renovations. So what did the actual note say?
In a moment that sounds straight out of the plot of the original Jumanji, a couple found an old note in their wall from a previous resident while they were in the midst of house renovations.
Article continues below advertisement
In a now-viral TikTok, the couple revealed where they found the note and exactly what it said.
So when was the old note written? Who wrote it? What did it say? Here's everything we know.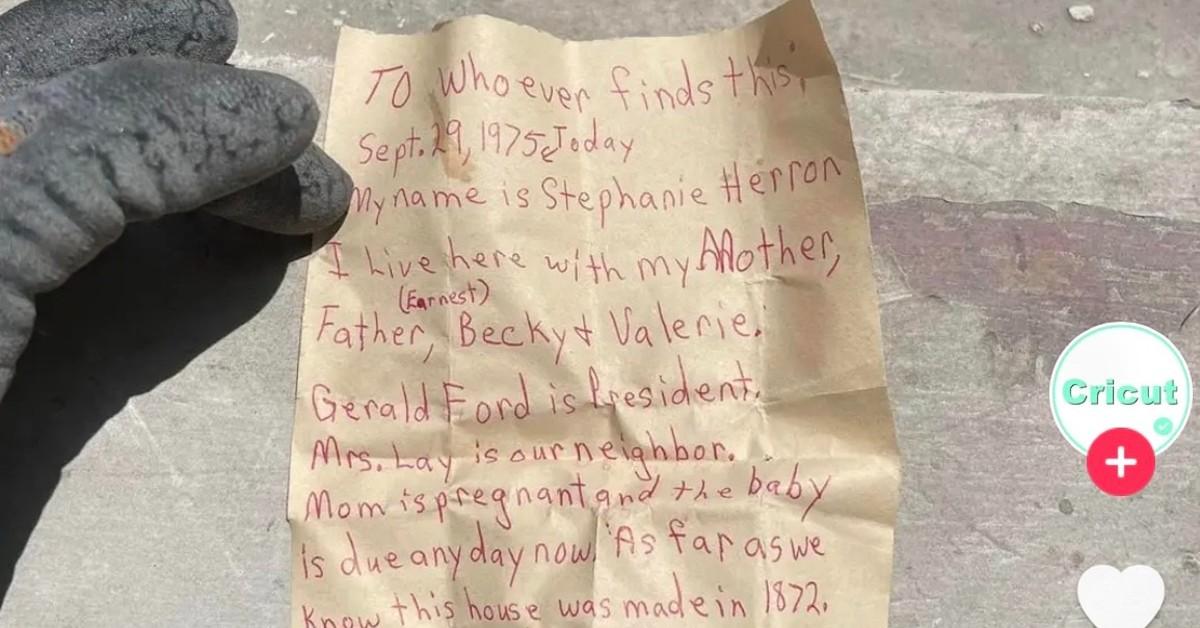 Article continues below advertisement
A couple found an old note in their wall while renovating. What did the note say?
When the couple behind the TikTok @cricut_hacks_101 found the scribbled word "NOTE" (along with some helpful arrows) on the wall of their grandma's old house they were renovating, their curiosity was naturally stoked.
After all, wouldn't you want to investigate?
Following the classic X-marks-the-spot setup, the couple did, in fact, discover a note hidden in the depths of the wall. So what did it say?
The letter in question was written by a Stephanie Herron. She dated the letter Sept. 29, 1975, writing, "I live here with my mother, father, Becky and Valerie. Gerald Ford is president. Mrs. Lay is our neighbor. Mom is pregnant and the baby is due any day now." She added that her family believed the house was built sometime in 1872 but they weren't sure.
Article continues below advertisement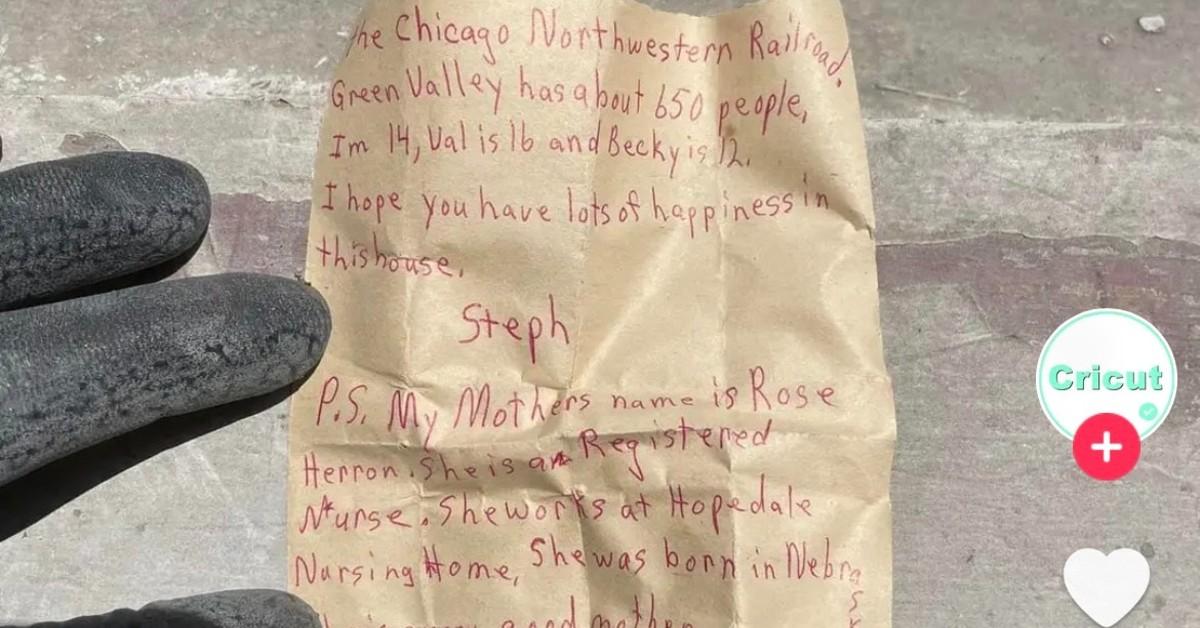 Stephanie's (or "Steph," as she signed her name) signed her wholesome note off with, "I hope you have lots of happiness in this house."
She also introduced us to her mother, Rose Herron. Rose was a registered nurse who worked at a nursing home. Our resident note writer made sure to note that Rose was a "very good mother."
Article continues below advertisement
Is Steph still alive though?
Given that Steph was only 14 years old when she wrote the note in 1975, that would only make her 62 years old in 2023! So is Steph still alive? Naturally many TikTok users wanted to know.
Spoiler alert — Steph is still alive, and she saw the now-viral video about the note she left at her old house! A TikTok user commented on the TikTok video and said that Steph commented on a post about the video somewhere on Facebook and revealed her baby sister was born the next day!
So while we eagerly await for the film adaptation of this sweet time-capsule story, let's bask in the glory days of notes of old, where instead of typing out more in a text, you'd have to draw an arrow and write, "More on the back."
Or as one TikTok user said, "No because this is an incredible piece of history and a perfect example about how you should write info for future generations." P.S. — we totally agree!