This Woman Asks — Is It Hot in Here or Is Climate Change Making It Really Hot in Here?
If you can't tell the difference between the ocean and your boiling bath water, it's definitely not just hot in here. No offense to Nelly.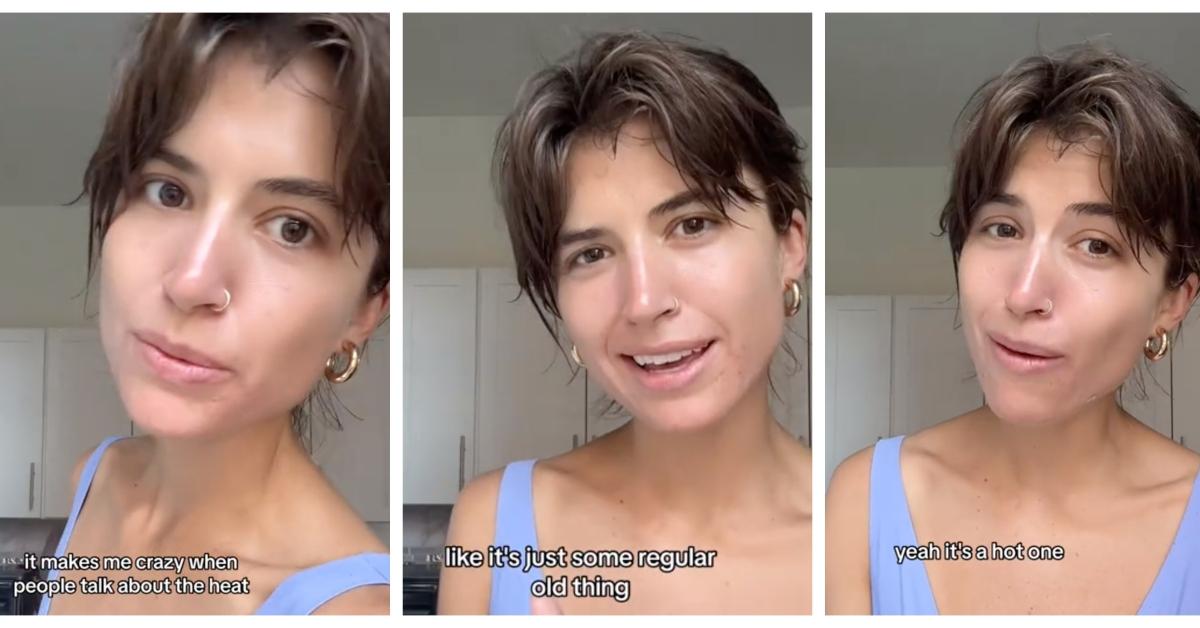 Nelly once sang, "It's getting hot in here, so take off all your clothes." Sadly it's not getting hot, it is hot. In fact, it's way more than hot on ol' planet Earth. Obviously it's unreasonable to expect folks to sit around 24/7 panicking about climate change, but it's also rather unhinged to completely ignore it. Get Goldilocks in here because we have to find a mental state that is just right.
Article continues below advertisement
Speaking of feeling just right, the ocean is not OK and I specifically mean the Atlantic Ocean off the coast of Florida. According to The Palm Beach Post, a temperature of 101.1 degrees was recorded by a "buoy in Manatee Bay off the West Coast of Key Largo," on July 24, 2023. This is not good, and as Hope Woodard pointed out in a TikTok, it's more than just "hot."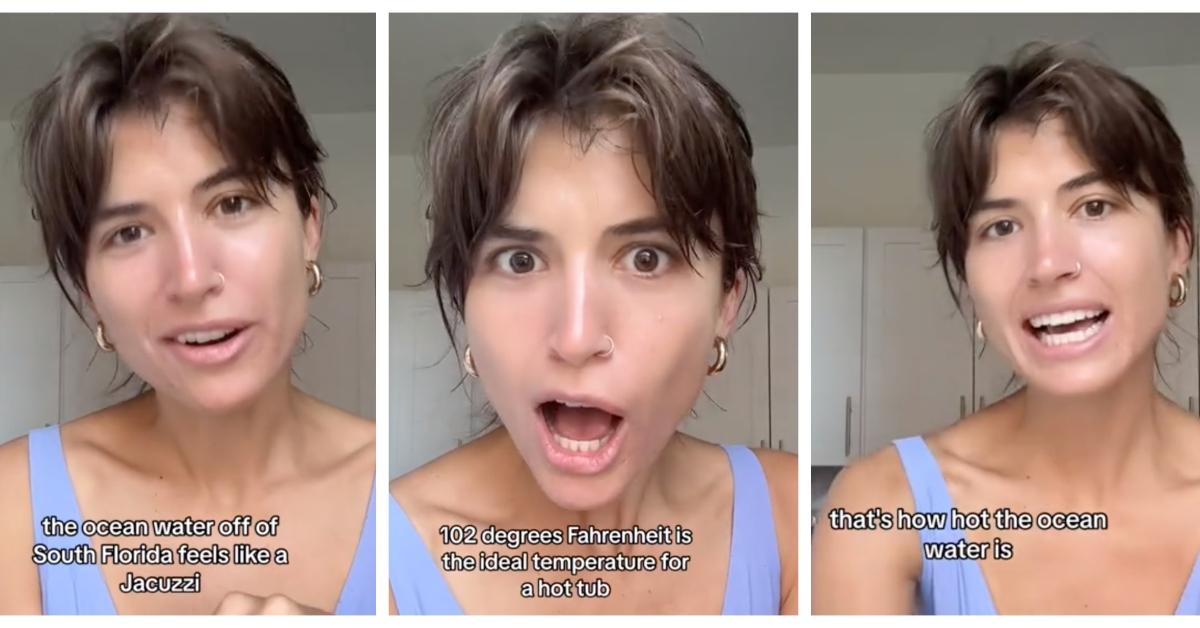 Article continues below advertisement
It's not just hot, it's awful.
"It makes me crazy when people talk about the heat like it's just some regular old thing," said Hope who goes by @hopinalong on TikTok. While chatting with a pal who in the Southern portion of the United States, Hope brought up the fact that the ocean off the coast of South Florida was dangerously heating up.
Her friend responded in a surprisingly casual fashion for someone who just received triple digit ocean temperature information. "Yeah, it's a hot one," they said. With the kind of incredulity that comes with living in the real world, Hope replied, "It's a hot one?"
Article continues below advertisement
To drive her point home, Hope likened the ocean to a jacuzzi, which is not where the ocean should be. I don't want to hop into the ocean and suddenly be concerned about infections of the yeast variety.
Article continues below advertisement
Hope also shouted out jacuzzi.com, which was referenced in this Washington Post article. Who could have predicted that a website devoted entirely to jacuzzis would be a source for a Washington Post piece on climate change. What a time to be alive — too hot, but alive! Evidently the ideal jacuzzi temperature is 102 degrees.
If you're still having trouble wrapping your mind around what that feels like look at it like this, says Hope. "That's the kind of temperature where if you draw a bath and you drip your toe in, you'd go 'Oh, that's a little too hot,' and then you add cold water and you mix it up." Unfortunately we cannot add cold water to the ocean.
Article continues below advertisement
This goes far beyond a "hot one," explains Hope. "That's a disaster." God has apparently unleashed some sort of wrath that feels more like the Eye of Sauron slowly turning towards us from Mordor. How about Lessdor? "It's bad. It's awful," Hope said. I could not agree more..dor.
Article continues below advertisement
Everyone in the comments is reacting appropriately to this information.
"As a Floridian, this is NOT normal. Mid-80s in August is warm but OK. This is chaos," said Nicole Johnson Walsh. Over in Utah, the air is like "breathing an oven," added another TikToker. Nothing to see here folks! Just using the Earth as a kitchen. I remember when people used to joke about being able to fry an egg on the sidewalk. Some jokes shouldn't come true.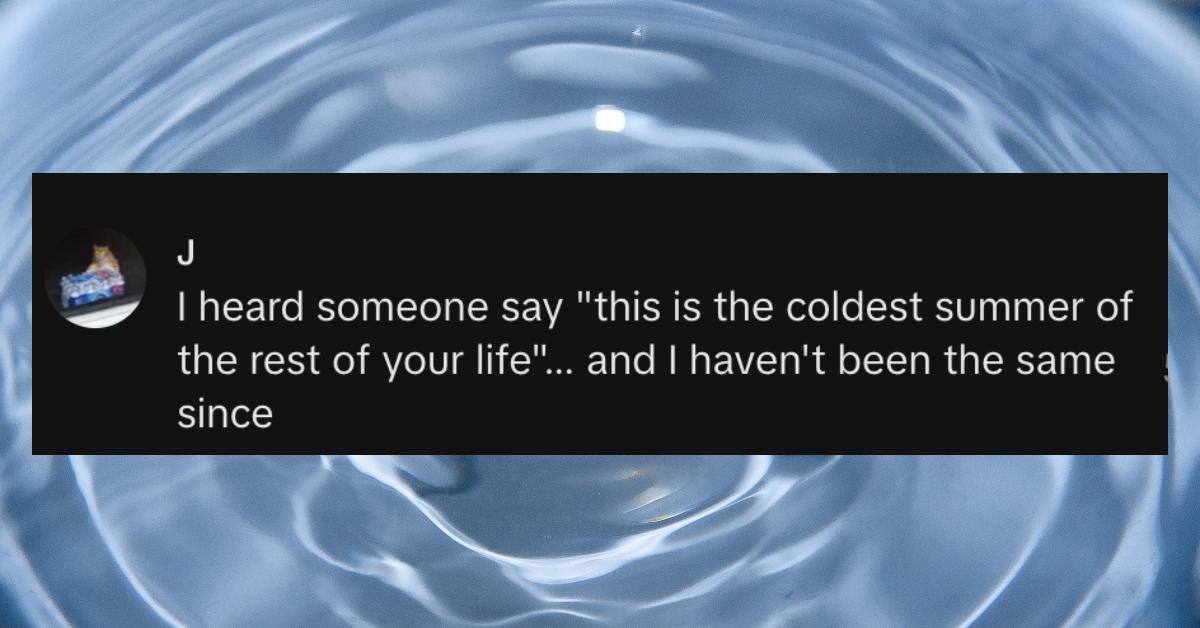 Article continues below advertisement
Thankfully there is still room for jokes as Zaddy Stein replied, "This weather is the only thing keeping me from getting bangs." In terms of keeping the planet populated, that's a big nope from some folks. "This is why I'm like, having children?! In this environment?! In this economy?! Could not be me," added Katie.
Won't someone think of the marine life? Because we should.
Chris Kelble, Director of Ocean Chemistry & Eco Systems Division at the Atlantic Oceanographic & Meteorological Laboratory of NOAA told CBS that he is concerned about things like "potential fish kills or dying seagrass," because of the rising ocean temperatures. "The fact that this is occurring in mid-July is very concerning especially if it lasts until mid-August," he said.
Article continues below advertisement

This also affects coral, said Cam McMath who is the Facilities Manager at the Coral Reef Futures Lab at the University of Miami Rosenstiel School of Marine, Atmospheric and Earth Science. "We're trying to increase the thermal tolerance of our corals which essentially means we're trying to get them prepared for the temperatures to come," said Cam.
To do this, scientists are attempting to "find, create and grow corals that can live in higher ocean temperatures," which is great but shouldn't be necessary. Solutions for this issue revolve clean, renewable energy. To get that, it's all about voting for the right people. I know we're all tired of being told to vote, but it is a powerful tool. So vote your face off so the planet doesn't melt your face off!