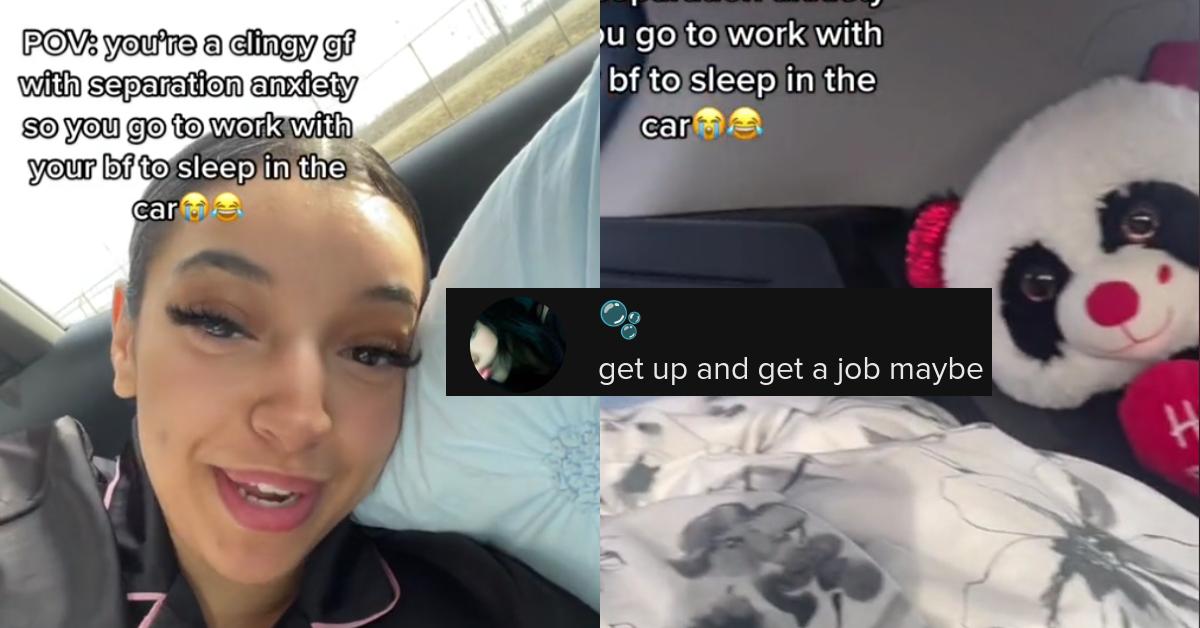 People Divided on 'Clingy' Girlfriend Who Sleeps in Boyfriend's Car During Work Hours
A self-proclaimed "clingy" woman sparked a TikTok debate after uploading a video of her sleeping in her boyfriend's car while he was at work.
Some people may argue that the difference between love and obsession is a fine line, but there are plenty of outlets online that are more than willing to clearly delineate the differences between the two emotions that folks tend to have towards their romantic partners.
Article continues below advertisement
StyleCraze defines the difference as such: "Love is a healthy emotion that enables the two people involved in the relationship to grow in life and appreciate each other's differences. On the contrary, obsession is an unhealthy sentiment where the obsessive partner does not allow the other person to grow and pursue their interests."
MomJunction also posted a list of obsessive behaviors from potential romantic partners that folks may want to consider, like a person's need for constant validation about the other's feelings.
And then there's this Business Insider article that says a healthy part of any loving relationship is giving your partner space, something that this TikToker was criticized for not doing after uploading a video that sparked a debate in the comments section of her video.
Article continues below advertisement
Nacy (@18.nacy) uploaded a clip of her camping out in her boyfriend's car while he was at work so she could presumably see him while he was on his break and right when he was done with his shift.
Article continues below advertisement

She writes in a text overlay of the video: "POV: you're a clingy gf with separation anxiety so you go to work with your bf to sleep in the car," the video shows the back of her boyfriend's ride: Nacy is covering herself with a blanket and it also looks like there are some pillows back there as well. A stuffed bear holding a heart that reads "Hug me," is propped up in the corner.
Article continues below advertisement

When Nacy turns the camera around to show herself nestled in the vehicle, it looks like she's wearing pajamas as she lip syncs the words, "ain't got no shame about it."
Article continues below advertisement

She adds in a caption for the clip: "Hear me outttt, he literally makes me the comfiest bed in the back he actually asked me to go with him today so no, i do not bother him"
Article continues below advertisement

Commenters had varying opinions on the couple's relationship dynamic. One user wrote: "get up and get a job maybe," but there were several folks who came to Nacy's defense stating that it was wrong of the user to assume she wasn't employed and that she was probably on her day off.
Article continues below advertisement

Another wrote, "the fact he makes sure you comfy. this clingyyy so cute." Someone else also thought that the gesture was sweet and didn't think there was anything wrong with couples spending as much time with one another as possible: "Don't let no one make you feel like spending time with your significant other is shameful. That's your person"
Article continues below advertisement

Nacy repeated in the comments that her boyfriend asked her to come with him, before adding, "we're both clingy," and it appears that there are other people who have a similar dynamic with their own significant others: "mine asks me to come with him too when im free. i honestly love it"
Article continues below advertisement

"Nah cause literally I have done this exact same thing," another TikToker said while another said, "Omg omg I thought I was the only one."
What do you think? Is a little bit of distance healthy in a relationship? If you love someone would you want them to create a life/job of their own to enjoy and feel fulfilled in? Or do you think that there's nothing wrong with tagging alone with a loved one if you've got a day off?