Uber Eats Driver Shows How His Hustle Earned Him $40 for Short Trip Thanks to Wendy's "Stack"
An Uber Eats delivery driver showed how they were able to nab over $40 for a single order, with TikTokers praising his work ethic and manners.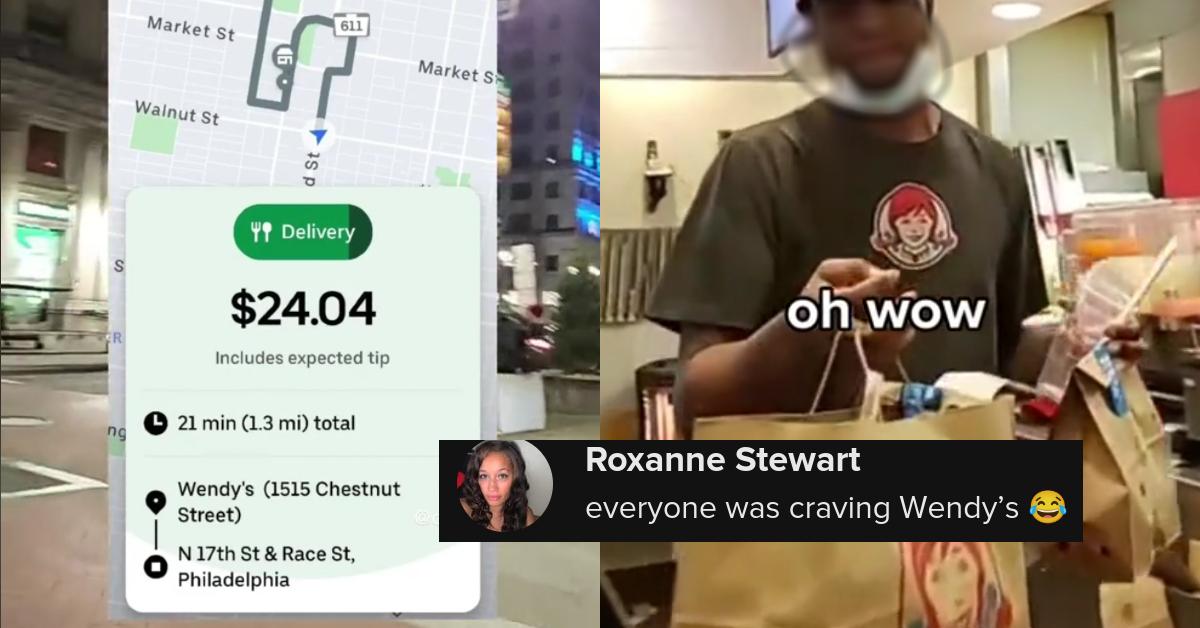 There are a number of folks who will tell you that delivering food for apps like DoorDash isn't exactly the most lucrative of endeavors, especially if you're using a car to pick up and drop off orders. From waiting in long lines at restaurants to bringing food to non-tipping customers, it can feel pretty disheartening to watch time pass by slowly only to realize that you aren't making all that much bang for your buck.
Article continues below advertisement
It's not like DoorDasher hasn't heard this criticism, however, which has prompted other payout structures for Dashers who are looking for a bit more stability when it comes to delivering meals for the app. If you know you're working in a delivery area where food can take a long time to deliver or that you're going to traditionally get customers who don't tip, you can turn on "Earn by Time Mode."
While you're actively taking on orders for the app and available, DoorDash will pay you $14 an hour to perform deliveries, plus 100% of tips that you earn, which could be a better option for some.
Or, if you know you're in an area where you can rake in "stacks" while delivering for the app, you may want to disable it completely, so you could rake in $40 in an hour, like this one food delivery employee did.
Article continues below advertisement
The Downtown Hustle (@downtownhustle) chronicles a delivery driver's foray into earning as much money as possible while serving up grub to customers in the North & Center City area of Philadelphia, Penn.
Article continues below advertisement

In one video where he was delivering for Uber Eats, he received multiple orders from different customers at the same Wendy's location, which means he was able to stack earnings on a single trip. As a delivery driver, this is a best case scenario as you're getting paid more for your time per hour.
Article continues below advertisement

He writes in a text overlay of the video: "This is the highest paying fast food stack I have ever had!" The video begins with him riding his e-Bike to Wendy's location and showing off that he received a base Wendy's order that pays $24, along with another "stack" of two other orders that would yield him another $16, resulting in over $40 for the single delivery.
Article continues below advertisement

He goes inside of the Wendy's restaurant and immediately starts conversing with the employees there to let them know he's arrived to pick up the food. There's a bit of a wait, but he finally gets all three bags of food along with cups that he has to fill with beverages himself.
Article continues below advertisement

He places the items in his travel bag, and then immediately hits the road. Thankfully, two of the orders were located in the same hotel, so he was able to meet the customers and complete his order, before heading to another location nearby where he handed off his final order of the tri-stack, netting him over $40 in the process.
Article continues below advertisement

He writes in a caption for the video: "This is one of the rare times where it was worth it to deliver a @wendy's order..lol" Some restaurants, like Popeye's and Wendy's, are notoriously dreaded by some delivery drivers due to either long wait times or relatively low payouts.
Article continues below advertisement

Some TikTokers who watched the video thought that the TikToker was a bit overzealous when it came to the way he was communicating with Wendy's store workers: "man's gotta calm down," one person wrote. Another penned, "Why he so aggressive with the workers"
Article continues below advertisement

However, others praised the man's assiduousness and care to complete the customer's orders, and others who thought his manners were on point:
"You're so nice."
"youre doing a great job thanks for being so respectful"
"Damn bro that's nice for a small trip"
"You killed that. Great deliveries"
"I love your thoroughness"