Writers Swear By This Unlikely Cure for Writers' Block: Comic Sans
Despite being totally reviled by people with eyesight, apparently the font Comic Sans is a writers block cure. Here's what people are saying and why it may work.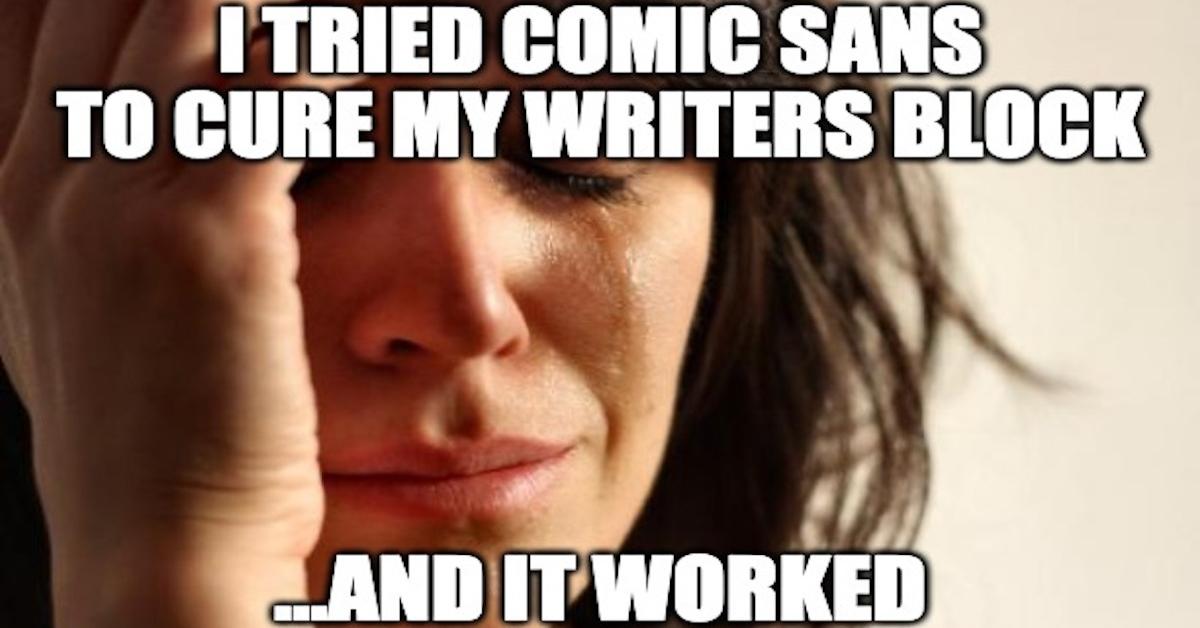 November is National Novel Writing Month AKA NaNoWriMo which means it's unofficially also National Writers Block Awareness Month. I just made that up but it should definitely be a thing. Nothing is more stressful to a writer than staring at a blank page trying to will the words to come. But it turns out the cure may be as simple as changing your font. The only problem is, that font is... Comic Sans.
Article continues below advertisement
Few fonts are more reviled than Comic Sans, the casual Microsoft typeface that mimics the lettering style in comic books. While some might support its use in classrooms or for "whimsical" applications, it's almost universally maligned. However, it's been suggested that this very uncool, dorky font could break the dam that keeps you from hitting your word count.
Article continues below advertisement
While not a totally new concept — Lifehacker shared this trick more than a year ago — the unconventional cure is making the rounds again, likely because of NaNoWriMo. And social media is overflowing with people reporting that it actually works — with a healthy amount of ambivalence.
One skeptical writer tried it out and discovered "after a whole week of block and laziness" that they were suddenly able to write a full page in less than 10 minutes, and felt more creative flow. "Comic Sans, I hate you you're a really ugly font, but thank you anyways," they wrote.
Article continues below advertisement
There hasn't been any formal study or anything, but people who've tried this hack and swear by it do offer a few hypotheses as to why it might work. A lot of them suggest because it's impossible to take anything written in the font seriously, it might help quiet your "inner critic," the voice inside our heads that squashes ideas before they get a chance to grow and develop.
So basically, using a font that doesn't take itself seriously helps you stop taking yourself so seriously?
Article continues below advertisement
Most writers will agree that the key to writing is giving yourself permission to have a crappy first draft, but if you're a perfectionist at all or have had found your creativity fallow, it can be so hard to quiet down the self-doubt and give yourself permission to write without limits and edit later.
Article continues below advertisement
Others think it probably doesn't have anything to do with Comic Sans in particular but just changing the font in general can cause a perspective shift that might help you get over whatever mental roadblock
Writer's block isn't the only impediment Comic Sans supposedly helps. Many people with dyslexia say the font's irregular shapes help them read because, for example, the lowercase "q" and "p" aren't mirror images of each other. In an article for The Establishment, Lauren Hudgins talks about how the font helped her sister, who is dyslexic, graduate from a challenging marine zoology degree program.
Article continues below advertisement
Lauren and her sister, Jessica, argue that criticism of the font is actually ableist, as many others with cognitive and learning disabilities report reading is a lot easier for them in the font, allowing them to proofread their work better. And I think we can all agree glaring typos are way more unprofessional than a particular typeface.
Look, I'm no scientist, but I'd be willing to try anything to get over writer's block, and I salute people with disabilities doing whatever they need to make the world more accessible. So I guess what I'm saying is, if this works, I'm taking back everything bad I ever said about Comic Sans.
But as for you, Papyrus... sorry not sorry.