Man Fired for Posting a Meme About Pooping at Work — "That's Why I Poop On Company Time"
Cody Hidalgo was actually fired from his job for posting a harmless meme about pooping at work to his personal Facebook page.
In this day and age, when everyone has multiple personal social media accounts, you have to be careful about what you post. When you interview for a job, you better believe that your potential employer is Googling the crap out of your name to see if there's any easily identifiable dirt on you that would disqualify you from getting the position.
Article continues below advertisement
Likewise, once you get a job, it's smart not to badmouth your employer on your personal Facebook or Twitter or Instagram accounts, as someone who you don't want to find it will always find it. That being said, when you post a funny, harmless, rhyming meme about pooping at work, you probably don't expect to get fired. But that's exactly what happened to Cody Hidalgo.
Article continues below advertisement
He posted to his Facebook page that he got fired for posting this Elmo meme to that same Facebook page. The meme reads, "Boss makes a dollar, I make a dime. That's why I poop on company time." It's funny. It's dumb. It's fairly inoffensive. But Cody claimed that this meme, which he apparently posted on a Sunday — not even while he was at work — got him "legit" fired from his job.
He also posted the insane text exchange with his boss over the matter. Truly, it's bonkers. "We don't make a dollar when you're s---ing all the time," his boss ranted to him. "Why don't you stay home and do your s----ing. I don't like to play your bulls--t games. Maybe there's a company out there that would put up with your games cause I won't. Good luck!"
Article continues below advertisement
At first, Cody had no idea what his boss was talking about. He probably saw the meme, laughed, and shared it without a second thought. But once it became clear his boss was talking about the Elmo meme, the situation became that much more ridiculous.
"It's a meme, Andy," Cody wrote in response. "Why are you doing all of this over a meme?" Good question, Cody.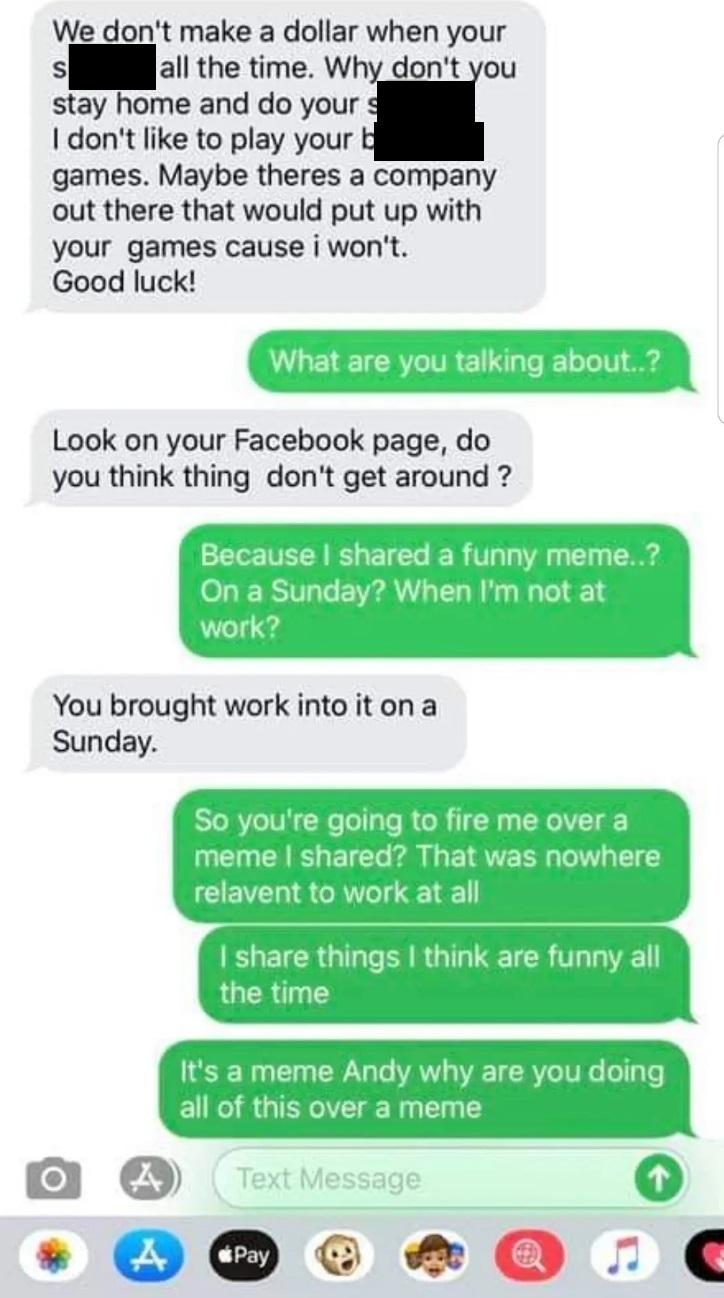 Article continues below advertisement
Listen, there are some memes and images out there that are actually offensive and inappropriate and would be cause for concern if you saw that one of your employees posted them on their social media...but this is not one of those. This is a rhyming joke about pooping at work.
Needless to say, Cody's story went totally viral after podcast host Chris Caesar posted it to Twitter. And that's when things got really crazy. People got so fired up over Cody getting fired that they did some snooping and found out the name of the company where he was employed.
Article continues below advertisement
They began spamming the company's Facebook page with memes and silly posts, then moved on to leaving one-star reviews, until the company locked and shut down their Facebook page.
One one-star review reads, "Cuz they fired my dude. Andy deserves to be fired!" "Manager acts completely unprofessional and treats staff terribly. Stay away from here at all costs," another reads.
Article continues below advertisement
Cody may have been fired from his job, but it seems like Andy was a terrible person to work for anyway, and it seems like Andy is really getting what was coming to him as well. So while we may have always been taught not to post anything that could be controversial to our social media, it's time employers also learn that if they wrongly fire someone for a harmless post, they're going to hear about from...almost the entire internet.
Article continues below advertisement
Update: It seems Andy's son has sent Cody an extremely offensive text message after his story went viral. In an effort to get him to take down the post, he basically made fun of Cody's kid who died, which is appalling on so many levels. Take a look...
He claims that the fact that this story went viral "shows your maturity level and why you not having a kid is for the best rn." Cody responds by saying that he definitely won't take down the post now that he made fun of his kid who died. Holy cow. This is absurd. Truly so happy that Cody doesn't have to work for those monsters anymore! With a story this viral, I'd be surprised if he isn't offered a new job very soon.