City Fights Community Effort to Provide Free Fridges Full of Food to Residents in Need
Several cities have set up community fridges to provide, fresh, free food to its residents, no strings attached, but in LA, city officials are trying to thwart the effort.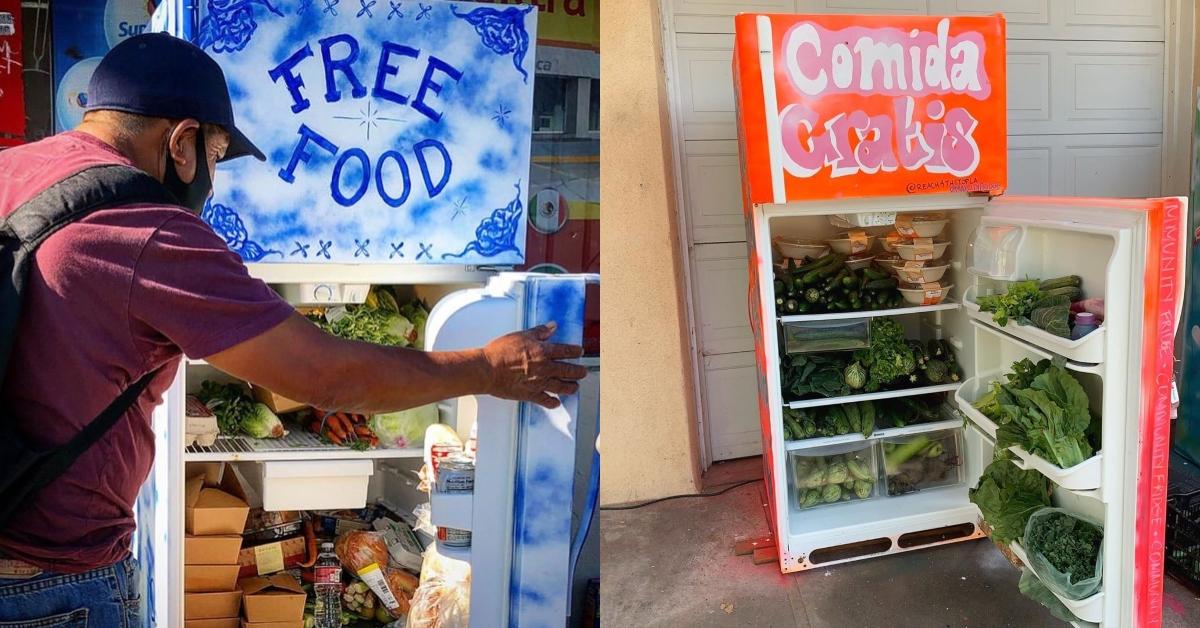 If you see a fridge outside on the sidewalk, plugged in and running, usually painted with vibrant colors and messages welcoming anyone and everyone, you've probably stumbled upon a community fridge. Organizers and companies have started to set up these fridges in different neighborhoods across cities like San Francisco and Los Angeles.
Article continues below advertisement
The fridges, which have been installed in many cases in response to the COVID-19 pandemic, are meant to provide no-strings-attached free food to any community members who might need it. If you're hungry, you simply walk up to the fridge and take what you need.
Article continues below advertisement
These fridges are stocked, cleaned, and organized by activists and local community members. But, as LAist reports, "This alternative ecosystem of community aid exists in a legal gray area, one where citations and health codes have sometimes hindered community nourishment."
Still, these fridges have continued to pop up in LA, Oakland, Houston, Nashville, Milwaukee, and other cities. In San Francisco, a wholesale grocery startup Cheetah, has initiated the #FoodGiving campaign. Cheetah's mission is to set up community fridges in and around San Francisco to continue the company's efforts to give back to the community.
Article continues below advertisement
"The reason we fell in love with this idea is that Cheetah is a regular, very active food donor," Cheetah co-founder and CEO Na'ama Moran told Blue Door Media. "The idea of the community fridges takes that a step further because it brings the food donation all the way down to the individual."
Cheetah's plan is to restock the fridges they set up every week, and they encourage community members and local restaurants to do the same. "We believe that we actually have the ability to operate [community fridges] at a much bigger scale than individuals could," Moran said.
Article continues below advertisement
In Los Angeles, the organization spearheading the free fridge effort is Los Angeles Community Fridges. Their Instagram page says they were inspired by A New World in Our Hearts, a New York City-based "anarchist network" that works to benefit the community and started setting up these fridges in different neighborhoods in NYC.
Article continues below advertisement
As of August 26, LA has 14 different community fridges set up around the city. Marina Vergara, who helped establish the first community fridge in LA, was keenly aware that food insecurity increased mightily due to the COVID-19 pandemic.
"There's food insecurity everywhere and it's largely unseen," she said. "It plagues everyone, the housed and unhoused. Documented and undocumented." Community fridges allow anyone to take what they need without filling out any forms or being limited in what they can take.
Article continues below advertisement
Shortly after the first fridge was set up and word spread, businesses all over LA began contacting LA Community Fridge organizers, wanting to set up fridges outside of their own businesses. LAist reports that the fridges have been a huge hit so far.
Article continues below advertisement
"They're overflowing with bushes of fresh greens and boxes of to-go meals donated by community members and companies such as Everytable. People have also donated extra supplies such as face masks, diapers, and hand sanitizer."
However, in some places, these community fridges have caught the eyes of city officials, and not in a good way. In Compton, Kani Webb set up a community fridge on July 27. One day later, he said a friend who works as an inspector for the Compton Fire Department told him the fridge violated city health codes.
Article continues below advertisement
Webb then received a letter from Compton's code enforcement division, which "outlined two alleged violations of property maintenance and electrical codes." Eventually Webb was told he could continue to operate the fridge as long as he installed a safety latch. So he did.
But then, he was made aware that the use of a latch kind of conflicts with "California's rarely invoked Penal Code 402b," which says it's a "misdemeanor to abandon a refrigerator without removing its doors or latching mechanisms."
Article continues below advertisement
The fire department viewed the community fridge as a "safety issue," however, Compton Mayor Aja Brown said she would try to work with the organizers to keep the fridge open and operating. The fridge got up and running again, but within three days, it had been vandalized and the food was contaminated.
Article continues below advertisement
Compton's fridge is one of three in LA that have been cited for supposed health and safety code violations. Several have been forced to close. Ernst Oehninger, the co-founder of community fridge network Freedge, says, "None of the food codes were made for food-sharing. They're made for businesses and restaurants."
Part of the work of battling food insecurity at the community level is challenging the accepted codes and standards that weren't designed with the needs and abilities of communities themselves in mind.
Oehninger says that while the fridges won't solve the problem of food insecurity, they trigger conversations and get people to start the effort of addressing the root causes of this problem. And in the meantime, people get the food they need to survive.