These Inclusive Companies Donate to LGBTQ+ Charities All Year Long, Hunty
It's Pride month, queen! While we love us some glittery Pride merch, not all collections are created equal. These companies donate to LGBTQ+ charities all year long.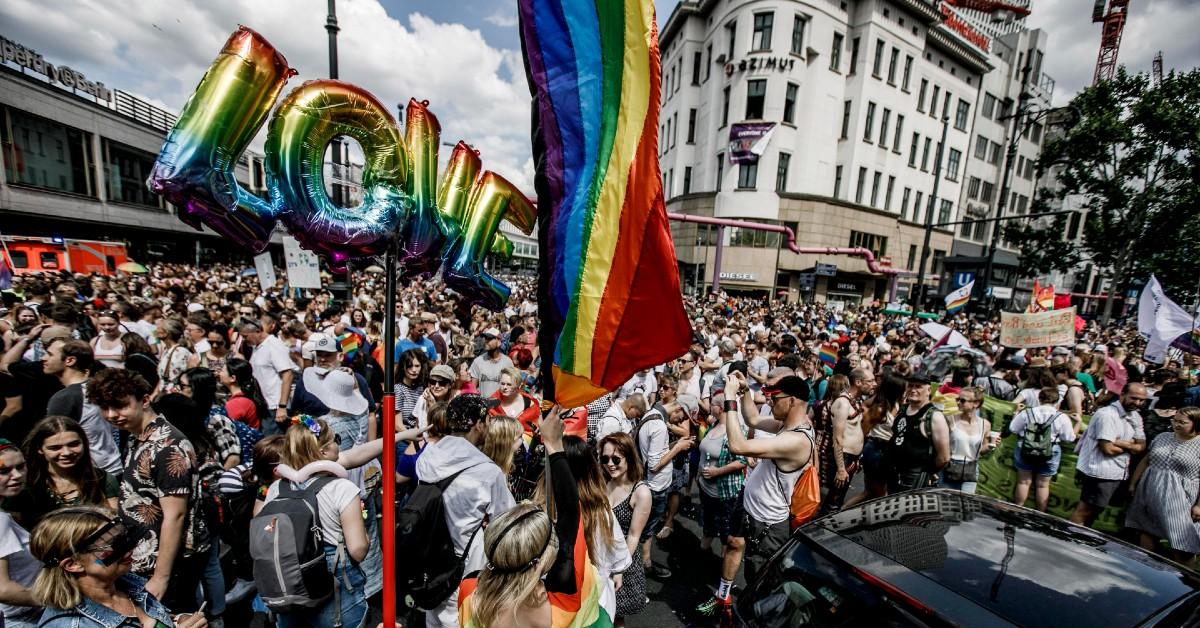 June is Pride month, and as much as we try to be positive — waving a variety of rainbow flags around, appreciating the steps taken toward equality, and respecting our historic queer predecessors who've paved the way for today's LGBTQ+ youth (like Harvey Milk and Marsha P. Johnson) — rainbow capitalism is exhausting to say the least.
Article continues below advertisement
If we buy a company's rainbow suspenders, "butch babe" dad hat, or "Yas Queen" mug, where is the money going? And does the said brand actually stand by the LGBTQ+ community, or does it only pretend to do so for a measly 30 days per year? It's a bit complex, but there are ways to treat yourself to fun Pride merch without giving in to the toxicities of capitalism (we swear Karl Marx didn't write this).
Whether you're looking to buy Pride merch or regular ol' lifestyle products, we present to you a list of companies that donate a portion of their proceeds to LGBTQ+ charities all year long. We can celebrate queerness a little extra in June, but LGBTQ+ pride is a 365-days-a-year experience, henny.
TomboyX
With a tagline like "wear you belong," TomboyX welcomes people of all sizes and genders to shop for underwear that makes them feel and look good. Whether you're looking for a racerback bralette, boxers, or some tucking panties, TomboyX's co-founders Fran and Naomi have got your back. Not only does TomboyX donate to non-profits like The LGBTQ Freedom Fund every quarter, per InStyle, but it's dedicated to sustainability!
Article continues below advertisement
Crystal Head Vodka
Article continues below advertisement
Check out Crystal Head Vodka's aesthetically-pleasing limited-edition rainbow Pride bottle — which contains the brand's original vodka "distilled four times from the highest quality, locally-sourced Canadian corn. Silky smooth with a hint of sweetness and vanilla." Um, yum.
Article continues below advertisement
Abercrombie & Fitch
Wait, what? Yes, Abercrombie & Fitch has come a long way since the early-2000s (it has also had a new and inclusive CEO since 2017). According to InStyle, Abercrombie has donated to The Trevor Project — aka "the world's largest suicide prevention and crisis intervention organization for LGBTQ+ young people" — since 2010, becoming year-round collaborators with the nonprofit in 2019.
Article continues below advertisement
In 2022, Abercrombie is donating $400,000 to The Trevor Project, "regardless of sales." The apparel brand has raised over a whopping $2.8 million for The Trevor Project since 2010.
Abercrombie even created a new gender-inclusive line of clothes alongside The Trevor Project. (We're going to have to nab that Clueless crop top.)
Article continues below advertisement
Levi's
Everyone needs some denim in their lives, especially some inclusive denim. Levi's has supported LGBTQ+ causes for decades, sternly positioning itself on the frontlines of sociopolitical change. The groundbreaking company made its first donation to the world's first AIDS clinic in 1982, and became "the first Fortune 500 Company to offer full medical benefits to the unmarried partners of its employees" in 1992. The support, both financially and vocally, has only continued over the years.
Article continues below advertisement
In support of its 2022 Pride collection (which includes the trendiest denim corset we've ever seen), Levi's "makes an annual $100,000 donation to OutRight Action International, a global organization working to advance human rights for LGBTQIA+ people all over the world." Our cart is truly overflowing as we speak.
Article continues below advertisement
Dr Botanicals
Moisturize that precious skin! Dr Botanicals is a cruelty-free and vegan indie beauty and skincare brand birthed in London, England, and it's "fabulously proud to be gay owned and operated."
In 2021, the super food-focused brand launched its first edition Pride Lemon Butter — a 96 percent natural multi-purpose hydrating cream — which it has been selling and advertising "throughout the 2021 to 2022 Pride year."
Article continues below advertisement