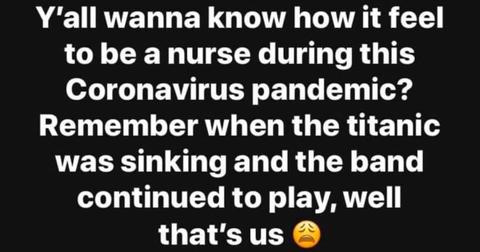 These Coronapocalypse Memes Will Give You a Laugh During This Crazy Time
By Shannon Raphael
The coronavirus, or COVID-19, pandemic has been taking much of the world by storm. Many people are increasing their personal hygiene habits while also figuring out how to prepare themselves to potentially battle the virus, or stock up at home so they won't get it.
The effect of the coronavirus has been unprecedented, as schools, offices, and stores are shutting their doors all around the world. In the United States, grocery stores have sold out of basic necessities like toilet paper and soap, leading to mass fear over what might happen.
While there is a lot of uncertainty occurring, one thing that can (almost) always help is having a good laugh. We're all dealing with some level of fear, so why not share in that together with some hilarious tweets and memes?
Read on for 14 coronapocalypse memes and tweets that will give you a chuckle as you load some toilet paper into your shopping cart.
There were some epic movie references.
While many companies are allowing employees to either work from home or take time off while the coronavirus outbreak continues to rise, it's important to remember that there are so many who are doing all they can around the clock to help those who are sick, and to try to contain the virus.
In Jumanji, when the dice are rolled, the game must be played, no matter how scary it gets — which seems a little too accurate for how things are going.
There's a Friday the 13th during the coronapocalypse — coincidence?
Things always seem to be a bit strange when Friday the 13th rolls around, but the fact that one falls in the throes of the coronavirus pandemic? It seems like a recipe for an even bigger disaster.
Maybe someone can summon someone from an Ouija board to tell us what is going to happen?
Lots of things selling out at grocery stores.
Again, this seems to make some sense considering the whole Friday the 13th thing. Since you can't buy toilet paper basically anywhere, is it too much of a stretch to get some precautions for supernatural figures?
Perhaps people are also trying to get their fix of onions and garlic because you don't have to worry about stinky breath when you're social distancing.
Many big-name grocery stores are putting limits on how much toilet paper people can buy because of how much stocking up is going on — and how many people are trying to re-sell it for astronomical prices.
People prepared for the end of the world might be getting their time to shine.
Those who preach about what's going to happen when the world ends have often been the butts of jokes, but who's really going to be laughing now? Hopefully they put toilet paper in their bunkers.
Even if your semester gets canceled, your loans won't.
Universities around the United States are shutting their doors for the duration of the semester in favor of doing online classes, which has led to a lot of memes. While these closures are truly such a disappointment for many students and faculty members, there are at least a few things that we can all laugh at. One of them is the fact that your loans will never get canceled.
Another is having to Skype into your graduation. Sad, but real.
It feels like 2019 was decades ago.
Let's think back to December of 2019: people were excited for "a new decade, a new me," and just over three months into the '20s, we'd do anything to go back. Remember in 2019 when there were a ton of memes about people feeling superior because they got Airpods for Christmas? It was a different time.
A lot has happened in 2020 so far. The list so far sounds like the makings of a very unbelievable movie. And yet, it's happening.
A reminder that your followers aren't all medical professionals.
A lot of misinformation about the coronavirus pandemic is getting posted online (and we're not just blaming your high school followers who you feel too awkward about unfollowing), which has contributed to some of the panic that is going on.
Whether you're the type who takes this inundation of graphs seriously, or you understand that not everything you see if true, you can at least relate to the fact that the internet is all about the coronavirus these days.
The best way to prevent contracting or spreading coronavirus is with thorough hand washing and social distancing. If you feel you may be experiencing symptoms of coronavirus, which include persistent cough (usually dry), fever, shortness of breath, and fatigue, please call your doctor before going to get tested. For comprehensive resources and updates, visit the CDC website. If you are experiencing anxiety about the virus, seek out mental health support from your provider or visit NAMI.org.