'Modern Family' Slays Halloween — Here Are Their Best Costumes
Fans of the USA sitcom, 'Modern Family,' know the show slays Halloween, so here are the best costumes from each Halloween episode of 'Modern Family.'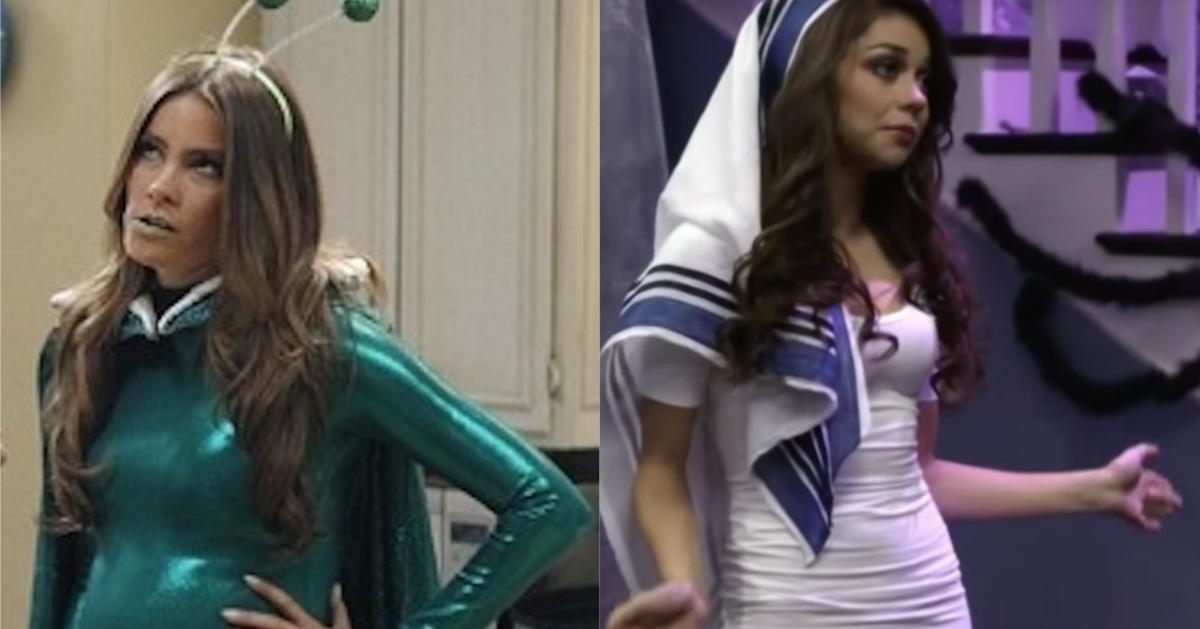 If you're one of many Modern Family fans who have watched the show in its entirety, you're probably well-aware that the show loves Halloween — with six spooky season episodes, the Dunphys are always ready to celebrate the October holiday.
And while the plot lines seem to get increasingly funnier, so do the costumes. Seriously, if you need costume inspo, check out the Halloween costumes from each season of Modern Family — you definitely won't regret doing so.
These are the most epic Modern Family Halloween costumes:
Article continues below advertisement
1. Season 2: Haley as Mother Teresa
When Haley and Claire simply could not agree on an appropriate costume, Haley decided to opt for the most... um, "holy" option out there: Mother Teresa. But obviously, her execution of the outfit wasn't quite wholesome enough for Claire.
"Mom, you cannot have a problem with this, I'm Mother Teresa!"
2. Season 4: Gloria as an Alien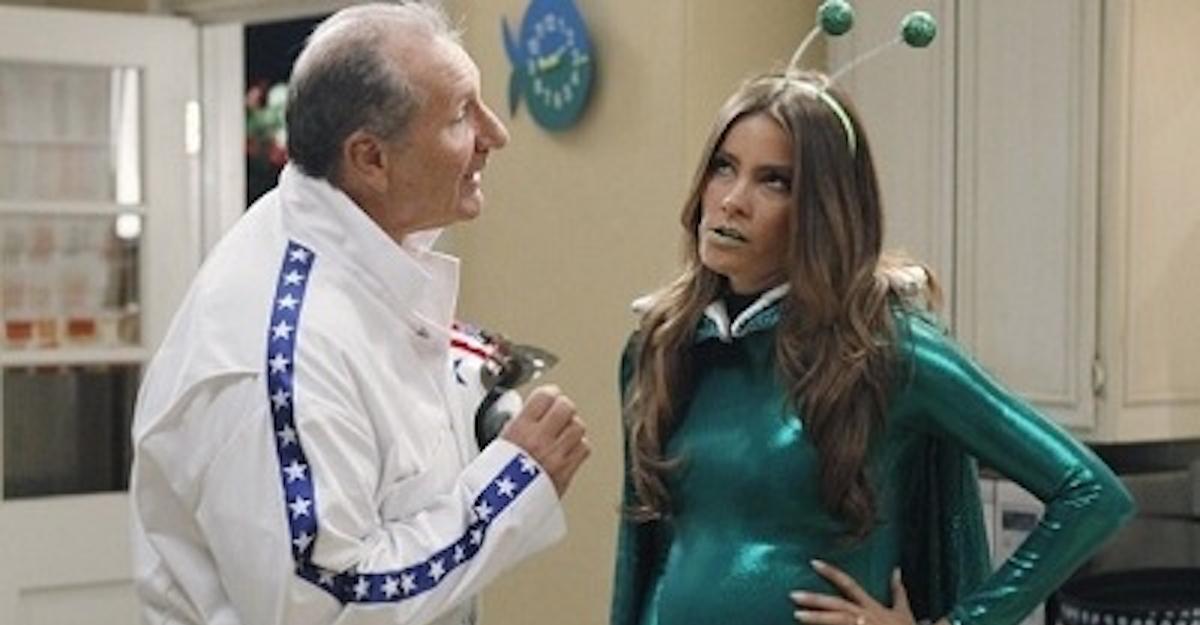 Season 4's "Open House of Horrors" Halloween episode was undeniably one for the books.
You may recall when Gloria decided to dress up in a tight green alien costume, despite being pregnant at the time. Mitch and Cam then proceeded to make sassy comments in total ~Mitch and Cam fashion~ about her being an "illegal alien," which causes her to spiral into an out-of-this-world state of hormonal rage.
Article continues below advertisement
3. Season 5: Jay and Gloria as Joe Dimaggio and Marilyn Monroe
While Jay and Gloria simply looked amazing portraying the two historical icons, the character's choice of costumes fit their personalities perfectly.
Jay is constantly reminiscing on "the good old days," while Gloria has a vibrant and flashy personality, somewhat similar to that of Marilyn Monroe. It truly fit them like a glove.
Article continues below advertisement
4. Season 6: Jay as Shrek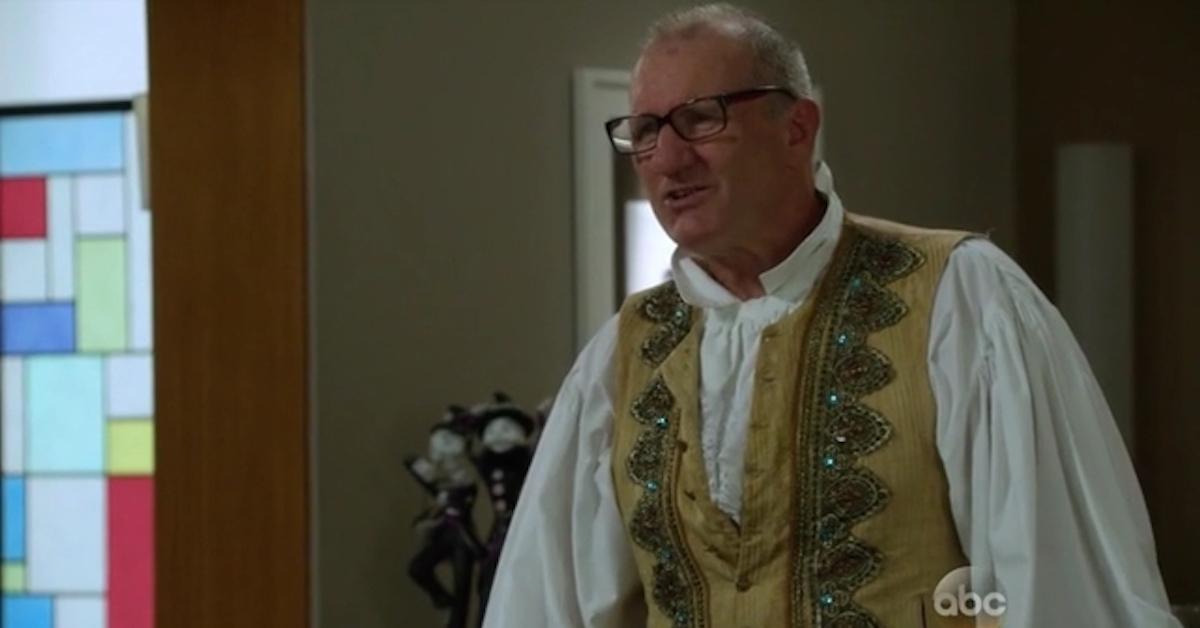 If you watched the Season 6 Halloween episode, which was titled "Awesomeland," you may recall when Jay wanted to dress up as Prince Charming, as he had really been — well — feelin' himself lately.
But, instead, Gloria bought Shrek and Fiona costumes for a couples costume. So you can probably imagine how thrilled he was to show off that flattering green ogre suit.
Article continues below advertisement
5. Season 8: Cam, Mitch, & Lily as Batman, Robin, & Bat Girl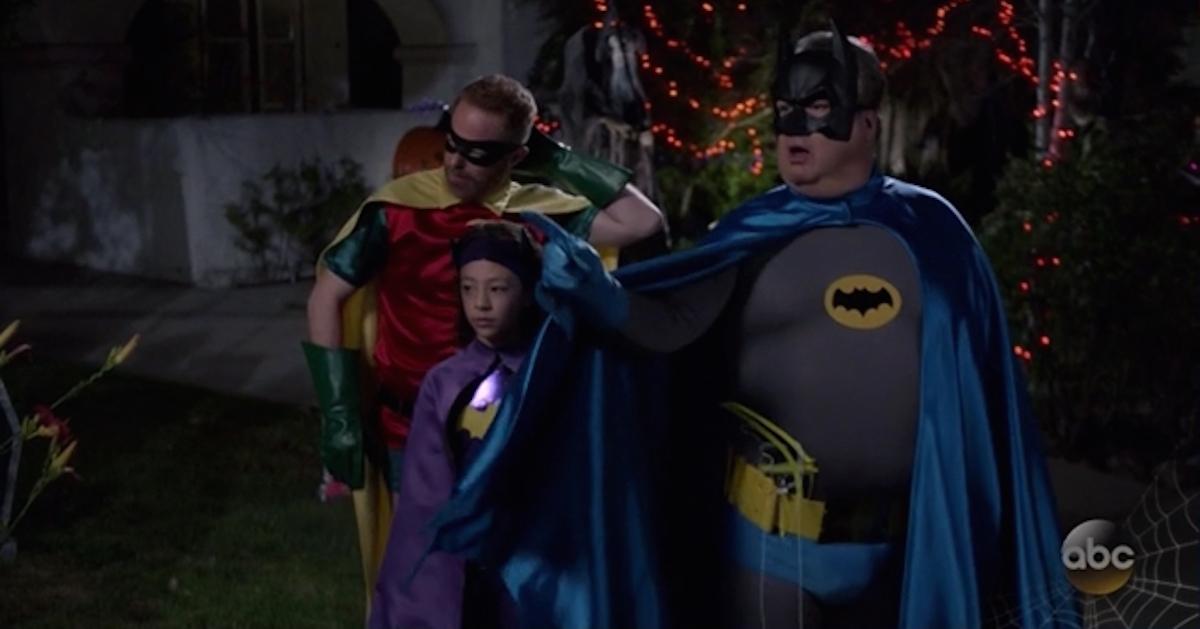 Lily and her dads looked seriously epic (and absolutely adorable) as the iconic superhero trio. And you may remember, in total Batman fashion, when Cam chased down a kid from their neighborhood, because Cam thought he'd thrown an egg at them.
Later on, however, they found out Claire was the elusive egg-thrower. Oops!
Article continues below advertisement
6. Season 10: Cam and Mitch as Meghan Markle and Prince Harry
Cam and Mitch decide to dress up as Prince Harry and Meghan Markle, so it should come as no surprise that they perfectly executed their outfits. Cam sported a pink button-down off-the-shoulder dress while Mitch totally slayed the Harry look with his bright red hair.
Like I said, Modern Family's Halloween episodes are seriously legendary, as the characters never fail to go all out with costumes. So get excited for the new Halloween episode on Wednesday, at 9/8 p.m. CT on ABC... I'll see you there.