Why Everyone Is Telling You to Translate "Covid" to Hebrew
When you translate the word "covid" to Hebrew and then translate it back in Google Translate, it comes back "Kobe," inciting a conspiracy theory.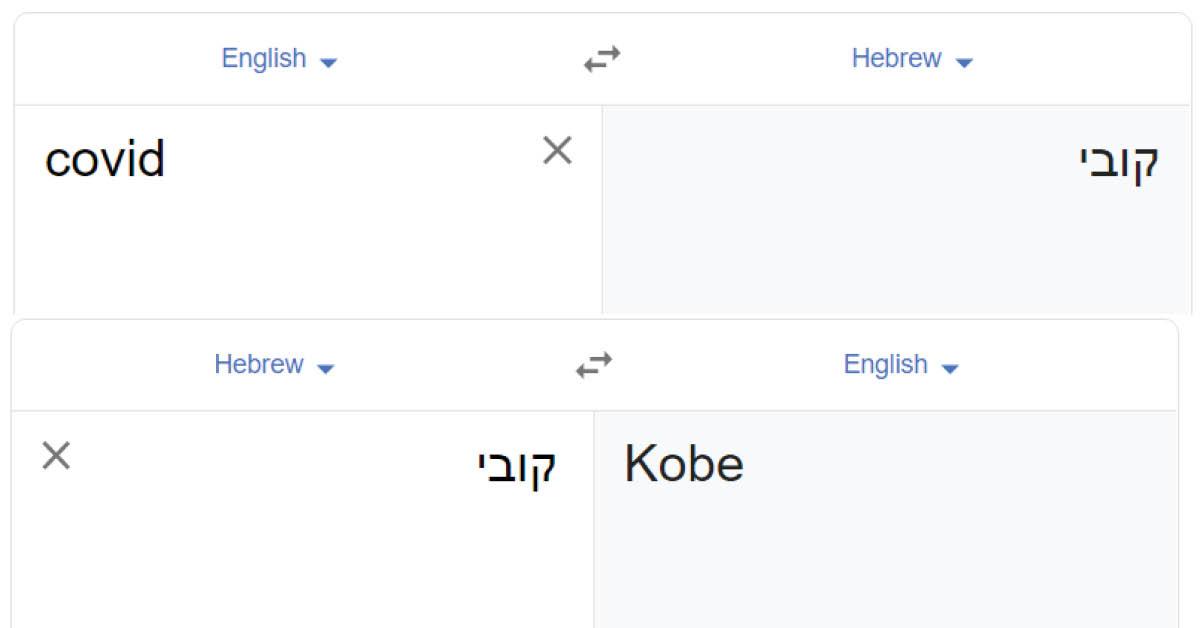 With the novel coronavirus having been escalated to a pandemic, colleges are adopting online-only courses and cities everywhere are forcing everyone to self-isolate. It comes as no surprise that people are going understandably stir crazy. What else do you have to do after logging off from your Zoom classes and binging every pandemic movie on Netflix?
Which is why your friends with too much time on their hands are telling you to Google Translate the word "covid" to Hebrew and back again.
Article continues below advertisement
Translating "covid" to Hebrew incites this conspiracy theory.
The new coronavirus, also known by the name COVID-19, has been dominating everyone's news feeds lately, creating a huge spread of misinformation and fake news.
One weird phenomenon people are latching on to with all of this free time (given most movies and TV shows have been postponed until further notice) is what happens when you translate "Covid" to Hebrew.
Article continues below advertisement
"Covid" in Hebrew is "קובי." But when you translate "קובי" back to English, Google Translate comes back with "Kobe."
This originated from a YouTube video posted by "ALASTAiR YT," where the user shows this result on Google Translate. The video takes it one step farther, translating "Kobe" to Hebrew and back again, resulting in the word "Cuba." We're not sure what "Cuba" is supposed to signify, but the first half of the translation has the internet freaking out.
The internet is freaking out about the potential connection to Kobe.
If you don't remember, former NBA star Kobe Bryant and his 13-year-old daughter, Gianna, died in a helicopter crash on Jan. 26. The entire country mourned the loss, which happened around the time the first case of the coronavirus had been confirmed in China.
"Was Kobe Bryant the glue that was holding the world together?" one Twitter user joked.
But others took it and found other connections, attempting to confirm this conspiracy theory.
Article continues below advertisement

"Kobe and Gianna were laid to rest in Corona De Mar," one user tweeted. "On February 7th. The same day 33 year old Coronavirus whistleblower Dr. Li Wenliang died," another replied.
Clearly, everyone just has too much time on their hands and is taking this whole thing way too far.
Article continues below advertisement
"Covid" is only one part of the new virus' name, COVID-19, and Google Translate is known for being inaccurate when translating words back and forth. One user even went so far as to clarify why the translation comes back this way.
"COVID is an Acronym. CO-rona VI-rus D-isease 2019. Google has to translate it phonetically into Hebrew (because it's not a word on its own). Yall need to stop," one user clarified.
The best way to prevent contracting or spreading coronavirus is with thorough hand washing and social distancing. If you feel you may be experiencing symptoms of coronavirus, which include persistent cough (usually dry), fever, shortness of breath, and fatigue, please call your doctor before going to get tested. For comprehensive resources and updates, visit the CDC website. If you are experiencing anxiety about the virus, seek out mental health support from your provider or visit NAMI.org.