Brilliant and Creative Solutions to Receiving Unsolicited Obscene Photos
Women are used to receiving unsolicited photos of dude junk, so they've come up with some creative responses.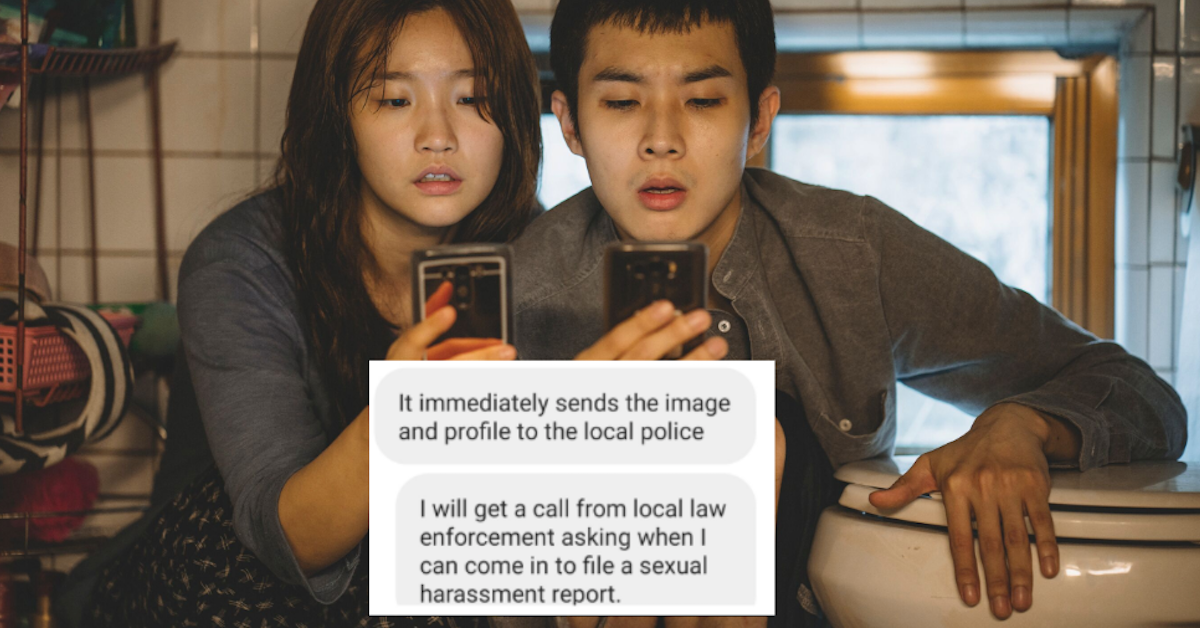 Women receive unsolicited pictures of dude junk. It's an unfortunate fact of life. I don't know what it is about men and their genitalia, but many of them can't help but photograph it and send it to women, via text or the internet. They can't possibly think that the women who receive their pictures will be like, "Oh, how attractive and normal! Would you like to go out with me?"
Article continues below advertisement
So it's kind of crazy that it keeps happening to the extent that it does. But women who receive lots of dick pics have gotten so good at responding to them it's scary. Obviously, it's messed up that women have had to develop these special skills, but they are extremely talented. One genius woman made up an app to discourage a man from ever sending an unsolicited dick pic ever again.
Article continues below advertisement
Jenn Tisdale invented this app that she claimed blocked unsolicited inappropriate photos and sent the photos and profile information of the sender to the local police. She claims that the police will contact her when they receive the images and she will be able to file a sexual harassment report.
Because that's what unsolicited dick pics are! They are sexual harassment! The dude Jenn was talking to seems to try to casually cover up his shock that this app exists, but we don't get to observe his reaction after he learned the "police" are ostensibly after him.
Article continues below advertisement
Luckily, another woman used a similar excuse with her dick pic offender weeks later, and his reaction was truly priceless. She claimed she had a porn blocker on her phone that automatically sent the pictures and profile data to the police. "Are you serious," the man replied, deadpan.
Article continues below advertisement
He quickly admitted what he did, claimed he'd been drinking too much, and blocked her. Sounds like a win for women everywhere!
The fake app or porn blocker is, no doubt, effective, but it's also not the only way to prevent dudes from sending out their inappropriate pics to women who never asked for them.
One woman who wasn't afraid of doing a little research found the dude's mom and sent her the picture to let her know what he'd done. Priceless. If there's anything that will stop a dude from sending dick pics, it's being reamed out by your mom, who just had to look at the picture of your penis you sent to a stranger.
Article continues below advertisement
Women are endlessly creative, though, and they've come up with so many hilarious and perfect responses to dick pics. In fact, there is a whole Reddit thread where women share their favorite responses, and I have to say, they're incredible. Women are perfect. We should be in charge of everything.
Article continues below advertisement
"Hmm. I've never seen one that looked like that before. Are you okay?" one person offered. If they're going to send you a picture of their penis, you're well within your right to make them concerned about their own genital health.
"Why are you sending me the pic of a child's penis?" another suggested. But perhaps my favorite answer to this thread is from this person, who takes the dick pic as a challenge to exchange the grossest one.
"I always send a pic back," they write, "one that I found on the internet a long time ago, and it still works wonders to this day. It's gross, it's offensive, it's hairy and disgusting and nobody ever messages me back after they see it." Amen.
Article continues below advertisement
There are myriad ways in which women respond to dick pics in order to get them to stop. Just imagine if these brilliant women were able to focus this creative energy toward something meaningful to them instead of being forced to use it to shame these gross dudes out of sexual harassment. Imagine how wonderful the world would be!