"No More Coffee Runs for Me" — Woman Says Creepy Guy Tried to Grab Her Kid at a Starbucks
In a viral post, a woman says that a creepy guy tries to grab her kid during her trip to Starbucks, and social media users are outraged.
We live in a world where we all have to remain vigilant at all times. Unfortunately, horrible things occur daily, and sometimes not being aware of our surroundings can cause us to become victims. That said, it is to our benefit to take the extra steps to keep ourselves and our loved ones safe in various scenarios.
Article continues below advertisement
There are always crazy stories in the headlines about people looking to harm children. And of course, parents have created various parenting groups and support systems to look after one another.
So, when a woman on TikTok shared that a creepy guy tried to grab a kid in Starbucks, the social media community wasted no time offering support and tips for parents to keep in mind. Here's the full scoop.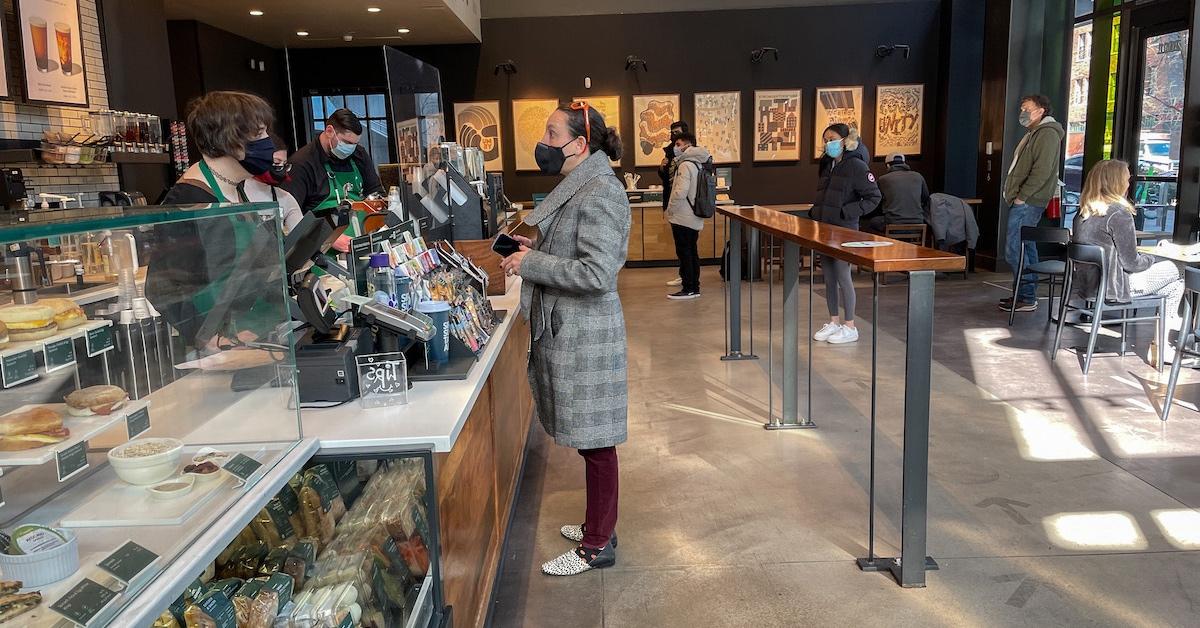 Article continues below advertisement
A woman on TikTok says a creepy guy tries to grab her kid while they were in Starbucks.
Always keep your guard up as a parent. In an Aug. 3, 2023, Tiktok video shared by Hannah (@hanzcakess) she said that a creepy guy tried to grab her kid while they were at a Starbucks location.
Hannah starts the story by saying she went to a Starbucks location with her newborn and toddler in the car. She said that both children were crying, so Hannah thought to move quickly to grab a coffee and a breakfast sandwich.
However, things got weird once she sat on one of the couches with her two children.
"This old man approached us and asked if we needed a baby seat for my toddler," Hannah said.
She initially thought he didn't mean any harm and was simply trying "to be nice." However, once Hannah told him, "No, thank you," he returned with napkins and tried to give them to her toddler.
Article continues below advertisement
Hannah shared that she intercepted him and took the napkins from him after he shared that the child may make a mess.
"At this point, I realized that I am by myself. I am a young woman. I have two kids. I have my hands full… I am an easy target," Hannah said. "This is what people look for."
Hannah then said that she decided to leave her sandwich, instead of waiting for her name to be called and beelined to the door. While holding her two kids and her coffee, Hannah noticed that the man was following them.
Article continues below advertisement
"He opens the door and looks down at Scotty and said, 'Hey, little one. Have a good day,'" Hannah recalled.
He continued following them out to the car. Although Hannah locked eyes with a woman going into the Starbucks location, the woman didn't stop to help. The man continued to follow Hannah and her children to her car.
"There's probably a bruise on my toddler because I was gripping her," Hannah explained. "My plan was to put the kids in my trunk, shut it, and lock the car. And then fight the guy, I don't know."
Article continues below advertisement
Then, Hannah explained that as she opened the trunk, she had her body around her toddler and the strange man reached for Hannah's child.
"I turned around and I said, 'No, no,'" Hannah said while holding her hands up. "We're good. I do not need your help."
As the incident occurred the woman Hannah locked eyes with earlier came back out and asked her if she needed any help. The old man then "scurried away."
"I don't know what his intentions were, but they were making me uncomfortable and they were making me scared," Hannah said. "And I'm so thankful that the woman walked out because it scared him away. No more coffee runs for me."
Article continues below advertisement
TikTok users applaud Hannah for being alert.
There is nothing we can do about the creepy people in the world that don't know how to handle themselves. However, TikTok users applaud Hannah for staying alert and handling the situation to the best of her ability.
"Glad all of you are safe. Never leave alone if someone is scaring you. Get an employee or another customer to go with you," one person shared.
Article continues below advertisement
"Great job at being alert. I'm sorry this happened to you. I hate that we even have to think about this happening," another person said.
"As a barista, it becomes a habit to keep an eye on what's happening in the lobby, but it gets hard when it's really busy. If you ever feel unsafe in a Starbucks, PLEASE tell a barista and we will always stop what we are doing to help you. I'm sorry you were in such a scary situation," another user said.
We are also aligned with the TikTok community that is happy Hannah and the kids are safe. Parents, please be aware of your surroundings.