This Royal Caribbean Cruise Started in Chaos After an Unexpected Hurricane
Passengers on this Royal Caribbean cruise endured a hurricane on board before the ship even set sail. Here's how the cruise line handled this.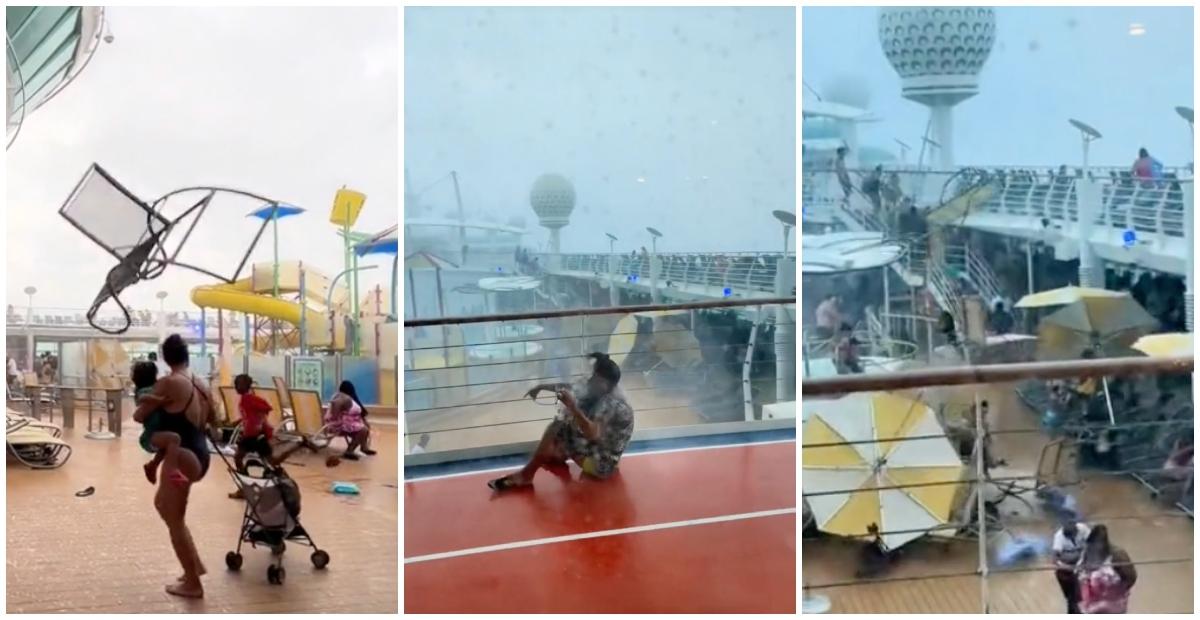 One moment you're gearing up for a relaxing three-day cruise, the next you're trying to find shelter during a freak hurricane. That was the reality for folks aboard a Royal Caribbean "Independence of the Seas" cruise in June 2023. The cruise, which hadn't even left its dock in Port Canaveral, Fla., yet, had people holding on for dear life as heavy gusts of winds tried to throw them aboard.
Article continues below advertisement
A few TikTok users who were there captured videos at the scene and it's clear that the weather woke up that morning and chose violence. Below, we share those videos of what down as well as how Royal Caribbean handled the scary situation.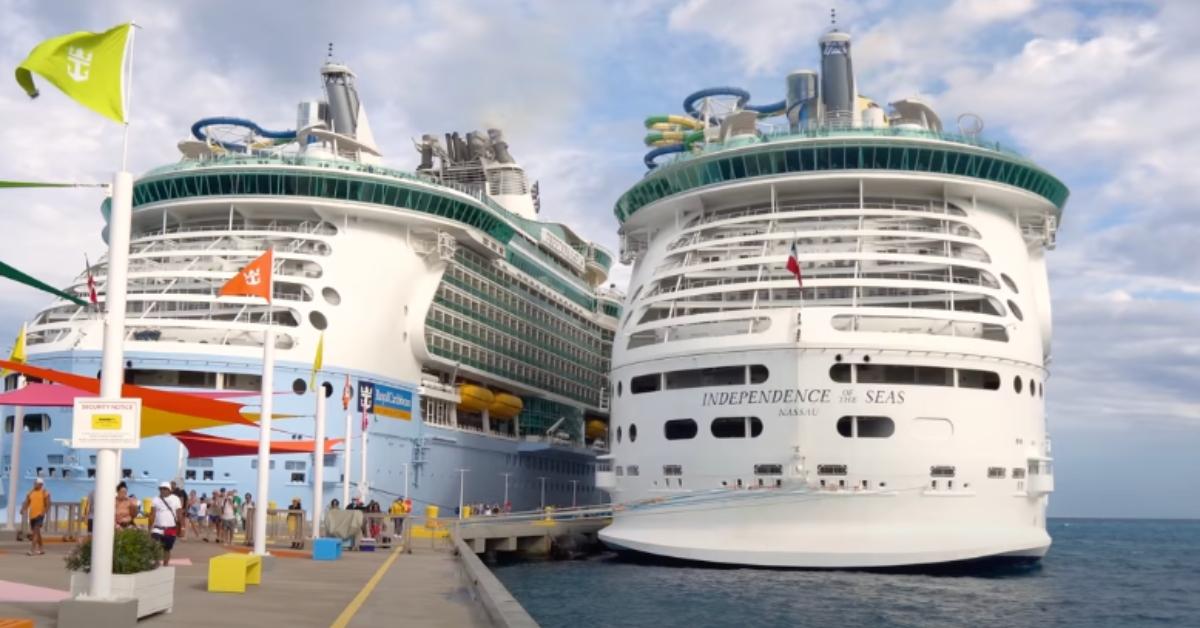 Article continues below advertisement
Passengers claim Royal Caribbean didn't acknowledge the storm.
TikTok user @lucassparrow1110, who fortunately appeared to be inside the ship while filming, shared a video of the absolute chaos that could be seen out the windows.
Umbrellas were flipped over while multiple beach chairs were seen flying through the air. A guy who was running to seek shelter was pushed to the ground by the wind. People were gripping the ship's taffrail with all their might to avoid being blown away. And in the background, a woman's voice can be heard screaming "Get the kids."
Article continues below advertisement
In @lucassparrow1110's caption, he noted that Royal Caribbean didn't even acknowledge this scary moment. "Just a fun evening leaving Port Canaveral this past Friday," he wrote. "No announcement from the captain before or after, also no mention of what happened. Just pretend like it didn't happen I guess."
Article continues below advertisement
Another user named Cora (@cornettahh) shared a video she had captured on the ship during the hurricane. She appeared to be outside during the storm, but remained protected under one of the ship's roofs.
Article continues below advertisement
In her nine-second clip, a beach chair seen flying in the air crashes right into a baby stroller and knocks it to the ground.
Fortunately, the mom who was pushing the stroller had her child in her arms. She immediately ran off with her kid leaving the stroller behind.
TikTok users were relieved to know that the young child was OK.
"That was a direct hit to the stroller. Good thing she was holding the baby," wrote one user. Cora replied that she felt like her heart had stopped until she realized there wasn't a child in the stroller.
Article continues below advertisement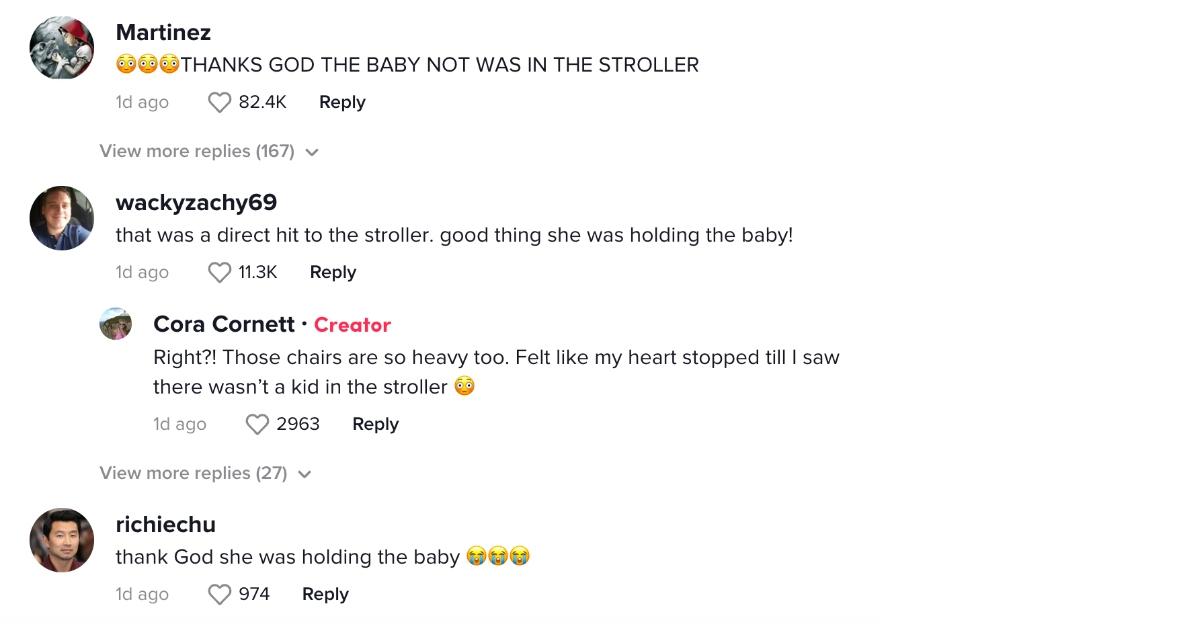 Another user wrote: "Hurricane season. You couldn't pay me to go on a cruise during the summer."
Meanwhile, some folks seemed frustrated that people were acting shocked in the comment section. "Oceans have storms people. Don't be surprised when Earth does its thing."
Article continues below advertisement
Royal Caribbean provided Distractify with the following statement regarding this cruise. It read: "On Friday, June 16, while departing from Port Canaveral, 'Independence of the Seas' encountered a sudden gust of high winds. This lasted for a brief period and there were no serious injuries to our guests or crew."
The statement continued: "'Independence of the Seas' continued its regularly scheduled three-night itinerary, arriving to Perfect Day at CocoCay in The Bahamas, on Saturday morning, as scheduled."