TikTok Parents Are Seeing What Their Toddlers Do When They Cuddle Them
TikTok parents are trying out the #CuddleChallenge in which parents test their toddler's true love (and patience) for their mom and dad.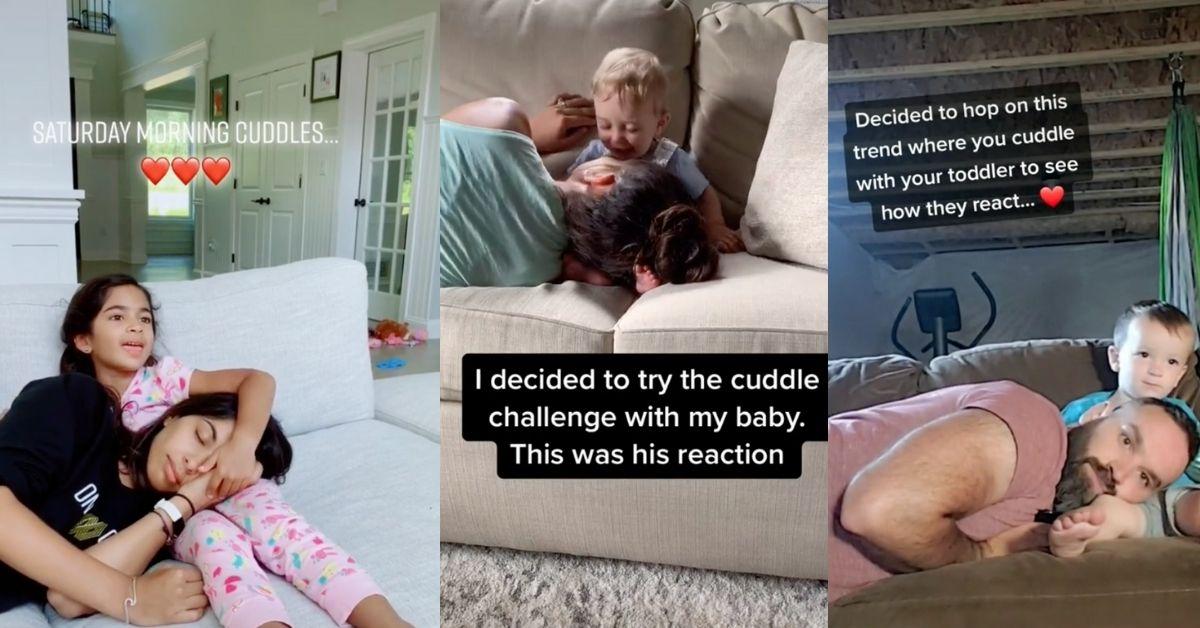 The popular social media app TikTok is known for creators starting trends whether through sharing recipes, creating a new dance, or coming up with the next viral meme. It seems like every day there is a new trend or challenge going around the app that creators want to try.
Article continues below advertisement
The #CuddleChallenge toddler edition on TikTok is extra cute.
The #CuddleChallenge toddler edition sees moms and dads sneaking up on their kids as they watch their favorite cartoons or shows by cuddling with them or lying their heads down in their kid's lap to see how they react. The majority of the videos associated with the challenge are set to James Blake's cover of Frank Ocean's "Godspeed," which he posted to his own TikTok back in January 2020. Currently, there are over 350,000 videos linked to the sound.
Article continues below advertisement
The trend began growing in popularity on TikTok in late July 2020 and has since gained over 4.1 million views. While not every single video associated with the hashtag includes parents with their toddlers, some of the top viewed videos are now that of kids snuggling up with their mom or dad who just want a hug.
Article continues below advertisement
The results of the toddler #CuddleChallenge were adorable.
For the most part, when parents laid their heads in their toddler's lap, users get a glimpse into just how sweet and pure children can really be. Some of the toddlers who were engrossed in watching their show hugged their parents while some kissed them or stroked their hair.
Article continues below advertisement
Some kids were not so friendly with their parents trying to give them some extra snuggles. One TikTok user tried it on her toddler son who hit her in the face when she tried to cuddle him. "My son was not having it," she wrote.
Parents have tried the Cuddle Challenge trend with their older kids too.
One parent decided to try the cuddle trend on her teenage son to see how he would react. She nestles up next to him while he plays video games and basically ignores her. She writes, "I still love you though."
Article continues below advertisement
Another mom tried it on her teenage son and daughter and got very different reactions from both. Her 15-year-old daughter almost knocked her off the bed when she tried to grab a snuggle, while her 20-year-old son opened his arms wide to receive a hug from his mom.
Article continues below advertisement
Teens are also trying the #cuddlechallenge on their parents.
Some TikTok teens are jumping into their parent's laps to see if they'll snuggle them back like a baby. One TikTok user wrote, "Why are moms always warm & cuddly lol" as she crawled into her mom's lap.
Another user crawled into bed with her mom who immediately opened her arms to get some hugs from her teen daughter. The best part comes at the end of the video when her dad grabs her phone while brushing his teeth.