Customer's Ridiculous Demand Makes Furniture Store Employee So Mad She Quit
A Woman relayed a story about her decision to quit her job after she lost it on a customer who tried getting furniture discounted because of dust.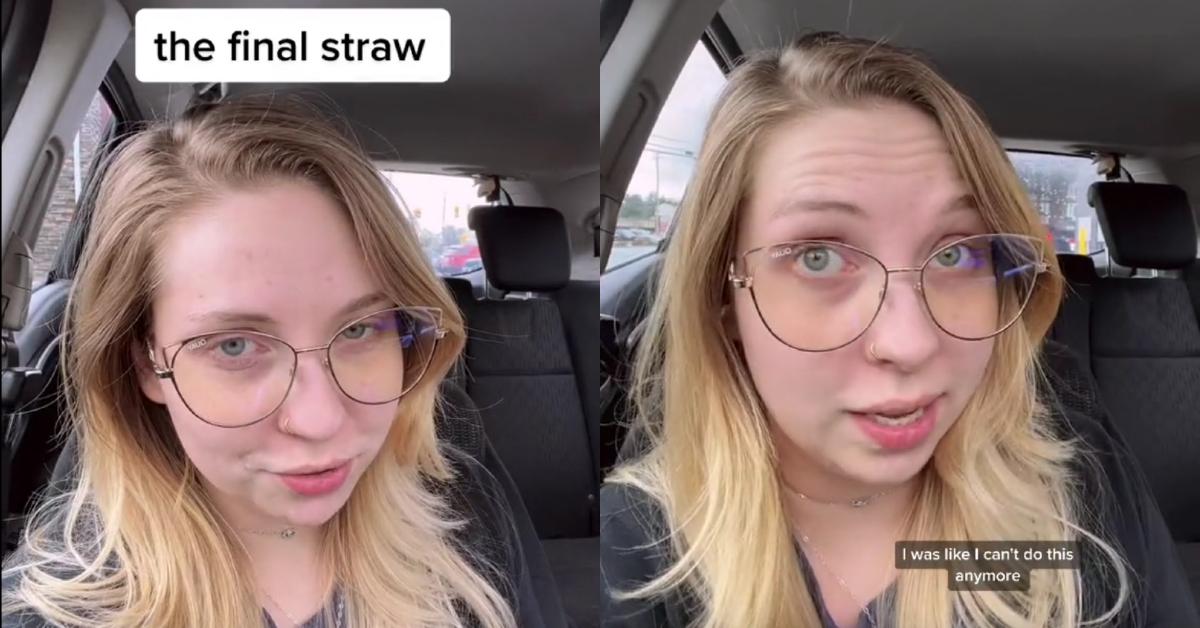 A TikToker uploaded an unconventionally long-form post for the platform, six minutes and thirteen seconds long, in order to relay the story of the "final straw" customer that ultimately made her quit her job. She added that while this shopper wasn't necessarily the most difficult one she's ever encountered, the experience of interacting with them made her want to "nope" out of her position.
Article continues below advertisement
Kaelin (@whatsinthekoolaid) concedes, however, that because she was "teetering on the edge of a mental spiral" she didn't handle the interaction with the customer in "the way that is the most appropriate."
She goes on to add that about two weeks before the incident that influenced her to quit her job, the same customer bought an armchair from the furniture store Kaelin worked at
The problems with this customer began when Kaelin informed her that after the product was purchased she had 48 hours to pick it up from the store because they don't keep it in inventory longer than that. The customer replied in a rude manner, grunting and saying, "I know, I know," which already left a bad taste in Kaelin's mouth.
Article continues below advertisement
Even though the customer said that they would come in to pick up the armchair within the next couple of days, she didn't. Instead, she ended up arriving some 2 weeks later.
Kaelin says that the customer comes in screaming at her, demanding that an employee of the store helps her put the armchair in her vehicle.
Article continues below advertisement
Kaelin says that after looking at the woman's face she noticed that both of her eyeballs were bright pink and that they looked "infected." She ignores the woman's screams and puts on a "customer service voice" asking her several times how she's doing and how she can help her.
After matching the customer's receipt to the armchair item number, Kaelin tells the customer that she's going to "cellophane wrap it" and help her put it in her car.
However the customer insists that the armchair isn't in the same condition that she purchased it in and doesn't want to accept it, but Kaelin has no idea what she's talking about.
Article continues below advertisement
The woman then goes on to explain that the armchair is dirty and that it's been "stomped" all over. When Kaelin asked her to point to what she was referring to, the customer says that the "bottom" of the armchair is dirty, which Kaelin says is simply "dust" from the sales floor that will wipe right off.

Article continues below advertisement
Kaelin bends down to wipe the dust off of the armchair, but the customer doesn't want her "hands all over it." Kaelin then tries to explain that she was simply attempting to wipe the dust off, which the customer didn't like. She goes on to tell Kaelin that since she owns the product she can decide who can and can't touch it, and she doesn't want Kaelin touching it.
The TikToker informs the customer that she's the only employee in the store who can help her bring the arm chair into her vehicle, to which the woman responds that she does want Kaelin to touch it, but just to bring it into her car. However, she still wanted an explanation as to how dust got on the arm chair.
Article continues below advertisement
Kaelin tells her, "It is not damaged in any way there is a little bit of dust from the sales floor on the bottom of the item because it's been here for 2 weeks remember when you cashed out and I told you that you had to come back within 48 hours that is why because we don't want things sitting here for a while accumulating dust."

Article continues below advertisement
The customer then says, "Well I couldn't get it in 2 days...so what are you gonna do about this?"
"Well you won't let me touch it so there's not really much else that I can do," Kaelin told her.
And of course, the woman revealed what she was getting at the whole time: "I'd like a discount."
Kaelin told her simply: "I'm not gonna give you a discount for dust." The customer didn't see it that way, however, stating that when she purchased the armchair it wasn't dirty, but since it was left out on the showroom floor for two weeks, it's now dirty and she wants to get some money back taken off of her order as a result.
Article continues below advertisement
Kaelin repeated again that this is the reason why the store tells customers to pick up their items within 48 hours, but the woman averred that the armchair was clearly damaged.
It's at this point that the employee seems to have resolved to just say "to heck with it" and tells the customer that she needs to get her eyes checked if she thinks the armchair is damaged.

Article continues below advertisement
The woman then tells Kaelin to go and get her manager, to which Kaelin replies that she is the manager. She asks if the woman would like her to put the item in her car or if she wants to argue for a bit longer.
Ultimately, Kaelin's boss' reaction to the customer is what caused her to quit the store: her boss relented, gave the woman a discount, and let her keep the armchair in the store for a few more days while she researched cleaning options.
Kaelin explained why the interaction rubbed her the wrong way: "I hate being undermined by my superiors, especially when you're a manager and you make a managerial call and then that decision is like overturned by your manager. But I think that he probably did that because I had such an attitude with this woman. I was so furious, I've never talked to anyone like that in my life."
Article continues below advertisement
Even though Kaelin said she'd never acted like that before she said that "it felt great" and she was glad she lashed out at the customer in the way that she did.
"It was like a little sprinkle of justice at the end of my very terrible employment at that place," she said.

TikTokers who saw her post said that they too have experienced being undermined by their superiors. Have you ever been in a situation where you lost your cool with a customer at work when they made an unreasonable request?