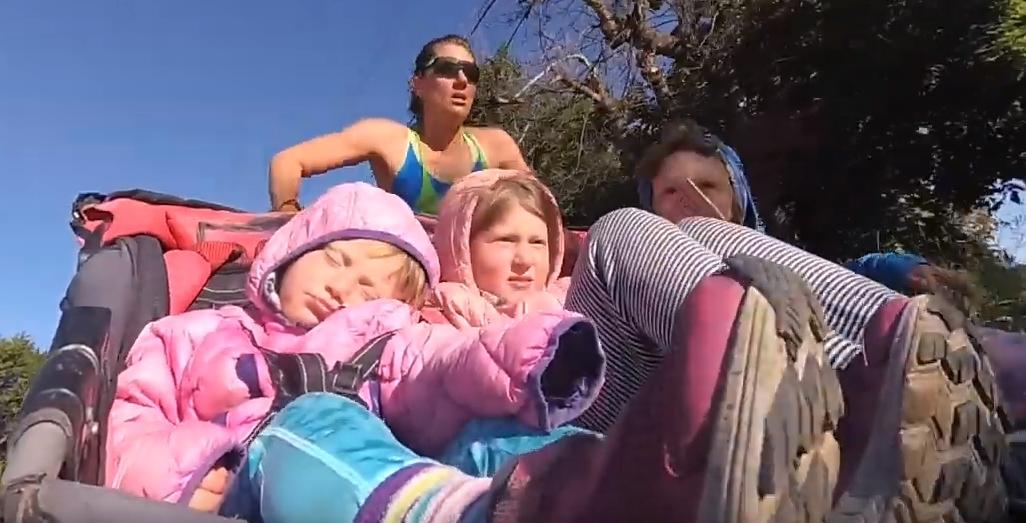 Mom Runs 3:11 Marathon While Pushing Her Kids In A 185 Pound Stroller
A sub-7:20 running pace is considered pretty good by most standards. But it puts most of us to shame if you happen to be pushing a three-person stroller loaded with children at the same time.
Cynthia Arnold, 35, is what most people would consider to be a super-mom.
Article continues below advertisement
Last year, she got herself a Guinness World Record for the fastest-half marathon while pushing a three-person stroller filled with her kids at the Missoula Half Marathon in Missoula, Montana. And this year, she returned to one-up herself by going for the fastest full marathon while pushing her three children in a stroller.
Article continues below advertisement
The previous record meant that Arnold had to finish the 26.2 miles in just over four hours. And she absolutely blew it out of the water, maintaining a pace of just under 7:20 minutes per mile and finishing in 3:11. That's despite her kids being a year older and weighing in at a collective 130 pounds, when you factor in the stroller, Arnold was pushing 185 pounds the entire marathon.
The super-mom also ran into some technical issues when her video camera attached to the stroller fell of just as the marathon was about to begin.
To qualify for a Guinness World Record the attempt had to be recorded, so Arnold had to hurriedly tape the camera to the stroller.
Article continues below advertisement
Arnold trained hard for the event, explaining to Runner's World that training began last winter, with a trail marathon in February and a lot of 20-mile training runs without her kid and the stroller. She also fit in some 10-mile runs with the kids and the stroller, as well as one 17-mile run with the weight to make sure it was even possible.
Arnold went on to explain that her kids—aged six, four, and one—enjoy taking part in the training as much as she does.
"We live in rural Montana and see lots of wildlife on the bike path right out my door," Arnold said. "I keep a pretty consistent routine and see some regular commuters each day, and the kids like saying hello to the cyclists."
Article continues below advertisement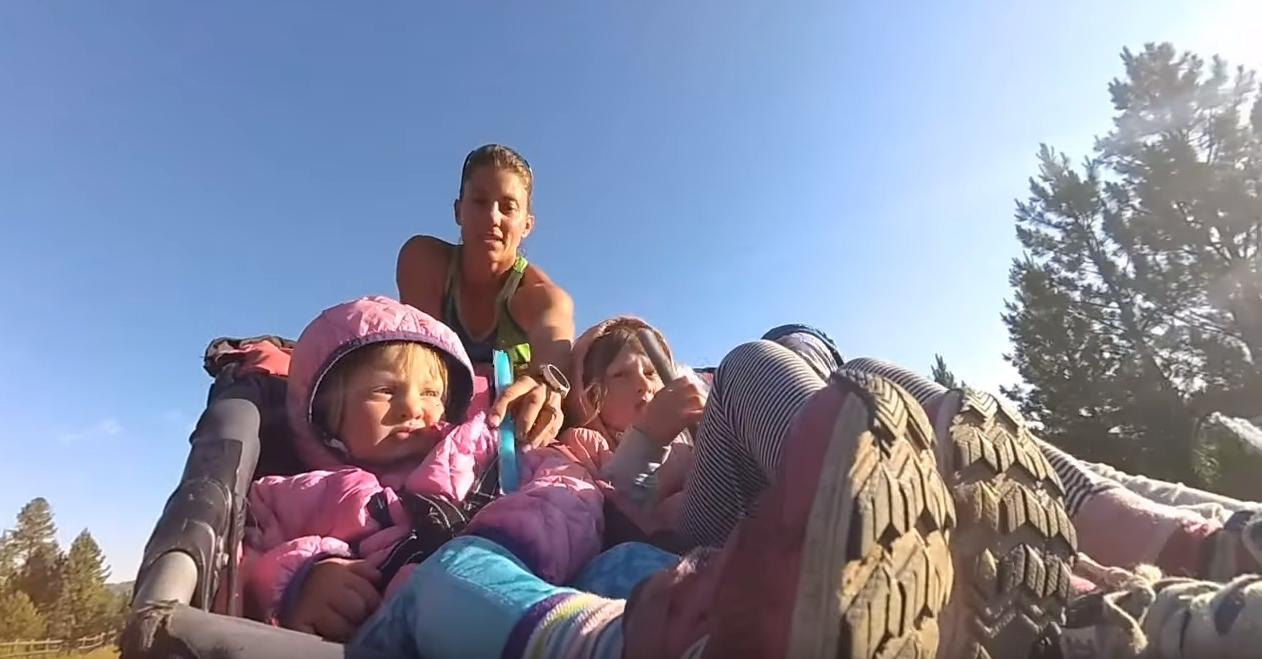 The Missoula Marathon isn't too different from her training route, with a mix of rural and urban sections.
"The atmosphere is perfect for the family, it is the perfect combination of beautiful country scenery and urban crowds in downtown Missoula,"
Article continues below advertisement
And of course, it helped to have some encouragement along the way.
"The crowd was amazingly supportive," she said. "I was moved by how many people were cheering for me and knew what my goal was on race day. One woman called out 'I've been reading about you all year. Go mom!'"
"Running alone in a race is so simple now," Arnold added. "It's interesting to me how my perspective has changed as I have grown as a mother. I used to really stress so much about racing, and now it's sort of the last thing I'm thinking about."
Having reached her goal, you might think that Arnold would leave the stroller days behind her. But she says it's still going to be part of her life for a while longer.
Article continues below advertisement
"I was laughing with my husband about throwing the stroller into a ditch or off a cliff, you know, say goodbye to that heavy old thing. But I would never really do that. I tear up when I think any day could be the last day my oldest daughter goes for a run in the stroller. She can ride her bike while I run now."
"Running with the stroller has so many benefits for running parents," she added. "Those of us who run know how much it is a part of our identity. You can't just give that up if you become a parent. The stroller gives one the freedom to carry on a lifestyle with new ones in tow."
Arnold's attempt is still awaiting confirmation from Guinness.