Adorable Dad and Baby From Viral Video Get Cast in Denny's Commercial
DJ and Kingston Jierre Pryor blew up on Facebook after their adorable "conversation" about a TV show blew up. Now they're in a major commercial.
DJ and Kingston Jierre Pryor took over the internet's collective hearts when a video of the father-son duo blew up online and left everyone staggered with the amount of cuteness that they just witnessed.
The video, posted by DJ's wife, Shanieke, shows the father and son chilling out on the couch and watching some TV. DJ poses a series of questions to Kingston and it looks like the two are having a full blown conversation.
Article continues below advertisement
Kingston's vocal inflections and hand gestures, coupled with his baby babble, make it look like the two of them are talking about a show they're watching like a couple of adults. It's almost too cute to handle and as a parent myself, it hits a very special nerve.
As hackneyed as it sounds, parents always feel like their kids are growing up too fast, so it's an easy video to relate to. That and the fact that the two are absolutely beautiful together.
I also suspect that it resonated with people because it's such a simple pleasure in life to enjoy. To be able to sit with someone on a couch and have that time be magical, something as mundane as hanging out and watching TV is beautiful. And the video that Shanieke took captured that.
It also captured the attention of "America's Diner," Denny's.
Article continues below advertisement
After seeing the original video above, Denny's decided they wanted to put the two of them in an ad together, so they hunkered down and shot a commercial that featured the two of them in a similarly "everyday" scenario. When it comes to dining establishments, it doesn't get more casual and "everyday" than Denny's, and I think the restaurant chain is aware of itself and its image to recognize that.
Article continues below advertisement
So they put the two of them in one of their locations and shot a video of DJ and Kingston enjoying some breakfast together while having a natural conversation about what's going on in Kingston's life. They eventually get on the topic of Kingston's favorite cartoon being canceled and enjoy some bacon and pancakes. Props to the little guy for doing all of that while double-fisting some super bendy straws.
Article continues below advertisement
The advertisement couldn't have ended on a better note or come at a better time. The heartwarming Father's Day commercial ends with Kingston giving his Papa a huge hug. Cue the piano keys over the sweet moment and we're left with a heck of a touching homage to the viral duo.
Twitter thought the same as well: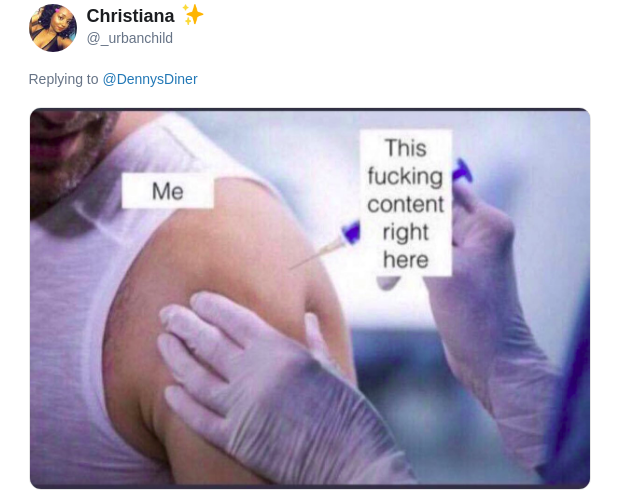 Article continues below advertisement

Some other awesome ads came out this Father's Day too that were so sweet we almost forgot they were produced by companies trying to sell us something.
Facebook managed to tug at our heartstrings with this ad about Facebook Groups. Sure, they were probably compiling emotional data profiles on all of our accounts to make this ad, but it doesn't make it any less cute.
Article continues below advertisement
This "Manifique" Dad Bod ad below also speaks to the dads everywhere who all look like they kind of work out. I can totally relate, which doesn't make me happy, but it's nice to know there are other papas out there who understand the struggle.
Article continues below advertisement
What are some of your favorite Father's Day advertisements? I know that the holiday is *technically* over, but there's never a wrong day to celebrate a wonderful relationship with someone you cherish.