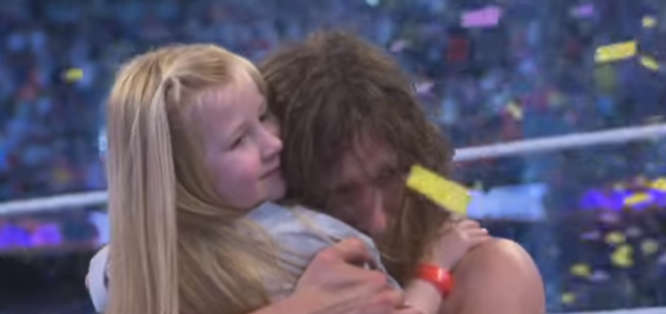 One of the Best Wrestlemania Moments Ever Is Daniel Bryan's Family Celebration
It's hard to root against Daniel Bryan. There's this innate underdog-ness about the WWE Superstar that is impossible to deny. His rousing cry of "YES! YES! YES!" has been adopted by people all over the world. I remember being at an Islanders game with a group of friends, and the entire Barclays center erupted in a cacophonous "YES!" shout and it was absolutely wonderful.
Daniel not only gifted us with that simple yet brilliant catchphrase, but a cherished Wrestlemania moment with his sister.
Article continues below advertisement
It's pretty evident every single time Daniel appears on camera or gets into the ring to wrestle that the man is soaking up each moment and doing his best to not take it for granted. And that was never more clear than at Wrestlemania 30, when Bryan defeated both Randy Orton and Batista in a Triple Threat match to become the WWE World Heavyweight champion.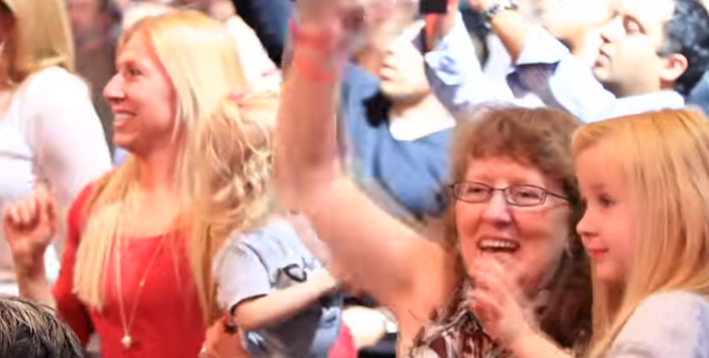 Article continues below advertisement
Standing in the middle of the ring being showered by confetti, Daniel was clearly overjoyed that he was sitting at the top of the organization's rankings. His mother, sister, and niece were in attendance, and they could be seen cheering ringside for the Superstar that had risen through the ranks and become such an integral member of the organization.
The most heartwarming moment of all, however, was when his niece came into the ring to give Daniel a hug.
Soon after, his sister followed suit and wrapped her arms around Daniel before launching into a "Yes! Yes! Yes!" chant over and over again, beaming a huge smile to the audience.
There is only one blemish on that very happy night, however, and it's the fact that the WWE's top brass kept Daniel's wife, Brie Bella (who was his fiance at the time) from joining him in the ring.
Article continues below advertisement
When it comes to maintaining kayfabe, the WWE is pretty stringent with its rules. One would think that the organization would allow Brie to come to the ring to embrace Daniel, especially because they were set to get married in less than a week, but she was told not to do it. The move is something that irks the wrestler to this very day.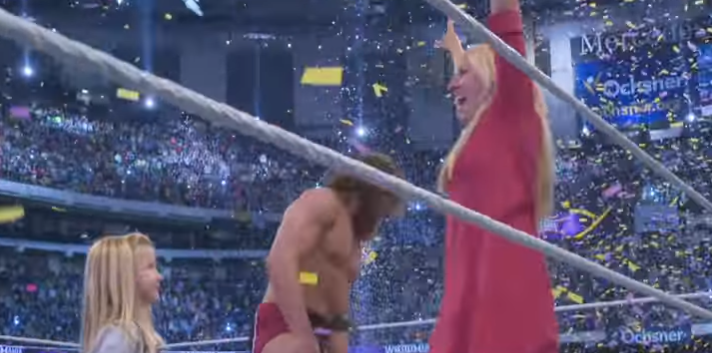 Article continues below advertisement
While on Jimmy Jacobs Doesn't Know podcast, Daniel spoke about what was one of the happiest nights of his life, and how he regrets the fact that his soon-to-be-wife wasn't there to celebrate with him:
"The worst part about WrestleMania 30 is that my wife didn't get to come to the ring. She was in gorilla, waiting for me. I pulled my sister and my nieces. (Brie) wanted to (come to the ring) and she asked. And they said, 'No, don't go down.' They told her not to go down (to the ring)."
Daniel continued, "I'm not somebody who likes to relive life through pictures but one of my favorite pictures of my, my sister, and my niece is at WrestleMania 30. If you were to ask me what we did in those matches... I don't even remember. To me, the moments are hugging Connor, seeing my mom, my sister, and my niece there, seeing Brie and (William) Regal and all the people that I know and love in the back and they are so happy for me."
Article continues below advertisement
For Daniel, it was a very emotional experience, even more so than hearing the roar of the crowd and becoming the top dog that night in the WWE: "Seeing that gave me more emotion than the actual fanbase. My biggest regret is that I didn't get to celebrate in that moment, with the confetti coming down, with my wife."
Article continues below advertisement
You can watch the celebration here, which was even more memorable than the amazing show Randy Orton and Batista managed to put on with the newly crowned champion.
Do you remember this insane moment? Even though Daniel's soon-to-be-wife wasn't in the ring, it was pretty cool seeing his sister, Billie Sue Deck, get up there to share the glory with her brother.