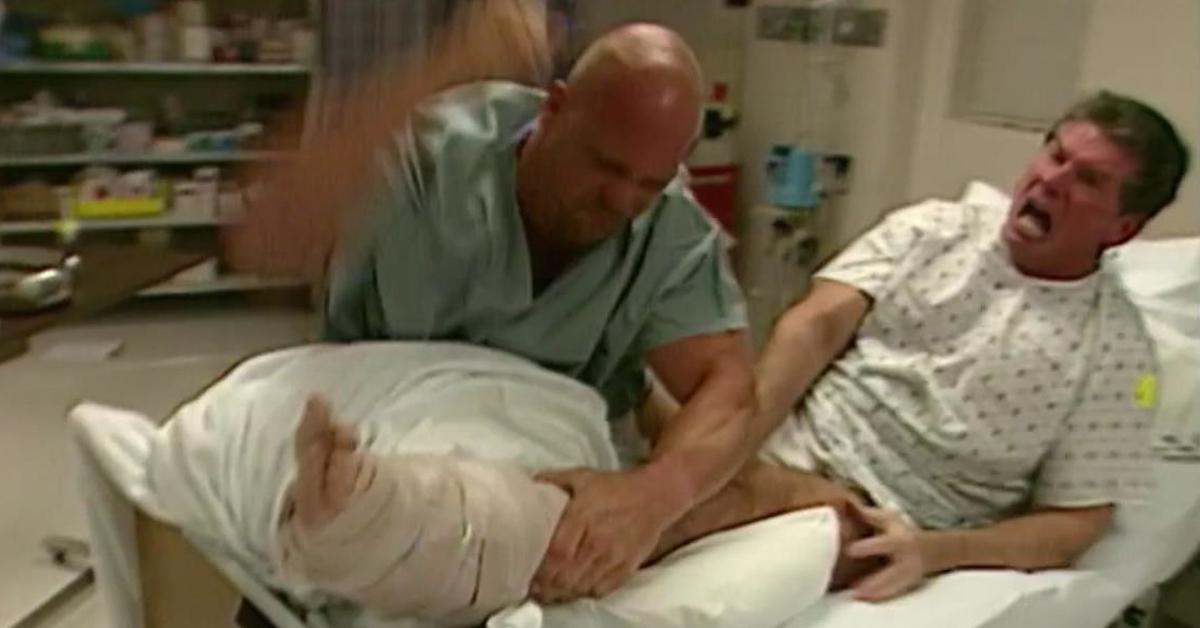 Please Tell Me the WWE Is Going to Write Coronavirus Into Its Wrestlemania 36 Storyline
The panic surrounding an impending Coronavirus pandemic is at an all-time high, despite the fact that the flu strain has proven less dangerous than previous "plagues" like H1N1, SARs, the Avian Flu, etc.
For whatever reason, extreme measures are being enacted in some parts of the country, like dissuading folks from mass public gatherings to help keep the spread of the virus to a minimum.
Many major sporting events and concerts are being affected, which may include Wrestlemania 36.
Article continues below advertisement
Will the WWE cancel Wrestlemania 36 due to coronavirus?
The Arnold Classic was recently "canceled" for spectators, meaning that only a dearth of people, like select photographers, coaches, and judges were allowed to attend the contests, but people couldn't watch the events live.
Article continues below advertisement
Which means that a lot of businesses that thrive on live viewership and huge audiences, like the WWE, will take a significant hit because of the Coronavirus. And it looks like the pro-wrestling organization's biggest annual pay-per-view, Wrestlemania, will have to change its original 2020 show date.
Article continues below advertisement
The city of Tampa, Fla. up until recently seemed fairly confident that they would still be able to house Wrestlemania 36 even in the face of COVID-19, but the fact that it's been escalated to a Pandemic status has freaked out everyone beyond belief, causing significant infrastructural suspensions across America.
Article continues below advertisement
While many believed that Vince and co. would be able to carry on as usual, reports are spreading that the outcome of Wrestlemania 36 going on as planned is "not looking good" and that a new date for the spectacle will more than likely take place.
This is not only "annoying" and financially damning for the WWE and other organizations who must suspend business, but it throws a veritable monkey wrench into their event calendars.
Article continues below advertisement
Pay-per-view scheduling for the WWE is mostly temporally based, and the fact that Wrestlemania will be shifted to another part of the year could have severe implications for the events time slot the following year. Will it be slated for March again? Will it take SummerSlam's spot? Or will the WWE forego Wrestlemania 36 for this year and push it to the next?
What I'm hoping is that the WWE does what it does best with the Coronavirus: has fun at its expense. Write the disease as a part of the show's storyline. Sure, it mucks up all of the scripted work that the writers have been developing, but at least it'll be a nice rallying fight and a big F-U to both the virus itself and government agencies who seem to be dropping the ball when it comes to an appropriate response.
Article continues below advertisement
The WWE has kind of already done that by having some of their Superstars urge folks to wash their hands and practice good hygiene practices, which is a great idea, especially if you've been wrestling big sweaty dudes in spandex for hours upon hours each day.
Article continues below advertisement
Although the event hasn't officially been canceled, it looks like it probably will be. Anybody think they're just going to make it a pay-per-view event? I think they should rent out an old hospital and put all of the wrestlers under quarantine and create a three-hour dramatic live broadcast of that. A little experimental for Wrestlemania, but heck, I'd buy it.
The best way to prevent contracting or spreading coronavirus is with thorough hand washing and social distancing. If you feel you may be experiencing symptoms of coronavirus, which include persistent cough (usually dry), fever, shortness of breath, and fatigue, please call your doctor before going to get tested. For comprehensive resources and updates, visit the CDC website. If you are experiencing anxiety about the virus, seek out mental health support from your provider or visit NAMI.org.