No, Daniel Radcliffe Doesn't Have the Coronavirus but Here's Why You Think He Does
No, Daniel Radcliffe doesn't have the coronavirus but everyone thinks he does. Here's how it all got started with a simple Twitter post.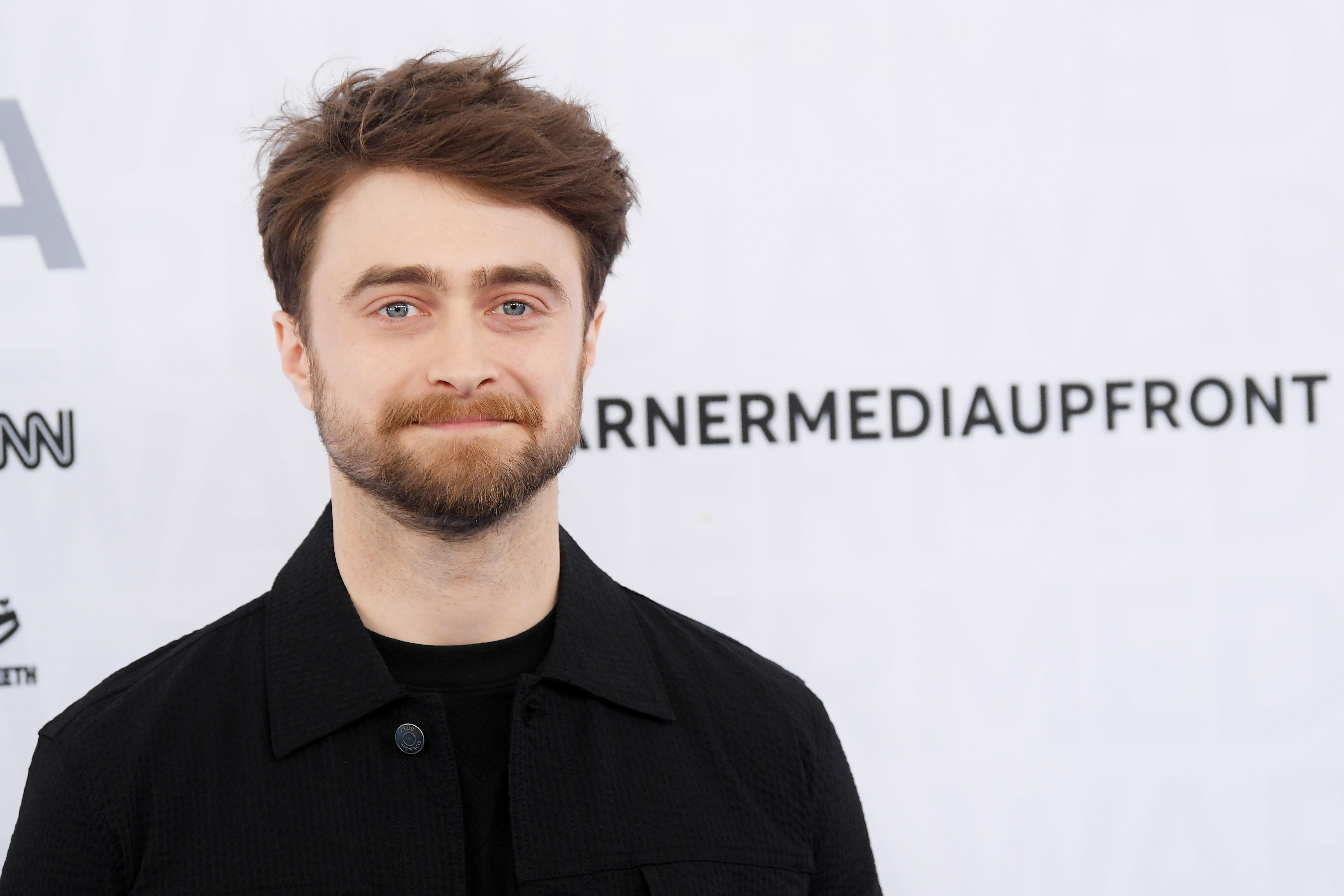 Look, it's truly hard to know who has coronavirus and who doesn't. Does Ted Cruz have it? Nope, or at least not as far as anyone knows. But someone at the Conservative Political Action Conference, aka CPAC, did and now he and other politicians are quarantining themselves.
Does the British Health Minister have it? Yup, Nadine Dorries has it. So does France's culture minister, Franck Riester.
Article continues below advertisement
But how about Daniel Radcliffe? Does the former Harry Potter star actually have the disease? We're not going to leave you in suspense here. No, no he doesn't. But you probably think he does and that's all thanks to one fake Twitter account.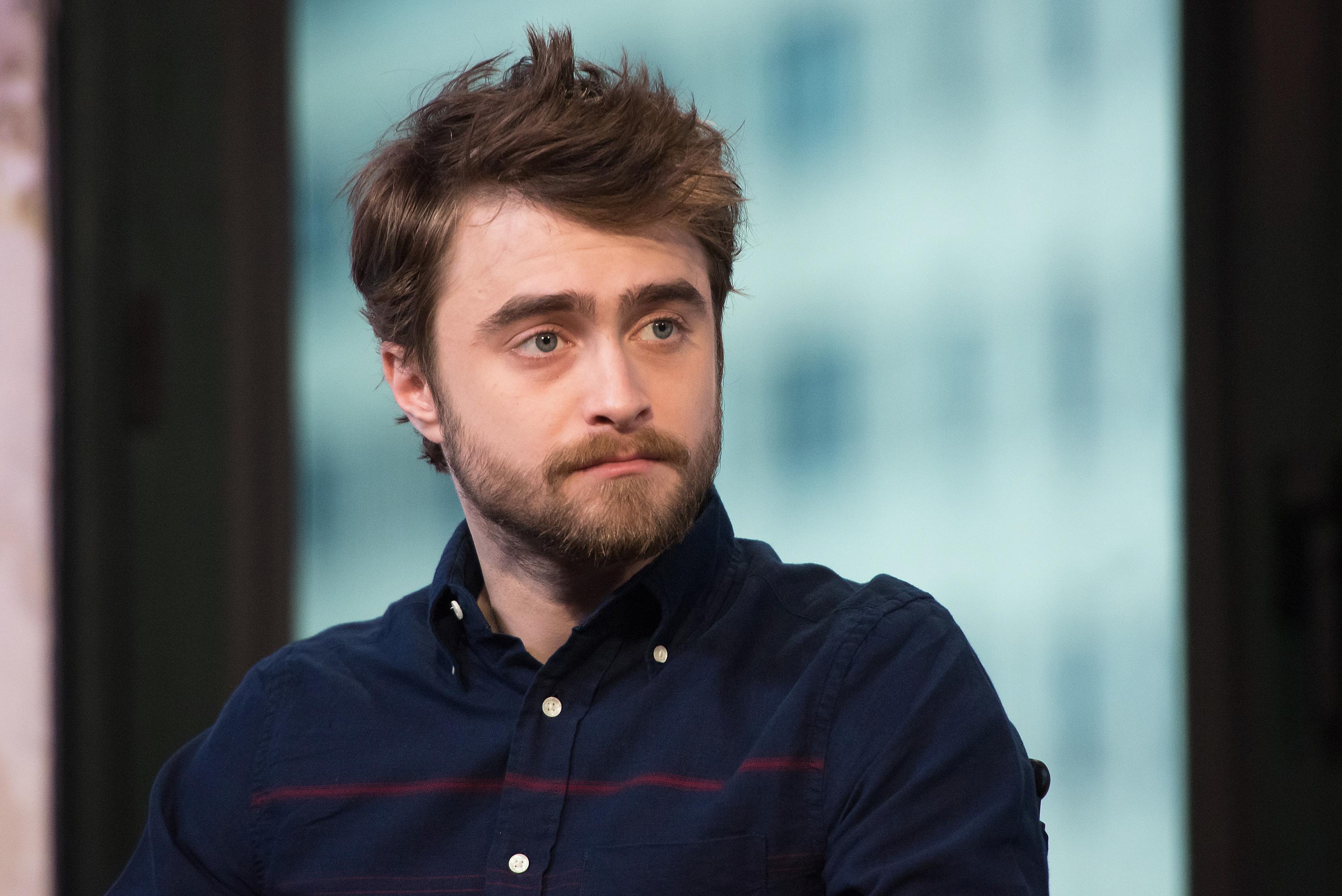 Article continues below advertisement
A fake BBC Twitter account got the whole world thinking Daniel Radcliffe has coronavirus.
On March 10, the twitter account @BBCNewsTonight tweeted out, "BREAKING: Daniel Radcliffe tests positive for coronavirus. The actor is said to be the first famous person to be publicly confirmed." They then linked back to a real BBC news site...which contained no information confirming Daniel's test results at all.
So what's the problem with this tweet? Well, the problem is that @BBCNewsTonight isn't affiliated with BBC at all. There's @BBCNews or @BBCBreakingNews and @BBCWorld, but @BBCNewsTonight is a fake account that was created to spread misinformation. And it worked. It worked so well that Daniel's been trending on Twitter since the tweet went up. It even worked so well that real reporters at The New York Times and Politico retweeted the fake tweet.
Article continues below advertisement
Other Twitter accounts also picked up on the news and shared it without having any confirmation that the information in the tweet was correct. The Spectator Index, which has been providing accurate and up-to-date coverage on the coronavirus outbreak, even tweeted out that Daniel Radcliffe had the virus. They have since removed the tweet.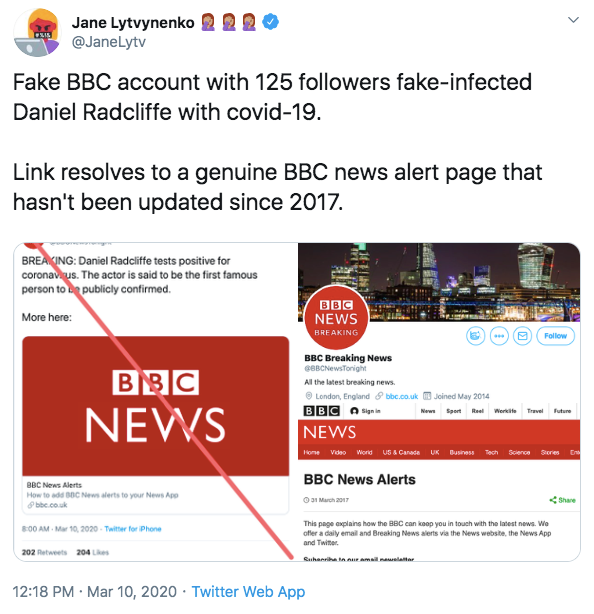 Article continues below advertisement
Twitter suspended the @BBCNewsTonight account and Daniel's publicist confirmed the tweet was a lie.
Hours after the tweet made the rounds online, @BBCNewsTonight was suspended from Twitter for willfully spreading false information. To confirm that Daniel indeed did not have the virus, Jane Lytvynenko, a reporter at Buzzfeed News, spoke to his publicist, who told her it's simply "not true."
But, even with the debunking, the news has still been going around on Twitter, with some trying desperately to spread the truth (and mocking those who spread the lies).
Article continues below advertisement
Article continues below advertisement
Others are still commenting on the lies and making them go further around the internet. Daniel doesn't have a Twitter himself, but, if he did, we'd be willing to guess that he wouldn't be too thrilled about the massive amounts of Harry Potter and the Coronavirus jokes.
Article continues below advertisement
Article continues below advertisement
So here's your friendly reminder: Daniel Radcliffe does not have the coronavirus so please check your sources before retweeting! There's enough paranoia around this virus is it is. Let's not add to it by making people think their childhood heroes are getting sick from it, alright?
The best way to prevent contracting or spreading coronavirus is with thorough hand washing and social distancing. If you feel you may be experiencing symptoms of coronavirus, which include persistent cough (usually dry), fever, shortness of breath, and fatigue, please call your doctor before going to get tested. For comprehensive resources and updates, visit the CDC website. If you are experiencing anxiety about the virus, seek out mental health support from your provider or visit NAMI.org.