Is This Darius Rucker's Second Conscious Uncoupling?
On the heels of Darius Rucker's announcement that he's divorcing his wife of 20 years, fans are wondering if he had a first wife. Here's what we know.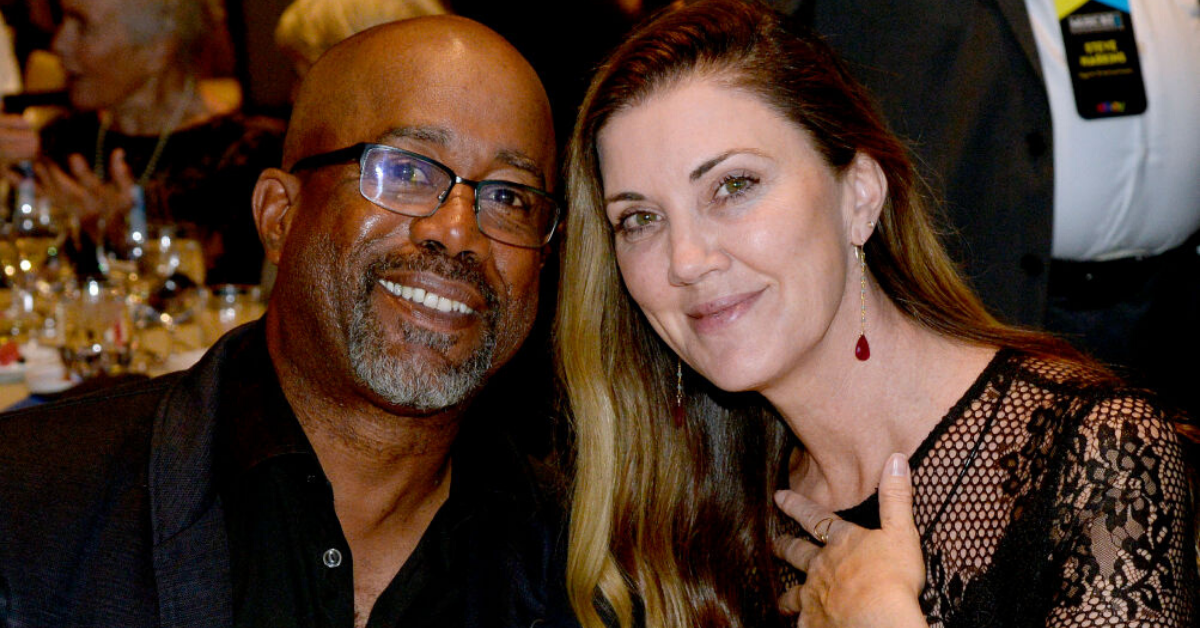 Despite becoming a successful solo country artist, Darius Rucker will forever be known as the frontman of the famous 90's band Hootie & the Blowfish. Or The Banana on Season 3 of The Masked Singer on FOX.
It's clear he's got a lot going on in his professional life, but it's his personal life that's making headlines lately.
Article continues below advertisement
Darius Rucker and his wife are consciously uncoupling.
The world is familiar with this term ever since it was coined by Gwyneth Paltrow and Chris Martin, who used it to describe their amicable divorce back in 2014. And Darius and his wife of 20 years, 42-year-old Beth (Leonard) Rucker, are bringing it back to life.
Despite Darius' crooning lyrics about everything being alright and homegrown honey, the pair has decided to part ways, and they want the world to know it's a mutual decision. The 54-year-old Darius took to social media to share the news.
Article continues below advertisement
"Beth and I would like to share that after much reflection we have made the decision to consciously uncouple," he says on Instagram.
"We remain close friends and parenting partners and continue to be each other's biggest cheerleaders. Our priority will always be our beautiful family. We have so much love in our hearts for each other and will continue to encourage growth and expansion in one other. Please be kind as we take on this journey, and we thank you for your love and support always."
He's received an outpouring of support from fans and fellow celebs.
Fellow country singer Brad Paisley was among the first to comment, saying, "Love to you" and he received nearly 500 likes on the comment alone. The Ruckers also received public messages of support from Nikki Haley, Joel Crouse, Bonnie Bernstein, Jake Owen, and more.
This is on top of thousands of comments from fans who are saddened by the news but supportive of the couple's decision.
Article continues below advertisement
Beth is Darius Rucker's first wife, but not his first baby mama.
Because they'd been together for decades, many assume that Beth was Darius' first wife, which is true.
Beth worked at VH1, and the two met at the height of his Hootie & the Blowfish career. They were married "between his 1998 Musical Chairs and 2003 Hootie & the Blowfish albums," as CMT reports. There's was called one of country music's greatest love stories.
Article continues below advertisement
But when the two met, Darius had already had a baby — Carolyn Pearl Phillips — with former girlfriend, Elizabeth Ann Phillips. Carolyn is now 25 years old.
Darius and Beth went on to have two more children together. Daniella Rose was born in May of 2001, and their son, Jack, entered the world in 2005.
The singer seems ready to move on.
Just two days after the couple's announcement rocked the internet, Darius went through with a performance with Luke Bryan at the socially distant CMA Best of Fest. The duo performed John Cougar Mellencamp's "Small Town," and didn't miss a beat.
Wishing Darius, Beth, and their family continued love and support.