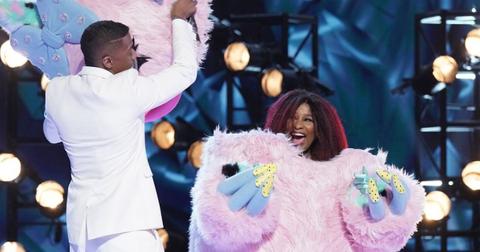 'The Masked Singer' Season 3 Reveal List — Who Has Been Unmasked?
By Leila Kozma
The Masked Singer is back again for Season 3, with 18 tantalizing contestants hiding behind those supremely-designed, beautifully-embellished costumes.
Without further ado, let's take a look at whose identity has already been revealed — and which of the contestants still have a good few surprises in store for us. Major spoilers ahead!
Robot (Lil Wayne)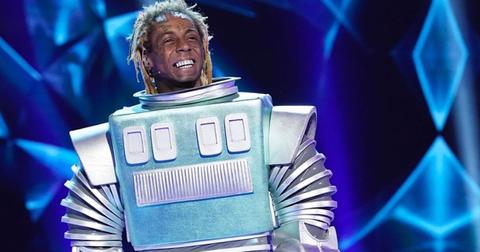 The first to be eliminated from the show, it was rapper Lil Wayne who was hiding under the strong, practically unbreakable, and cleverly-calculated disguise all along.
"I relate to robots because I always felt the need to put on a strong outer shell," he said in the delightfully 80s-inspired, nostalgia-tainted clue package.
Llama (Drew Carey)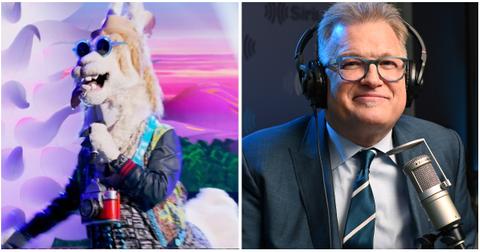 The second to leave the competition, the Llama was revealed to be Drew Carey.
In the clue package, he played the accordion at a school rehearsal, emphasized that he had four legs on several occasions, and confidently referred to himself as the G.O.A.T, or greatest of all time.
Miss Monster (Chaka Khan)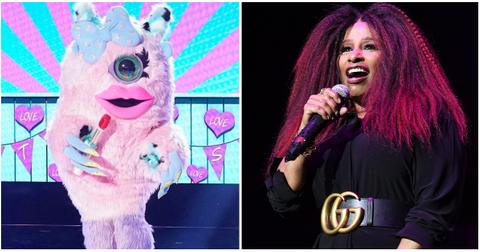 Miss Monster was the third contestant to leave the competition — and it was none other than Chaka Khan.
The clue package took us to a neon-lit high school toilet decked out with adorable accessories, to be exact.
"When you become famous, people expect you to act a certain way," she said, while gracefully holding a hair spray. "There's no coughing, odd incidents involving one's lashes getting glued together, or any other incident involved." She's clearly a diva.
Elephant (Tony Hawk)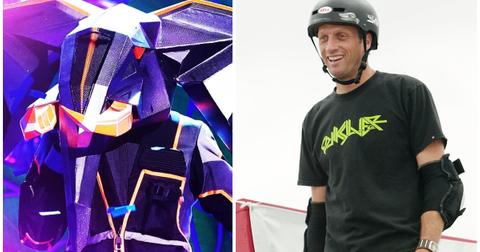 The judges were convinced the Elephant was everyone from former presidential nominee Beto O'Rourke to Lance Armstrong, but it turned out to be none other than skateboarding legend Tony Hawk.
Mouse (Dionne Warwick)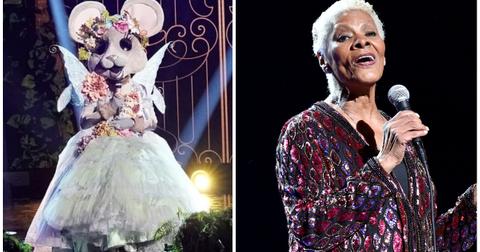 It was pretty clear that Dionne Warwick was the legendary voice behind the Mouse from the beginning — but her identity was finally revealed during the second round of Group B performances.
She's still the ultimate diva to us.
Taco (Tom Bergeron)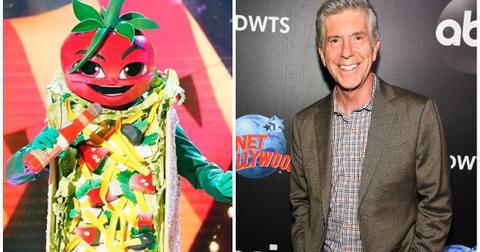 After it was revealed that the Taco has "been a comforting part of your lives for decades," fans were quick to guess '90s sitcom favorites such as Bob Saget, Tim Allen, and Kelsey Grammer. However, the man beneath the lettuce was none other than former America's Funniest Home Videos (and current DWTS) host Tom Bergeron.
Who knew he could sing?!
Bear (Sarah Palin)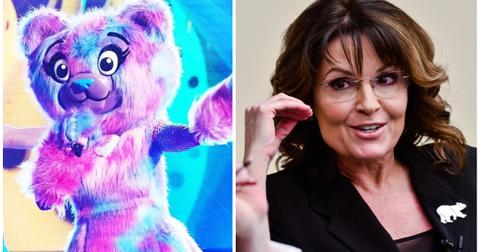 Guesses ranged from Tiffany Haddish to JoJo Siwa — but it turned out to be former vice presidential nominee Sarah Palin, who really, really enjoyed performing "Baby Got Back" on The Masked Singer stage.
Swan (Bella Thorne)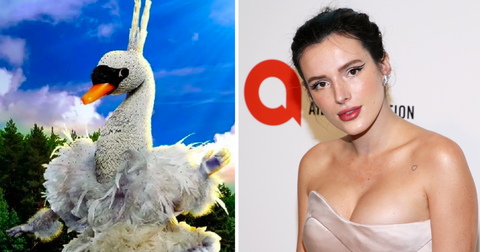 Who was masquerading as the beautiful bird? It turns out that it was none other than former-Disney-star-turned-award-winning-adult-film-director Bella Thorne.
T-Rex (JoJo Siwa)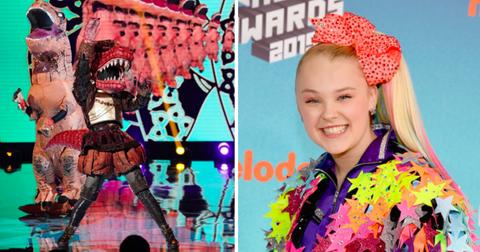 Was there any doubt? Most fans called that this dinosaur wasn't prehistoric at all. In fact, she was just 16 years old. Former Dance Moms' star JoJo Siwa was the voice behind the T-Rex mask.
Astronaut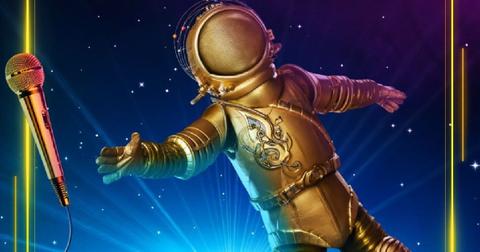 Almost any celebrity could be hiding behind the elaborate costume — including Carson Daly, Elon Musk, and Lance Bass. To make the fans' job even worse, Fox has refused to release the clue package so far. Will the Astronaut opt for topical songs, like "Space Oddity" or "The Dark Side of the Moon?" Here's to hoping.
Banana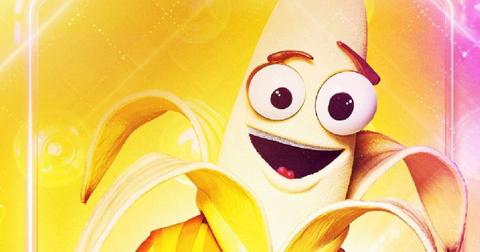 "Who am I? You'll go bananas when you find out. Slip into my DMs, you'll love me a bunch," goes an Instagram post introducing viewers to the Banana. But other than a handful of videos, clues have been hard to come by. Gwen Stefani, David Dobrik, Jason Bateman, and Drew Lynch are just a few of celebrities suspects, a previous Distractify article reveals.
Frog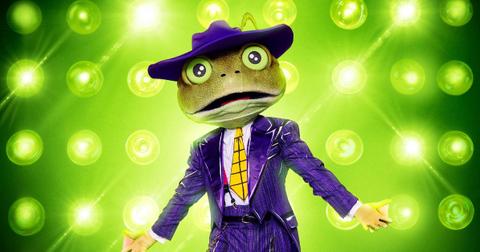 "Who am I?" wonders the Frog in a promotional video, before adding, "believe everything you've been toad," and "I'm ribbing to watch!" Does that help? According to some viewers, the answer is a fat yes. As fans claim, the Frog could easily be Johnny Depp or Seth MacFarlane.
Kangaroo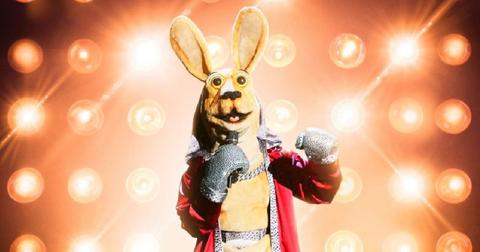 "Recently, it seems like I've been watching my life from the sidelines, and to be honest, it's scary putting myself in the spotlight again," murmurs the Kangaroo in the clue package, as Robyn's "Dancing on My Own" starts blaring in the video.
Up next, the confession-style clip shows the boxing-robe clad marsupial striking a brave pose with a basketball at her feet. There's a handful of neon-colored cosmetics scattered around to their right-hand side.
"I'm owning this underdog story, and I'm not pulling any punches," she goes on to say.
Jordyn Woods, Tatyana Ali, and Jordin Sparks are just some of the names that have been thrown around so far, Woman's Day reveals. Who is she? It's only time that will tell.
Kitty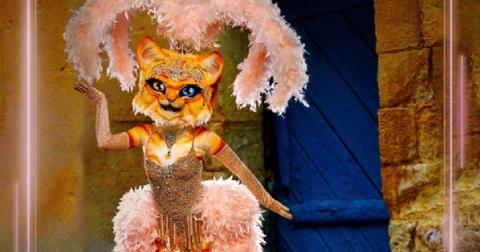 Although a clue package is still underway, some fans are already convinced that they know who's hiding beneath the rosy-pink, flapper-inspired attire. Could Judi Dench, the star of last summer's most-talked about musical-slash-movie sensation, Cats, be the one underneath the disguise? According to Twitter, she is one of the strongest contenders, alongside Showgirls actress Elizabeth Berkley.
Night Angel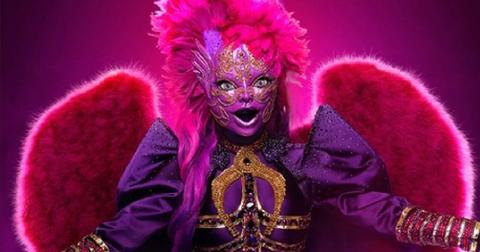 Although Fox has yet to release the clue package, there's one thing for sure: the Night Angel has one of the most fashion-forward outfits of the season. Just look at those delightfully furry, magenta-colored wings.
Rhino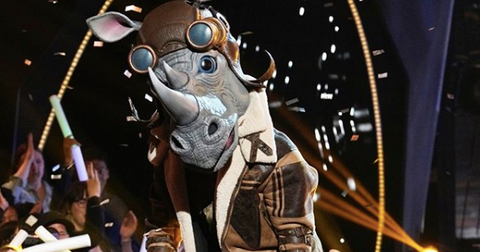 One of the more camera-shy contestants, the Rhino had little chance to let their true talents shine. For the time being, every Jumanji actor remains suspect.
Turtle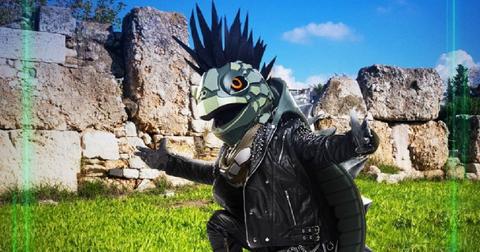 In the clue package, the leather jacket-clad punk stages an impromptu band practice — with two fellow rock music-fiends who happen to look like Men in Black impersonators — before going on a rebellious, anarchist-minded spree around high school. From door-kicking to making a bright orange inflatable guitar look cool, there's nothing this creature couldn't do.
White Tiger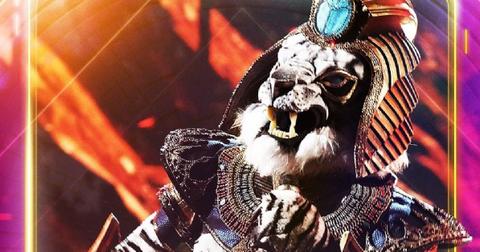 The White Tiger has to be Gronk. End of discussion.
Catch new episodes of The Masked Singer every Wednesday at 8 p.m. EST on Fox.