"He Gobbled It Up": Woman Says Her Restaurant Date Reached Over and Ate Leftovers From Next Table
This woman wants to know if it's unreasonable that she's put off by the way her date at a restaurant ate leftover food from an uncleared table.
When deciding what to order at a restaurant, have you ever snuck a glance at the next table to see what they're eating? Sometimes it helps to get an idea of what the dishes look like, to help you make your decision.
But have you ever reached over and eaten some of food on that next table, after the diners have gotten up and left?
Article continues below advertisement
That's what one man did on a date with a Mumsnet user, who recalled the tale in a very fascinating post. And folks in the comments section had all kinds of opinions about the whole thing...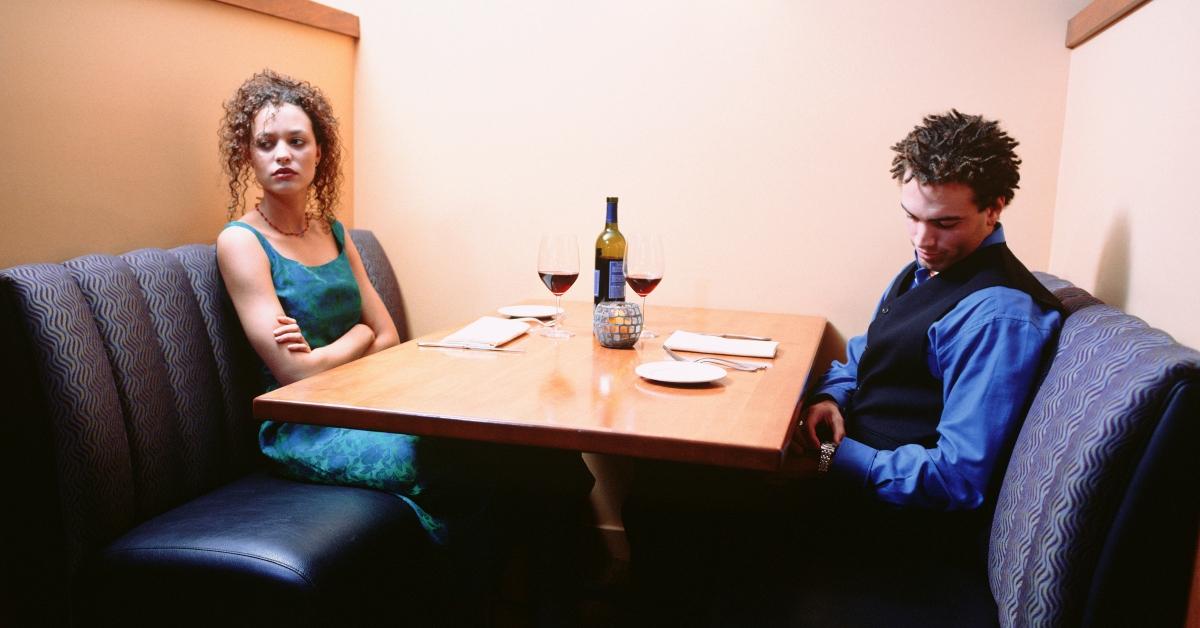 Article continues below advertisement
A woman says that while at a restaurant, her date reached over and ate the leftover food from the neighboring table, which hadn't been cleared yet.
On the "Am I Being Unreasonable" (AIBU) subforum on Mumsnet, a user named Runki recalled an unusual date she had with a man she had been seeing for a few months.
The two were out at a pub for lunch, when Runki asked her date what he wanted to order. After the date said he'd just eat the leftover toast and sausages from the next table that hadn't been cleared yet, Runki laughed, thinking it was a harmless joke. But boy was she wrong.
Article continues below advertisement
"[He] actually meant it," Runki wrote. "He took two pieces of leftover cold toast and some sausages and proceeded to eat them, with no plate."
Shocked, Runki told him she'd be happy to buy him some lunch. But her date insisted that there was no need, and that he couldn't stand seeing food go to waste.
"I ordered my own lunch and ate it, alone, as he had already gobbled up the leftovers from the people who had left," Runki explained in her post before asking readers: "Would this put you off someone? Or should I more be accommodating?!"
Article continues below advertisement
Some commenters thought the woman must be lying.
"Not a chance this happened," said one commenter, while another wrote, "Are you a journalist by any chance OP?" — indicating that perhaps the OP created a fake post just for an article.
Article continues below advertisement
But Runki insisted more than once that her post was real, and that she was not in fact a journalist. And someone else commented: "People who don't believe this is true have probably not been on a date in a long time. There are some proper weirdos out there."
Other commenters weren't so quick to judge the man.
"Is there any relevant context, before you rush to dump him? Did he grow up in poverty or with money really tight?" someone asked.
Article continues below advertisement
"I totally get you, OP. It's grim when out on a date. However people rooting through bins in supermarkets, etc., are eco warriors and doing the right thing by the planet. Plenty of food is touched by others including by chefs and waiting staff before it gets to your mouth. So weirdly I sort of get his point that food is in fact just food," another wrote.

Article continues below advertisement
But most commenters were totally grossed out.
"Disgusting, get rid," someone plainly stated. The majority of commenters seemed to agree with this sentiment. Many users called the whole situation "grim."
What do you think? Would you want more context about why your date did this kind of thing, or would you dump immediately?