"Parenting Done Right" — Internet Shocked at Young Girl's Reaction to Getting "Ugly" First Car
A young woman's beautiful reaction to seeing the "ugly" first car her father got for her has the internet grinning from ear to ear.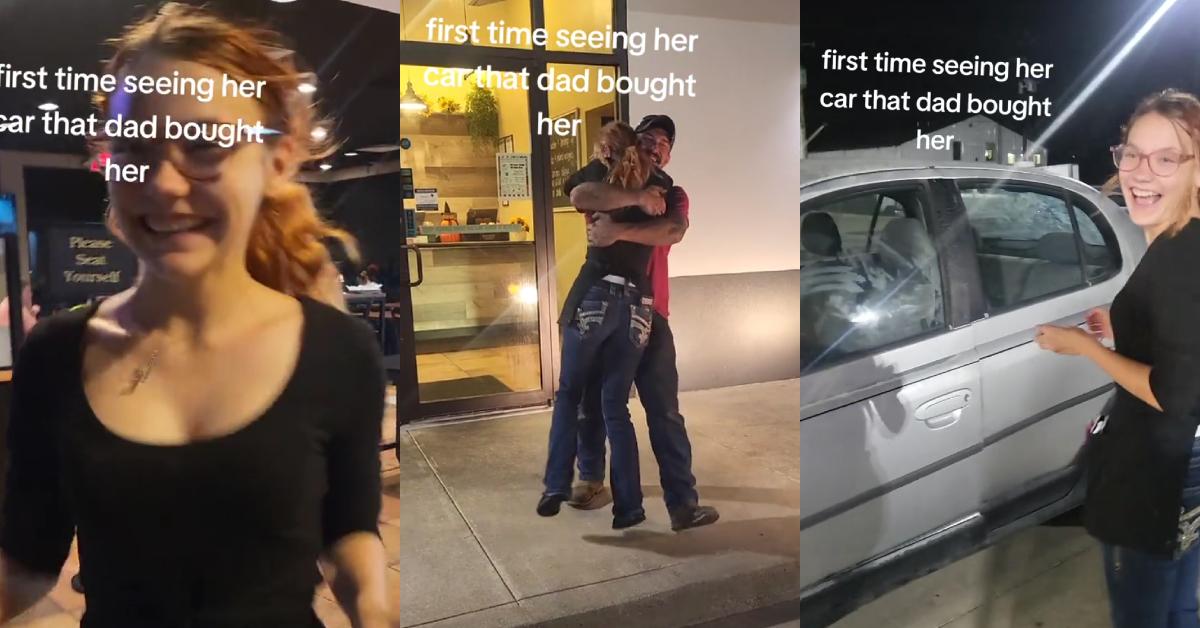 We probably all went to school with that one kid whose dad owned a dealership or made a grip of money doing whatever, and he had a tricked-out WRX, G35, or RX7 that lasted about a total of 3 months before it ended up in a ditch, flipped over on the side of the road, sideswiped by a pick-up after an overzealous burnout, or wrapped around a tree.
Article continues below advertisement
There are throngs of articles out there that have delved into the stupidity of putting a teenager behind the wheel of a high-performance vehicle. Unless your teen is some kind of driving prodigy who's spent a considerable amount of time behind the wheel before they were legally allowed to do so on the road, or on a private driving course, it's probably a good idea to just put them in a "beater" whip, according to some.
Article continues below advertisement
However, the young woman in Melissa Tylor's video (@melissatylor276) isn't one of these kids who scoff at the first vehicles their folks purchased for them. In a viral TikTok that's charmed over 27.1 million viewers on the popular social media platform, the young waitress can be seen smiling as she looks into the camera and walks outside of the restaurant she works at.
Article continues below advertisement
She's just learned that her father bought her her first car. Beaming with appreciation she takes a gander at the vehicle and is all smiles, "It's so ugly I love it," she says, looking inside of the vehicle, her smile growing wider. She sees her father admiring her reaction off camera and tells him again, "it's so ugly I love it."
The two share a warm laugh and she runs to her dad and embraces him, he lifts her up into the air and the two share a hug. He tells her, "I'm sorry baby," to which she replies "I love it!" reassuring him that she's more than happy with her car.
Article continues below advertisement
A follow-up video uploaded to Tylor's account shows the young girl cleaning her new vehicle with her father. As one user who saw the clip described it:
Article continues below advertisement
Tylor has uploaded other videos of her kids' dad, showing snippets of their conversations that detail the nature of their positive relationship that has TikTokers praising the man and the dynamic he's got with his kids.
Several people who saw the initial video of Tylor's daughter catching her first glimpse of the vehicle expressed that it was the embodiment of good parenting and a perfect example of what matters most in life: a great relationship and emotional closeness: "First car arent made to last but her memories will"
Article continues below advertisement
Another person penned: "I love her reaction. my first car was a 90s camry lol"
"a grateful child.. and a dad doing his best.. totally awesome guys," someone else said.

Article continues below advertisement
Many TikTokers thought that the clip was a piece of anti-entitlement footage that a lot of folks could learn from in order to keep their own spoiled tendencies in check: "Not everyone's born with a silver spoon..What a grateful daughter and raised right"
There was another commenter who referenced a TikToker by the name of Flo who wanted to get a Lamborghini Urus as her first car. Although the vehicle sounds like it was named after a human act of biological waste secretion, and is the same exact car as an Audi RSQ8 with different decals and software branding (but costs about double the price) and rocks an engine created in a Volkswagen facility, the vehicle is still in high demand.
Article continues below advertisement
It seems that Flo received some negative blowback online after she detailed how excited she was about purchasing a used Lamborghini Urus, only to find out that someone else had purchased it when she was on her way to go and pick it up.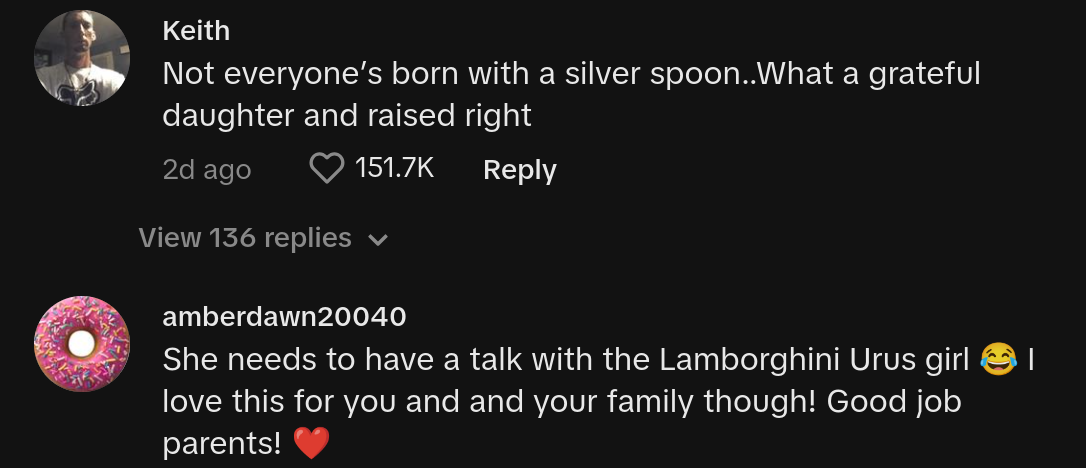 Article continues below advertisement
In a much maligned TikTok video, she posted about how she was purchasing a new Urus as her first car, which retails for anywhere from $390,000 to $402,750, and was so "depressed" about missing out on the first whip which forced her to wait for the delivery of a brand new vehicle, that she couldn't even make her bed. Because of the sadness.
A far cry from the smiling demeanor and joy the young woman in Tylor's video displayed upon receiving her "ugly" car that she absolutely loved.