Guy Goes Viral After Drips Down His Wall Turn out to Be From His Neighbor Decomposing Upstairs
It's truly a real-life horror movie come to life. Two roommates learn the strange odor and drips down their ceiling are from their decomposing upstairs neighbor.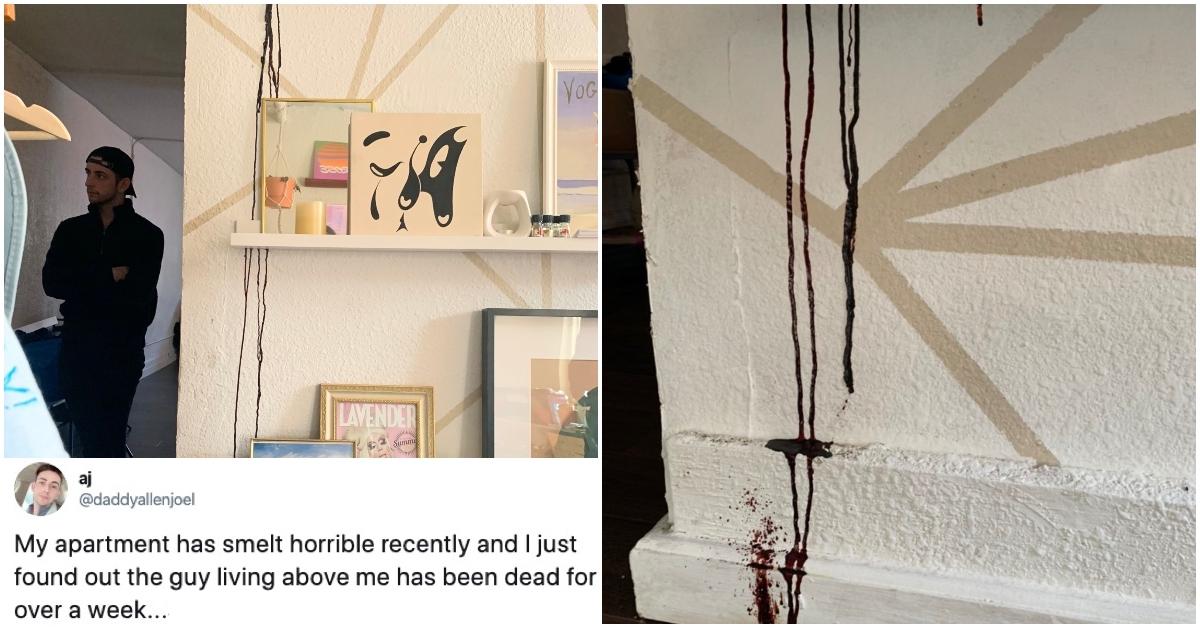 When you live in an apartment building, you often have unpleasant encounters with your surrounding residents. But this tale is a far cry from your typical loudly stomping upstairs neighbor. A couple of Minneapolis residents went viral on Twitter when they learned a foul odor and mysterious dripping from the ceiling both originated from the resident above, who had passed away at least a week earlier.
Article continues below advertisement
Two roommates with the Twitter handles @piggyyazalea and @daddyallenjoel — who seem to be named Evin and AJ — documented the mysterious drips down the wall of their shared living room. They later shared their reactions when they learned the mysterious substance was blood, which had leaked through the floor upstairs where their late neighbor had passed away a week or possibly two prior.
Article continues below advertisement
According to AJ, maintenance stopped by to investigate their complaint and "wiped off a little on the wall to examine it and still really couldn't determine anything." After entering the unit above, the maintenance worker discovered the unfortunate origin of the leak.
Article continues below advertisement
The roommates didn't know their late neighbor, but learned after the body removal that the man appeared to have died in his sleep. After several days in a heated apartment, unfortunately his body began to decompose and seep through the floor to the apartment below.
As is the case with pretty much any viral story on Twitter, the thread was filled with truthers who questioned the veracity of the roommates' tale. "Sis, if you're saying the guy died in his sleep, how come there's blood?" asked one skeptic. "Unless he has open wounds the blood would not come out and leak into your apartment. Also, blood usually sets within 6-10 hours after someone dies."
Article continues below advertisement
However, a self-proclaimed forensics expert chimed in to set the record straight. Warning: our bodies are pretty gruesome after we die. Basically, while blood does coagulate after death and rigor mortis sets in, as the body further decomposes things become a bit more, um... fluid.
Article continues below advertisement
Regardless of what state of decomposition AJ and Evin's poor neighbor was in, he was, of course, a person who was probably loved and whose life mattered. And that fact was definitely not lost on these traumatized roommates. After the initial tweets went viral, Evin posted to say he wasn't trying to be insensitive.
Article continues below advertisement
As a result of the situation, the roommates had to vacate for a while to allow hazmat to clean up the situation. Personally, I'd want to leave and never come back. I'd just buy all new stuff and forget the life I lived there. However, as Evin said in his YouTube video recounting the incident, they plan to stay. "One, it's way too cheap, the location is prime ... and it's huge for the amount we pay."
Article continues below advertisement
There are a lot of things I would overlook about my apartment, but I'm not sure this would be one of them.