Demi Lovato Allegedly Trash-Talked Selena Gomez on Her Finsta
Demi Lovato and Selena Gomez haven't been friends for a while, but these screenshots from Demi's finsta show her mocking her former friend.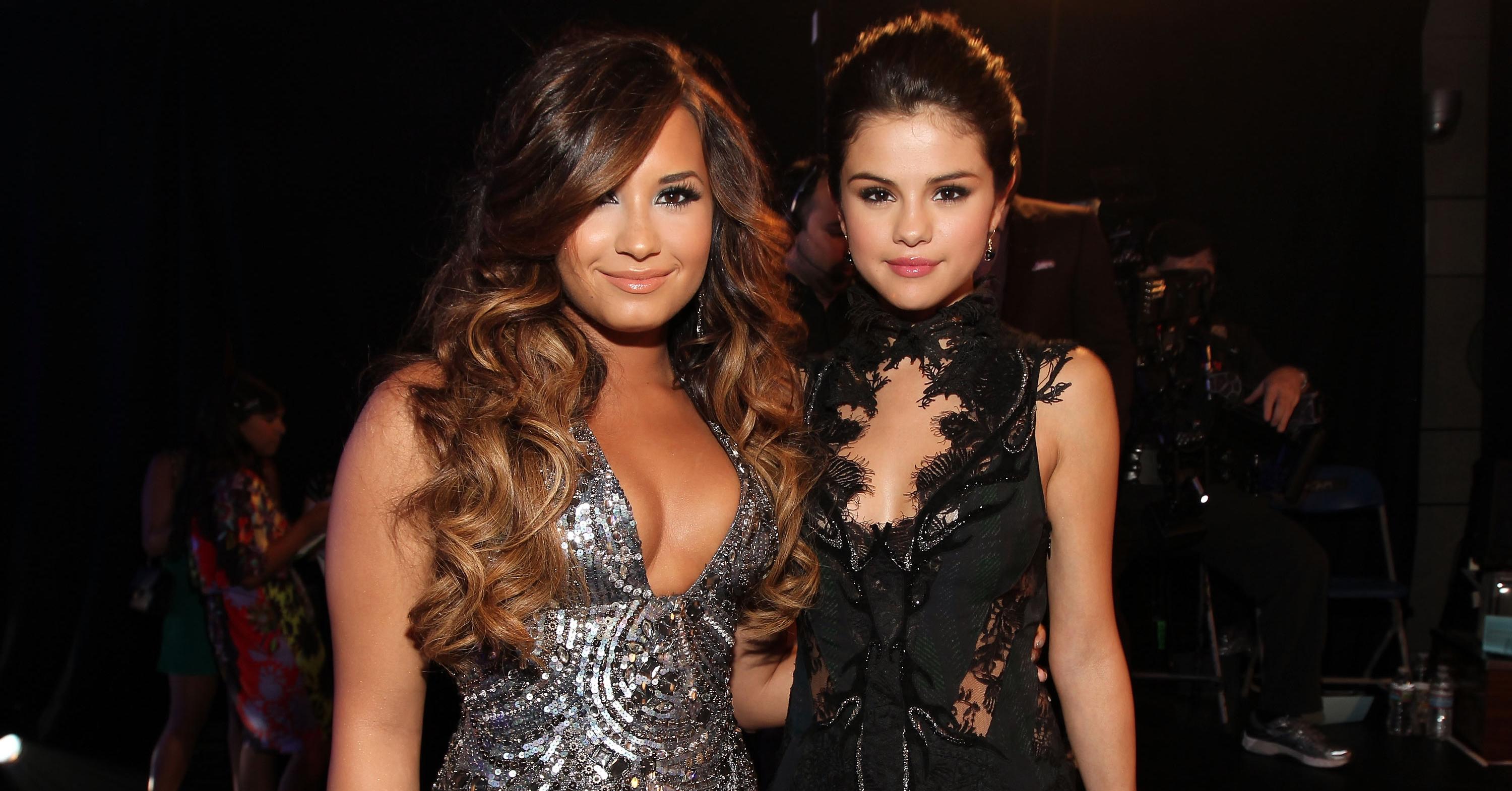 You've always heard the warning "be careful what you post on the internet," and Demi Lovato is learning that lesson the hard way.
It's been common knowledge that Demi has a finsta, or a private Instagram account. While you usually can't see the photos the Sorry Not Sorry singer posts to the account, it seems one of her 125 followers leaked the contents of her account — and it doesn't make her look good at all.
Here are the allegedly leaked photos from her finsta.
Article continues below advertisement
Demi Lovato allegedly trashed Selena Gomez on her finsta.
A collage of photos has been leaked from the account @traumaqueen4eva, which is assumed to be Demi's account. It was previously reported that her finsta account was @mm_82092, but it appears she's changed the username.
The only photos shared from this account are screenshotted in a collage, so it's unclear when exactly these posts were made or screenshotted.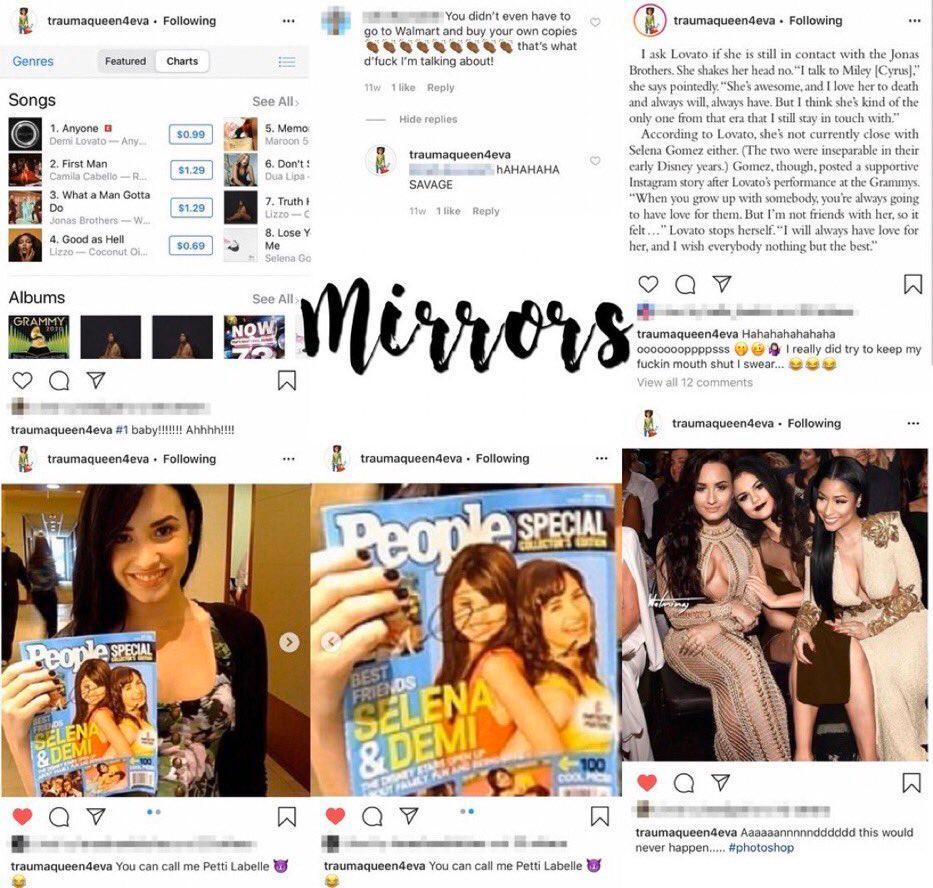 Article continues below advertisement
The collage includes a few photos openly mocking Demi's former BFF, Selena Gomez. One of the posts shared is a screenshot of an interview Demi did with Harper's Bazaar, which was part of their cover story published on April 14. The highlighted part of the interview is about her relationship with her former Disney co-stars, including the Jonas Brothers, Miley Cyrus, and Selena.
"'When you grow up with somebody, you're always going to have love for them. But I'm not friends with her, so it felt …' Lovato stops herself. 'I will always have love for her, and I wish everybody nothing but the best,'" the interview reads.
"Hahahahahahaha oooooooppppsss," the user captioned the post. "I really did try to keep my f--kin mouth shut I swear..."
Another shared post includes a signed copy of Demi and Selena's People cover from 2009 with Demi's signature over Selena's face.
Article continues below advertisement
"You can call me Petti Labelle," the user captions the post. The photo appears to be older, implying that if it's real, things between Selena and Demi weren't always as good as they seem.
Another screenshot is of a photo of Selena leaning on Demi's shoulder (that appears to be taken post-fallout), which the user claims is photoshopped.
"This would never happen," the user captions the post.
Article continues below advertisement
The collage also provides evidence suggesting it's Demi's personal account, sharing a screenshot of her song "Anyone" hitting number one on the iTunes charts.
"#1 baby!!!!!!! Ahhh!!!!!" the post is captioned.
Another photo shows someone replying to the post, saying "You didn't even have to go to Walmart and buy your own copies... that's what d'f--k I'm talking about!"
Clearly, Demi isn't so fond of her former best friend anymore.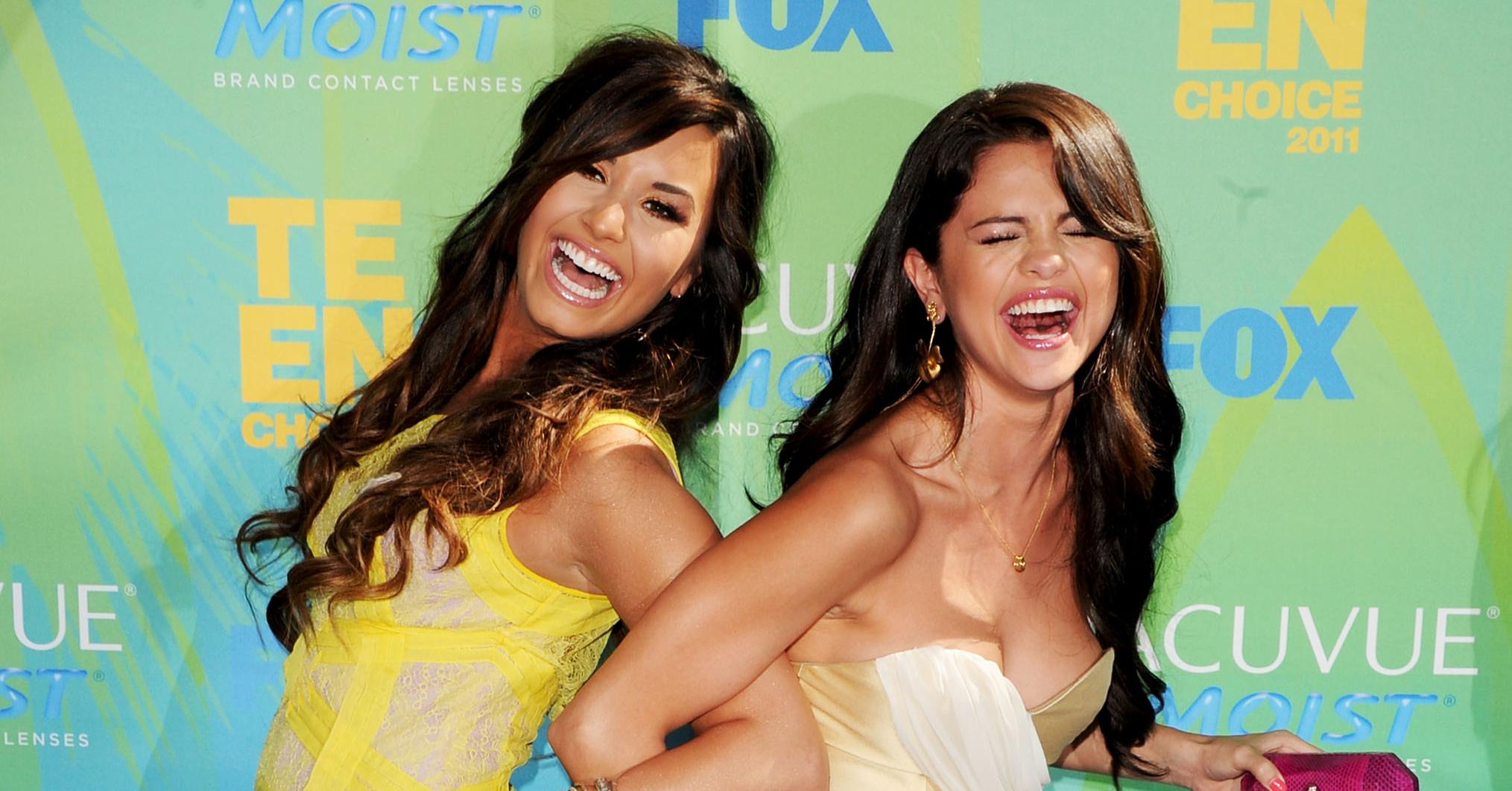 Article continues below advertisement
Are Selena Gomez and Demi Lovato still friends?
After everything that's come out of what's allegedly Demi's finsta, it's likely any shred of friendship that was left between the two is gone. The pair's public friendship has seemingly been over for a while, considering Demi has openly admitted she no longer considers Selena a friend. But they've each publicly congratulated each other on big milestones in their career, suggesting they were on cordial terms with each other.
But after these posts were leaked, it's likely there won't be any more public displays of comradery.
Neither Selena nor Demi have publicly commented on the release of the photos. We're not sure how Demi plans to come back from this one, but considering #DemiLovatoIsOverParty is trending on Twitter, it's not likely she'll be able to.