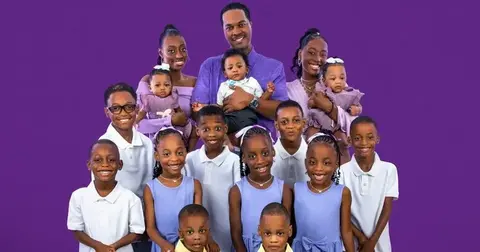 TLC's Deon Derrico Works Hard to Support His Family of 16
By Michelle Stein

Updated
One of the first questions that comes to mind when people learn about the Doubling Down With the Derricos family — which is comprised of Deon Derrico, his wife Karen, and their 14 kids — is pretty predictable: How do they do it?
How do the Derricos handle raising four back-to-back sets of multiples? How do they cook for that many people? How much laundry do they do on a weekly basis? It all just seems so logistically overwhelming.
Naturally, TLC fans have also been curious about how the Derricos make it work financially. (Let's face it: Kids aren't cheap.) Join us as we take a deep dive into what Deon and Karen's occupations are. Because somebody has to be bringing in a decent salary in order to make it work with so many children.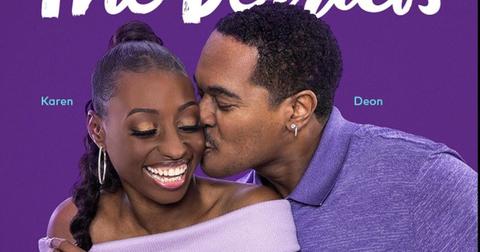 What is Deon Derrico's occupation?
A May 2019 interview — when Karen was still pregnant with the triplets — revealed the busy mom washed three to four loads of laundry per day (at the time). But this likely increased since the birth of the triplets in July 2019. And the monthly grocery/eating out bill? It amounted to $3,500.
And that's just food. It doesn't take into account clothing, utilities, or recreation for 14 kids — or the mortgage for a home large enough to house their super-sized family in Las Vegas, Nev.
While Karen is busy at home caring for their brood of children, Deon provides for his family through his occupation as a real estate investor, a detail he mentions on his social media profiles. The Derricos are able to make it work without relying on any public assistance, thanks to the cash flow from his occupation.
The paycheck they receive from TLC for Doubling Down With the Derricos should be a nice supplemental income, too. And who knows? If the series ends up being successful, perhaps they'll be sticking around on the network for quite some time.
Deon Derrico faced real estate fraud charges — but he was acquitted.
After a five-year legal battle over multiple real estate fraud charges — which included forging homeowners' signatures on house deeds — Deon was found not guilty in 2018.
"I do not want no one else to go through what I've gone through," he told 13 Action News at the time. "... This type of thing can kill people, the stress."
Deon said he cooperated in the case at first because he knew he was innocent. However, he explained that he wouldn't advise others to do the same.
"They lead me to believe that this wasn't even about me," he said. "... How to properly defend yourself is one, don't talk, get an attorney."
"I know I was targeted just based off of my notoriety," Deon added.
Thankfully, Deon's legal woes are over — and he can now focus on his occupation as a real estate investor along with his roles as a father of 14 and a reality TV star.
Watch Doubling Down With the Derricos on Tuesdays at 10 p.m. (EST) on TLC starting on Aug. 11.