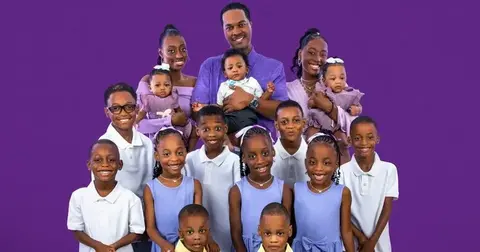 Learn All the Family Names on TLC's New Series 'Doubling Down With the Derricos'
By Michelle Stein

Updated
If you tune in to TLC, then chances are you've heard of the Doubling Down with the Derricos. It's a series that follows a Las Vegas couple, Deon and Karen Derrico, and their 14 children. What sets apart this super-sized family isn't only the sheer number of kids — it's how many sets of multiples they have. Because the Derricos have four sets of multiples (and all with names starting with the letter "D"), things can get confusing for viewers. And fast.
"Having four sets of multiples back to back? It's like getting struck by lightning while getting struck by lightning," Deon says in a sneak peek for Doubling Down with the Derricos. "Many parents know with just one child, two children, it's a job. But when you have soon-to-be 14, it's a job."
"We have our good days and our bad days," Karen says. "There's always enough love."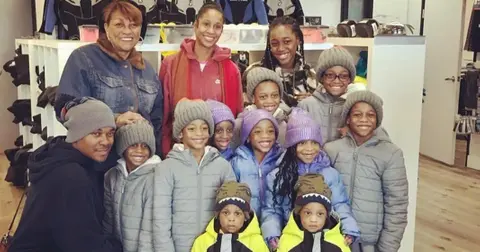 Allow us to break down the Derrico family names to help clear up any confusion about their brood — which includes two sets of twins, a set of quintuplets, and a set of triplets.
Darian Derrico
Darian Derrico is Deon and Karen's oldest child — and judging by Karen's Instagram, it looks like she's been doing a pretty decent job convincing her mom to participate in making TikTok videos. At the beginning of the family's TLC series, Darian was 14.
Derrick Derrico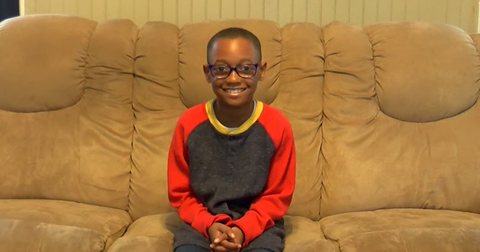 Derrick Derrico is Deon and Karen's second-oldest child — and also the last singleton pregnancy Karen has experienced. Since Derrick, Karen has had four back-to-back pregnancies including multiples.
Twins: Denver and Dallas
Twins Denver and Dallas comprise the first set of Derrico multiples.
"Dallas is our entertainer and Denver just wants to be the boss," Deon explains in a TLC clip introducing the twins.
"They're both extremely smart," Karen adds.
"God made me first and then God knew I would be born and I wanted to have a twin," one of the twins says in the promo. (Neither twin was labeled!) "So that's how this nerd came along and messed up my life."
"Nerd?! I'm not a nerd," his twin protests.
Quintuplets: Deniko, Dariz, Deonee, Daician, and Daiten
After that, Karen gave birth to quintuplets. The quints consist of two boys, Deniko and Dariz, and three girls, Deonee, Daician, and Daiten.
Twins: Diez and Dior
Next up is the second set of Derrico twins: Diez and Dior. They were actually part of a set of triplets. Tragically, their brother, Carter, died shortly after birth — which is why Karen and Deon often refer to Diez and Dior as "triplens."
"They were triplets up until Carter passed, so we call them Triplens because they are both Triplets and Twins," she explained on Instagram.
Triplets: Dawsyn, De'Aren, and Dyver
Neither Karen nor Deon have posted many photos of their newest set of multiples. (Likely because TLC wants to be the first to "introduce" them.) But according to what the mom of 14 has shared via Instagram, the triplets were born premature in July 2019.
Karen delivered two girls, Dawsyn and De'Aren, and one boy, Dyver, on July 6, 2019. The super-mama has since shared updates about her breastfeeding journey with her Instagram followers, as well as glimpses of the babies.
Catch the premiere of Doubling Down with the Derricos at 10 p.m. (EST) Tuesday, Aug. 11 on TLC.