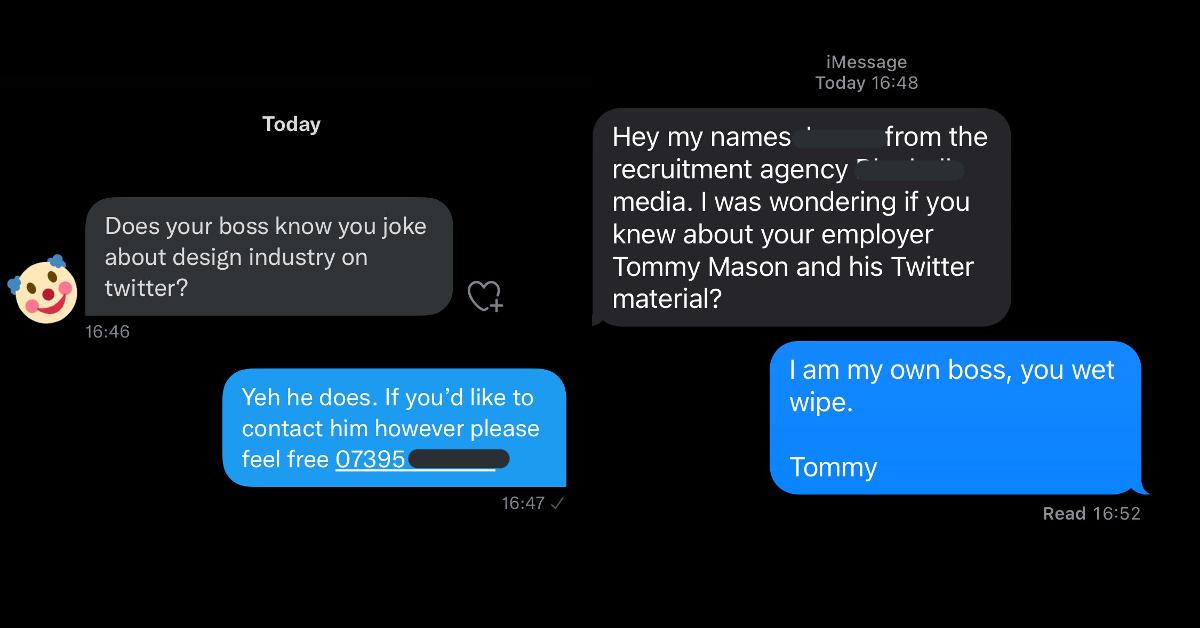 Man Branded "Legend" for His Hilarious Takedown of Job Recruiter Who Tried to Get Him Fired
There are fewer things more annoying than a tattletale. No, we aren't talking about people who go out of their way to report possibly dangerous behavior in order to save someone's life or to avoid a calamity, but folks who try to get you in trouble just because you don't adhere to the kinds of mores and forms of expression that they deem appropriate, even if you aren't hurting anybody.
Article continues below advertisement
Call them narcs, rats, or snitches, there's just something so unbelievably frustrating about an individual who not only won't mind their own business but will try and go out of their way to get you in trouble.
For one reason or another, there seem to be a lot of people on the internet who enjoy doing this.
Whether it's pretending to be a manager at a Chili's just because you didn't like the fact that someone was criticizing the popular restaurant chain, or a job recruiter, like this one individual came across, who doesn't like the fact that he was posting memes joking about particular aspects of the vocation he worked in.
Article continues below advertisement
Tommy Mason is a Birmingham, England-based product designer who has managed to accumulate some prestigious distinctions, like being a part of The Drum Awards' Top 10 Young Designers of the Year. He also makes his living off of being a freelancer, meaning that the quality of his work speaks for itself and he is hired on the merit of what he produces alone.
Article continues below advertisement
This also allows Tommy the ability to freely discuss any aspect of his industry without fear of repercussions from an employer or particular brand because, well, he's his own brand.
It's a freedom that he apparently relishes as he often uses social media to critique and comment on the design community/global business at large (mostly) without a filter.
Article continues below advertisement
Which was apparently too much for someone who was claiming to be a job recruiter to handle. This individual messaged Tommy and asked, "Does your boss know you joke about design industry on Twitter?"
Article continues below advertisement
Tommy replied: "Yeh he does. If you'd like to contact him however please feel free." He then shared his boss' cell phone number with the person, who then took it upon themselves to text the number to snitch on Tommy.
Article continues below advertisement
"I was wondering if you knew about your employer Tommy Mason and his Twitter material?"
What the recruiter didn't count on was the fact that Tommy was his own boss, and he replied to the recruiter, saying: "I am my own boss, you wet wipe. Tommy."
Article continues below advertisement
Folks were loving Tommy's response, with some people calling him a "legend" for the way he handled the recruiter's message. Others began sharing their own instances of being called out for expressing their ideas on social media, too.
Article continues below advertisement
Others wished that Tommy hadn't covered up the recruiter's name or the company that they work for as the individual tried to effectively ruin Tommy's life because of some memes he posted on Twitter.
What do you think? Should Tommy have outed them? Or was he wrong for posting memes that out some of the struggles graphic designers go through?